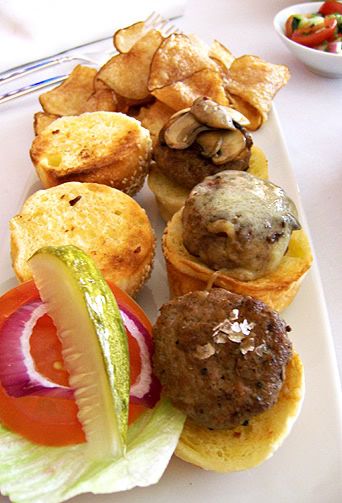 photo snapped using a colleague's Kodak point and shoot
I haven't been blogging for a bit because I'm in Macau all this week, helping to manage a corporate retreat for a client. That means that while I'm in a place with some pretty awesome food, most of my meals are being taken at odd hours and in my hotel room. Not that I'm complaining. The Wynn Macau has really impressed me with its room service menu. One of my colleagues is totally addicted to the lamb kofta. While I liked it, I wasn't as blown away by it as she was. So far, I've tried the "fire cracker prawns in yellow coconut curry" and the "three mini burgers with fries" off the kids' menu. Another colleague devoured the chocolate cherry cake, served with vanilla ice cream" and another still sang the praises of the roasted turkey club. I have to say that the club sandwich looked fantastic.
The mini burgers were great. There was a mushroom burger, a cheeseburger and a plain one. The tiny patties were juicy and tasty. Each was served with a nice, buttery, toasted brioche. I've been trying to decide if I should just live on these for the next two and a half days or try out some of the menu's other options.
One thing I know I want to try is the hotel's "hand-crafted ice cream". I may even order some later tonight. I have to receive 2 guests at 2am, so I'll be up for a while and I suspect I may get a little hungry.
So, what's the best room service (in a hotel) you've ever had?
Aun has always loved food and travel, passions passed down to him from his parents. This foundation, plus a background in media, pushed him to start Chubby Hubby in 2005. He loves that this site allows him to write about the things he adores--food, style, travel, his wife and his three kids!