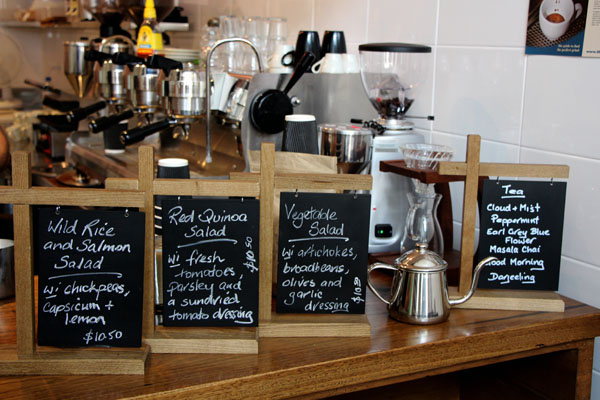 About a year ago, on my walk back home from downtown Sydney, I decided to take a different route, down a set of side streets.  I wasn't in a hurry.  It was one of those days when strolling down the road felt like the right thing to do.  The stars had aligned, because I was about to discover Salvador. The café is almost hidden, on Kings Lane, next to a pedestrian stairway in Sydney's Darlinghurst.  Salvador Coffee is a definite treat, thus I'd encourage a pit stop for those who are in the area. There is no shortage of quality coffee in Sydney.  Standards are high and options are plentiful, but the aroma, the smoothness, and the palate produced from these blends of beans, compare to nothing around.  I've become biased with time, I admit, but that's because I've had the chance to do coffee cupping at Salvador, and even compared beans that I've purchased around the world (from Tokyo, to Antigua, to San Francisco).
Marcio Brito, the man behind Salvador coffee has one thing on his mind: to share his passion for the product by making sure customers are educated.  Coffee is an involved, evolving experience.  Inspired by the memories of his grandfather Salvador's work, Marcio sources the highest quality of single origin beans from around the world, roasts them in-store, and creates a signature blend that's candidly captivating. "As a roaster, you want to make sure you represent the farmer the best possible way.  With the beans I get a hold of, I feel I have the duty to justify the hand picker's work, and try to bring out the best features of those beans," declares Brito. Two blends and a rotating selection of single origin coffees are available, but it's his signature blend, Kings Lane (as per the café's location), that's made me a Salvador devotee.  My true test for coffee is enjoying the smoothness without adding sugar.  At Salvador, I never find the need.  It is dependable, impeccable.

There's also food to snack, nibble, or fill up on.  Freshly baked pastries are sourced from an organic bakery in Bondi Beach.  The pain au chocolat and dense raspberry scones appeal to both sight and taste.  A few salads and several sandwiches make up the hardier fare on offer.   It is straight-forward, flavoursome, and casual, like the environment.  Wild rice and salmon salad, red quinoa with tomatoes and parsley, as well as thick, juicy sandwiches (feta and avocado, salami and provolone, smoked chicken and beetroot relish) served on plain sourdough or soy and linseed bread.
If you're in the area, I urge you to check it out, to have a flat white, as I do, or an espresso like the staff recommends.  If time permits, ask the Marcio to show you around, walk up the loft stairs, and see the roasting machine in action.  If you're further away, Salvador Coffee Signature blends are available for purchase online.
Salvador Coffee
32 Kings Lane, Darlinghurst
New South Wales, 2010 Australia
Tel: +61 2 9331 0071
www.salvadorcoffee.com.au
Opens Monday-Friday 7am-4pm, Saturday 8am-4pm, Closed on Sundays

Janice is a girl from Lima, Peru who loves a good cebiche and a glass of dry Riesling. She travels the world (often for food or to check out new restaurants) and lives in Australia. Janice tries to learn about different countries through cuisine, and takes advantage of Sydney's multiculturalism by exploring gastronomy in all of its forms. Grower's markets, wine tastings, restaurant openings, cooking classes, shopping for specialty spices; she's keen to do it all.