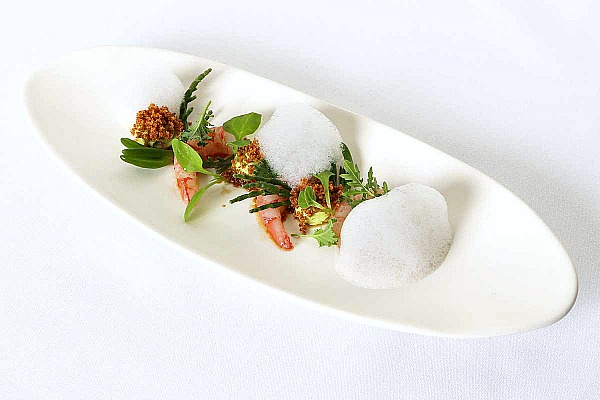 Prawns – Courtesy of Urbane Restaurant
There has been a flourishing in South East Queensland food scene.  Gorgeous, bountiful local produce, which there's never been a shortage of, is making its ways to the creative, able hands of extraordinary chefs, and to the tables of some tremendous restaurants.
Urbane, in the heart of Brisbane's central business district, is at the top of the game.  Two set menus – omnivore or herbivore – of either five or eight courses are served with impeccable precision.  They epitomise everything that's endearing and exciting about dining out.  Eating at Urbane is experiencing the mind of a modern chef.
Simple sounding dishes are presented in multiple ways, offering different textures through the use of multiple techniques.  Scallops, served ceviche style, come served with chards of black cucumber, pickled cucumber, and buttermilk.  Lamb belly is served with mushrooms and preserved lemon includes eggplant puree, mushroom sauce, and even mushroom powder.  Desserts, with theatrics included, range from flavours of eucalyptus and berries to mandarin (dehydrated, in a jelly, and as a parfait) partnered with Bee One Third honeycomb.  With every sense ignited, saying that dining at Urbane is delicious would be an understatement.
For fine dining experiences further afield, head to the Sunshine Coast, only an hour and a half drive North of Brisbane.  The premiere destination, with pristine beaches, a national park, warm weather even in the midst of winter, and dining options to rival the entire country, is Noosa.  It should be on everyone's to-do list.
Ricky's River Bar & Restaurant – Courtesy of Ricky's
Ricky's River Bar & Restaurant encompasses everything that's wonderful about Noosa.  Set on the Noosa River, where leisurely lunches or sunset dinners can be enjoyed, the restaurant has become a Sunshine Coast institution for serving sensational food.  The seafood focus, with Mediterranean spur, is superb. Local specialties are the stars of the show, fresh and brilliantly sourced.  Noosa spanner crab spaghettini, wood-fired Mooloolaba prawns, scallops with cauliflower and morcilla, manchego croquettes, snapper with jamon iberico and sauce soubise – just to name a few star dishes.
The service staff is accommodating, and casual in a way that makes the diner feel comfortable, at ease, at home.  The mood is relaxing, and the atmosphere is like being on a houseboat – pampered, elated.  For the full Sunshine Coast experience, arrive at Ricky's on the Noosa ferry which can be accessed from Noosaville or Noosa Heads, or by water taxi.  The restaurant has its own jetty, and entering by water adds even more glamour to a most memorable meal in South East Queensland.
Spirit House in the Sunshine Coast Hinterland is the getaway within a getaway.  A short drive from several of the coastal beaches, Noosa, Coolum, Maroochydore, this restaurant in Yandina is a special place and a destination of its own.  Set in a tropical garden, and serving upscale Thai cuisine, the Spirit House takes you on a journey of spice in what feels like the middle of the rainforest.  Torches and candle lights illuminate the restaurant, there are seating options indoors and outside, surrounded by green and singing crickets.

The Spirit House in Yandina – courtesy of Spirit House
After an attractive drive into the Hinterland from what could have been a day spent in the city of Brisbane, or along the shores of the Sunshine Coast, a meal at Spirit House can't be surpassed without enjoying the full degustation.  Fresh rolls of asparagus and water chestnuts with mushroom xo sauce, crispy pork belly with citrus caramel, scallops on puffed roti with green peppercorn salad, coconut soup of salmon and lemongrass, pulled wagyu beef with pickled shitake mushrooms, and to end on a sweet note, kaffir lime and white chocolate terrine or peanut bavarois with puffed rice and berry jelly.  Dining at this restaurant truly revitalises the spirit.  If you're captivated by the cuisine and the surroundings, Spirit House also has a cooking school, with specialty classes running during the week.
Whether it is in the city, along the coast, or near the mountains, South East Queensland is filled with fine dining destinations waiting to be savoured. Urbane, Ricky's and Spirit House are three outstanding options, but they're only the tip of the iceberg, and the best way to discover Queensland's great South East is to hop on the highway (or a plane!) and go on a culinary adventure.
Celebrating Australian food with Tourism Australia. To find out more, check out the best of Australian road trips.
Urbane
181 Mary Street, Brisbane, QLD 4000
Tel. +61 7 3229 2271
www.urbanerestaurant.com
Ricky's River Bar & Restaurant
2 Quamby Place, Noosa Heads, QLD 4567
Tel. +61 7 5447 2455
www.rickys.com.au
Spirit House
20 Ninderry Road, Yandina, QLD 4561
Tel. +61 7 5446 8994
www.spirithouse.com.au

Janice is a girl from Lima, Peru who loves a good cebiche and a glass of dry Riesling. She travels the world (often for food or to check out new restaurants) and lives in Australia. Janice tries to learn about different countries through cuisine, and takes advantage of Sydney's multiculturalism by exploring gastronomy in all of its forms. Grower's markets, wine tastings, restaurant openings, cooking classes, shopping for specialty spices; she's keen to do it all.