I'll begin my report on Shanghai with the lunch my wife, S, and I had flown there to eat, a hairy crab meal cooked by chef Jereme Leung.
To introduce Jereme, a friend and fellow Singaporean, allow me to quote Patricia Wells, food critic for the International Herald Tribune. The following started a review that was published on 13 May 2005:
"It's been a long time since I got up from the table after dining in a restaurant and whispered to myself, "genius." But there's surely a touch of that talent in the young, sure-footed Hong Kong-born Jereme Leung, executive chef at Whampoa Club, the bright, expansive Art Deco-style restaurant in the popular Three on the Bund complex in Shanghai.
"If there are revolutions in contemporary Chinese cooking today, then it is the gifted, ambitious chefs such as Jereme that will serve as the leaders. His food is not fusion, it is not confusion, it is not all about avocadoes and papayas with raw tuna. It's good, honest, Chinese fare that's been given a facelift, an update, a new look with no sacrifice in flavor. In fact, it's more like a upgrade to first class. "
Now that's praise!
Despite S having helped Jereme write his cookbook, New Shanghai Cuisine, we had yet to eat at Whampoa Club. Our last trip to Shanghai was in 2002. At the time, Jereme had just moved there and was busy immersing himself in Shanghai and its food in order to create his own modern and delicious take on Shanghainese cuisine. Ever since opening Whampoa Club a year or so ago, he's been urging us to come and try it and the new cuisine he's been making.
A huge crab fanatic, S decided to time our first trip with the hairy crab season. Two other friends, both passionate foodies with professional links to the f&b industry, decided to tag along.
Whampoa Club is, as mentioned by Ms Wells, in the sexy Three on the Bund complex (located, quite obviously, on the Bund). In addition to Jereme's restaurant, there's also a Jean-Georges (which we lunched at as well and about which I will post later), an Aussie restaurant called Laris, a stunning contemporary art gallery, the Giorgio Armani flagship store in Shanghai, an Evian spa, and a men's and women's multi-brand boutique called Three. While the Jean-Georges is dark, clubby and warm, and Laris is light, sleek and feminine, Whampoa Glam is bright, bold and glam, with a nod to the Art Deco styles of Shanghai in the 1920s.
We were seated at a wonderful table with an unparalleled view of the Pudong and presented with glasses of Champagne–always the best greeting in any restaurant. Jereme came out to say hello and to tell us a bit about his Crab Feast Tasting Menu, which we all eagerly and greedily agreed to have.
Our menu started with a small amuse-bouche, and also the only non-crab dish (besides dessert) of the day. It was described by the waiters presenting it as "ice cream" and was composed of 5-spice beef and pureed potatoes in a cone. It's pictured at the top of the post.
Our next course was Shanghainese drunken hairy crab, crunchy pickled vegetable, and sweet vinegar shaved ice paired with stir-fried hairy crab powder, asparagus and mini taro. The hairy crab powder dish is served in an egg shell. S and our two friends loved the drunken crab (and in fact couldn't stop talking about this dish throughout our entire trip). Unlike them though, I'm not the biggest fan of either raw crab or Chinese drunken seafood dishes. I did however love the hairy crab powder dish. The various ingredients were layered within the shell, which meant that as you dug deeper into the dish, you would get more complex and intense flavors.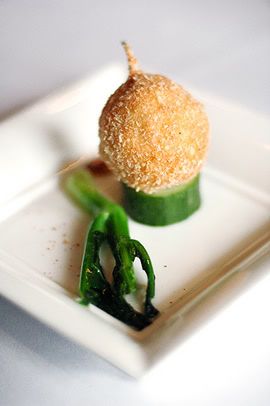 The next dish was my favorite of the meal, a stuffed crab claw with shrimp mousse, hairy crab meat and roe jelly. This dish was truly amazing. It was both delicious and totally surprising. What looks like a typical item from a Cantonese dim sum menu is in fact an El Bulli-influenced (as admitted by Jereme) combination of Cantonese and Shanghainese cuisines. More specifically, it's a combination of the Cantonese stuffed crab claw and a xiao long bao. Instead of the usual filling of minced prawns, these crab claws are filled with an amazing xiao long bao-like soup flavored with hairy crab meat and roe. To eat one properly, you have to remove the claw and suck/drink the soup out of the top and then eat the casing. Eating it any other way would result in hot soup spilling or, in some cases, spitting out all over the place. Here's a good example of how to eat one properly:
Our next course was a duo of hairy crab and shark's fin creations. Served in two bowls were braised hairy crab meat with shark's fin and crispy hairy crab dumpling with Chinese consomme. These were fantastic. The hairy crab and shark's fin in particular was exceptionally rich and satisfying, with a real, lovely umaminess about it.
Before our next course, these uber-chic instruments were placed in front of us. I had never before seen such attractive crab eating tools. I just couldn't resist snapping a quick picture.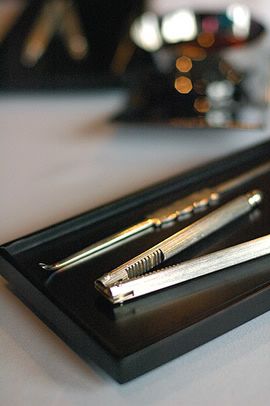 And here's the dish that called for such sexy tools. It's a steamed hairy crab with 'Shao Xing' wine and baby clams.
The crab and clams are steamed in a bed of egg custard that's been laced with the wine and the natural juices of the clams and crabs. The dish, while messy, was delicious. That said, I have to admit that I'm not the best crab eater. Unlike my wife who can strip a crab of all its meat without sacrificing an ounce of elegance or getting her hands too dirty, I'm entirely inefficient and a real mess. So, while I enjoyed this dish, I also probably didn't do it real justice.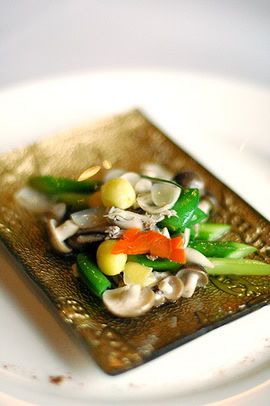 Next up was sauteed hairy crab legs with an array of autumn vegetables. This was a light and tasty dish. Also, since the crab meat was shelled, it was a nice stress-free dish after struggling with the previous plate. For our last crab course, we were served homemade egg noodles with hairy crab and crispy shallots.
Traditionally, ginger tea is served at the end of a hairy crab meal. S tells me it is because the heatiness of the ginger tea balances out the cooling nature of the crab. So to finish our meal, Jereme created an interesting dessert, a wild honey ginger tea, dates paste glutinous pearls, sweet corn and ginger ice-cream.
All in all, it was an excellent meal. The crab claw was, for me, the stand-out in a meal of outstanding dishes. And, after eating this meal, I have to agree with Ms Wells. Jereme has taken Chinese cuisine to a new place, and it is a place I wish more and more chefs could find their way to. He's managed to take traditional recipes, traditional dishes and ideas, and modernize them without sacrificing their integrity. He's preserved the vital soul of these dishes and represented them in new and exciting ways. And in so doing, he really has created a new Shanghainese cuisine.
Whampoa Club
5th Floor
Three on the Bund
3 Zhongshan Dong Yi Lu
Tel: 6321 3737
Aun has always loved food and travel, passions passed down to him from his parents. This foundation, plus a background in media, pushed him to start Chubby Hubby in 2005. He loves that this site allows him to write about the things he adores--food, style, travel, his wife and his three kids!