I first ate Jean-Georges' molten chocolate cake some 10-11 years ago. It was at a restaurant on 105th Street between Broadway and Amsterdam Avenue in New York called Metisse. It had just opened and, as one of the resident food and movie critics (among other things) for my college newspaper, I made it a point to visit. Metisse was a revelation for Morningside Heights, a neighborhood with, at the time, only one high-end but much too pricey French restaurant, one New American casual place that I was a regular at already, and a bunch of greasy diners, Chinese and Indian takeaways. Metisse served French bistro fare, and served it very well. I quickly discovered that a good portion of the restaurant's opening team had come from JoJo, the upscale bistro helmed by Mr Jean-Georges Vongerichten, that had reawakened a passion for simple and regional French food among New Yorkers in the early 90s. I further discovered that most of the menu items were neatly copied directly from JoJo's menu, but at half the price. During that first meal, the manager/owner recommended I try what he called his "warm chocolate cake" for dessert. Now, I'm not normally a chocolate person–unlike my wife S who lives and breathes the stuff–so I wouldn't have normally picked this dessert, but since Monsieur seemed quite eager for me to taste it, I happily accepted.
It was marvelous. I remember being totally floored and excited when, after cutting into the small cake in front of me, warm liquid chocolate oozed from its dark, rich centre. It was both fun and delicious, especially with good quality Vanilla ice cream. For the next year or so, Metisse became my favorite restaurant. I dined there with friends almost every week, and almost each time had the molten chocolate cake. It was especially fun dining with friends that had never had or heard of this dessert before. As regular readers already know, I'm a big fan of phenomenal first-time experiences. It was great witnessing friends discovering this amazing dessert for the first time.
Over the next couple of years, this dessert, under various names (warm chocolate cake, molten chocolate cake, half-cooked, lava, etc), began appearing on more and more restaurant menus. The overwhelmingly positive response from customers and the fact that the cake was deceptively easy to make obviously made it a popular choice for chefs who knew about it. Then things exploded. By the end of the 90s, every other "Modern European" restaurant anywhere in the world was serving molten chocolate cake. While once upon a time it was a thrilling and unique dessert, it had reached its tipping point and fallen off into the realm of over-popular kitsch. What's worse is that chefs were charging ridiculous prices for this easy to make dessert. And just like that, within a decade, a dessert I once loved became a dessert I scorned and scoffed at when seeing it on menus.
S shared my mixed appreciation and contempt for this delicious dessert. Having discovered its simplicity, it became a recipe she turned to frequently during dinner parties but would never order in restaurants. She also decided to tell as many people as possible how easy it was to make, going so far as printing the recipe on the back of her namecards, thereby passing it to anyone she met (as a food writer, it was also a great namecard to give to someone–a real icebreaker). One year, we even created our own DIY kits (complete with molds, chocolate and instructions) which we gave friends as X-Mas stocking stuffers.
The man most often credited with creating this culinary "mistake" (that has since become a culinary classic) is, as mentioned above, Jean-Georges Vongerichten. I say "most often" because over the years S and I have read many articles, including one that quotes ex-Le Cirque pastry chef Jacques Torres, that states that while Jean-Georges may have made the cake popular in the USA and may in fact have been the first chef to put it on a menu in New York, it already existed in France. Vongerichten claims he created this dessert by accident in 1987 while working at the Drake hotel in New York. Paula Wolfert, however, asserts that it's from the early 1980s, and either from Jacquie Chibois working at the Grey Albion in Cannes, or from Michel Bras. Well-known pastry chef Francois Payard said he had prepared desserts like that when he worked with Alain Senderens at Lucas-Carton in Paris. Regardless of its parentage, no one can argue with the fact that Jean-Georges was the one to make it famous.
I'm writing all of this because last week, during my jaunt to Shanghai, I had the pleasure of lunching at Jean-Georges' eponymous restaurant in the Three on the Bund complex. It's a beautiful, large, clubby space, with dark wood accents and plush, colorful banquettes. Chef Jereme Leung (from Whampoa Club) had made the reservation for us, so upon arrival, we were shown to the best table in the room (judging by the view) and offered complimentary glasses of Bollinger (big yum!). The 3-course set lunch menu was surprisingly reasonable at 198RMB. It also offered a surprising amount of choice, with 5 appetizers, 6 mains and 3 desserts to choose from. I ordered the crab ravioli with black pepper and sweet peas to start while S had the foie gras brulé, dried sour cherries and candied pistachios–a signature dish according to the restaurant's manager.
The foie gras dish (pictured here) was a winner. The combination of textures (soft and crispy) and flavors (savory and sweet) worked for me. My ravioli, while good, didn't blow me away, especially compared to all the other sinful hairy crab dishes we tried during our stay in Shanghai.
As an intermezzo between courses, we were offered a taste of another signature dish, king fish sashimi, mango and chilli-lemon granité. I remember that in RW Apple Jr's recent New York Times article on eating in Shanghai, he raved about this dish. But it didn't do anything for me, S or our two friends. The mango flavors and the chilli overpowered the dish; I could hardly taste the fish. And even worse, it totally killed the taste of the white wine we were drinking. For mains, S had veal tenderloin and shank, potato canneloni with liquid parmesan while I had duck topped with cracked jordan almonds. S's dish was good, cooked well. The meat was tender and the flavors well-balanced. Mine was, well, not bad, but nothing to call the folks at Michelin about.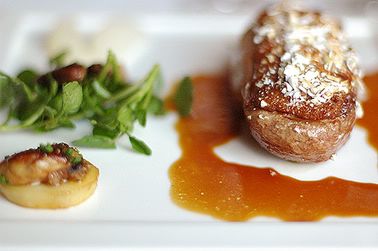 The dish (as you can see) consisted of an uncut roasted duck breast topped with crushed candied almonds. On the side of the plate was a small potato disk and some salad/garnish. The duck, for my taste, was a little too tough and a little dry. I had ordered it medium rare but what I got was in between medium and medium well. I was also told that there was duck leg confit meat in the dish, but when it arrived, there was none to be seen. It was, in sum, a dish I wouldn't order again.
For dessert, we were given three choices. The only one I wanted… the one I knew I would try… was called quite simply, "chocolate." It was a trio of hot chocolate with coffee, Jean-Georges' famed molten chocolate cake and vanilla ice cream. I know I mentioned earlier that I had pretty much stopped ordering this dessert in restaurants. But this was different. This was Jean-Georges. This was where it all started. This was the original (well, if you believe Mr Vongerichten at least). S must have been thinking the same thing because within a second of looking at the dessert list, she too said she'd have the chocolate cake. It was perhaps the first time in a year that either of us had ordered one of these in a restaurant.
And it was good. Really, really good. Beautifully plated and perfectly made. It more than made up for the duck.
In all, the meal at Jean-Georges was good. The service was exceptional, the view stunning. The restaurant is sexy as hell, easily eclipsing the attractive young female hostesses who man the reception counter. The food, on the other hand, was not fantastic. It was very good, very well-executed, but not great. The stand-out dish–and I can't believe I'm writing this–was the molten chocolate cake.
Jean Georges
4th Floor
Three on the Bund
3 Zhongshan Dong Yi Lu
Tel: 6321 7733
Molten chocolate cake, serves 4
125g butter; plus a little for buttering the molds
112g bittersweet chocolate, preferably Valrhona
2 eggs
2 egg yolks
1/4 cup sugar
2 teaspoons flour; plus a little more for dusting
1. In the top of a double boiler set over simmering water; heat the butter and chocolate together until the chocolate is almost completely melted. While that's heating, beat together the eggs, yolks, and sugar with a whisk or electric beater until light and thick.
2. Beat together the melted chocolate and butter; it should be quite warm. Pour in the egg mixture, then quickly beat in the flour; just until combined.
3. Butter and lightly flour four 4-ounce molds, custard cups, or ramekins. Tap out the excess flour Divide the batter among the molds. (At this point you can refrigerate the desserts until you are ready to eat, for up to several hours; bring them to room temperature before baking.)
4. Preheat the oven to 450°F (230°C). Bake the molds on a tray for 6 to 7 minutes; the center will still be quite soft, but the sides will be set.
5. Invert each mold onto a plate and let sit for about 10 seconds. Unmold by lifting one corner of the mold; the cake will fall out onto the plate. Serve immediately.
From:
Jean-Georges: Cooking at Home with a Four-Star Chef
By Jean-Georges Vongerichten
and Mark Bittman
Aun has always loved food and travel, passions passed down to him from his parents. This foundation, plus a background in media, pushed him to start Chubby Hubby in 2005. He loves that this site allows him to write about the things he adores--food, style, travel, his wife and his three kids!