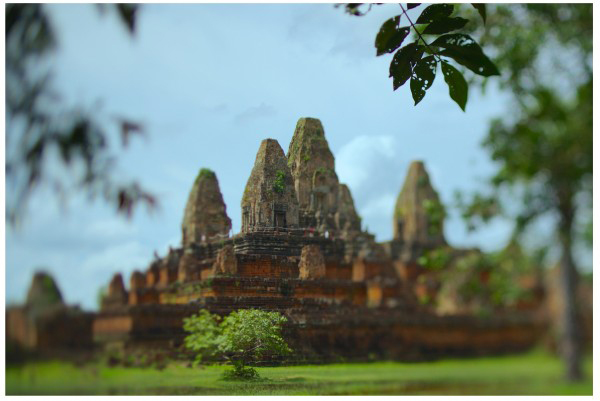 Siem Reap is home to hundreds of temples including the majestic Angkor Wat and Bayon. It also boasts of scrumptious Khmer cuisine that is as awe-inspiring as these world heritage monuments. Almost wiped out by the ruthless Khmer Rouge regime, Khmer cuisine has a long and varied history encompassing elements of Thai, Vietnamese, Indian, French and of course Chinese. However, it has its own more nuanced touch that is evident in the soups, curries and marinades. And rice lovers will love the long grain presented to them with every dish – so fragrant and well-cooked.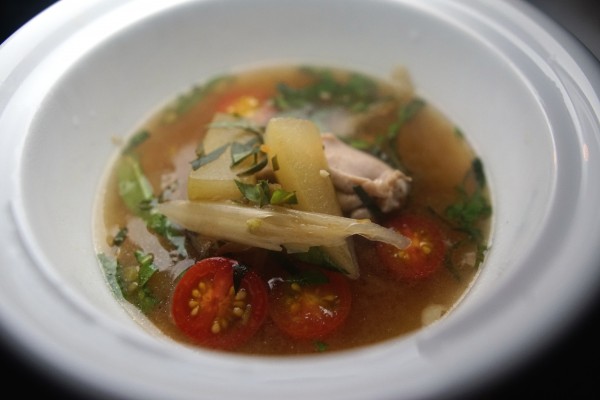 We had the pleasure of securing a room at the Park Hyatt Siem Reap, itself a gastronomic destination. The daily breakfast spread was a riot of colours as I made me way through Cambodian curried noodles (the milky coconut broth is heavenly), pho-like beef noodles and delicious rice porridge. Breakfast was something I really looked forward to.   Dinner at The Dining Room was also very compelling. My wife and I, made our way through a sumptuous 5-course meal that opened my eyes to what good quality Cambodian food was all about. My favourite was the tangy soup and beef satay.
Venturing out to the town, we had a delectable meal at The Sugar Palm, a well-known restaurant near the hotel along on Taphul St. This restaurant is  highly recommended for its creativity and excellent service. Check out the Eggplant topped with minced meat and preserved beans – so pretty to look at and so delicious. The fish amok was the best I had in Siem Reap with its well-balanced spice levels and ultra smooth texture.
The true test of any cuisine is its vegetarian offering. Being a fervent meat eater, I am a tough customer to satisfy but Chamkar in the mid section of the Old Market, made a believer out of me. The amazingly soft and nutritious spring roll in uber moist rice flour skin, the mango salad and the ridiculous yummy desert, took the pain out of a meatless dinner. Service was friendly and plenty of smiles and friendly banter accompanied each dish. Do ask for the second level verandah seating for cool breeze and a wonderful view of the busy night scene below. A treat for all the senses.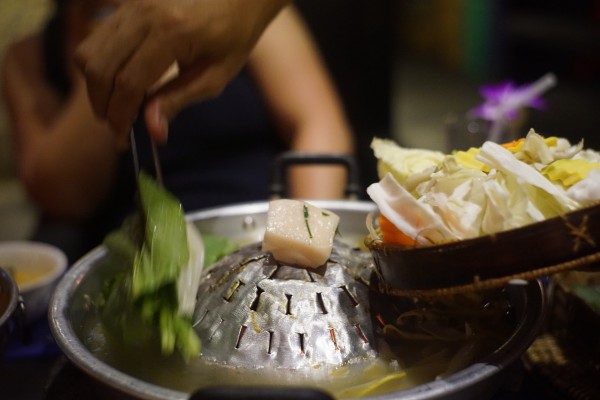 In the interest of sampling a wide range of food, we risked life and limb to visit the tourist trap of Pub Street for some Khmer barbeque – or as a friend likes to put it, a game of tasting mystery meats. We settled on the 'imaginatively' named Cambodian BBQ Restaurant and ordered the mixed set. I must say, it was hard to tell what each meat type was – thank goodness for the labels. It was fun but not for people who find crocodile, shark or frog repulsive.
On your way out to visit the outlying temples such as Beng Mealea (the Tomb Raider temple), don't be afraid to stop at the many roadside stalls selling dragon fruit. The scaly red skin is so thin and peels easily; revealing a magenta-hued flesh that is sweet and juicy. As part of the temple tour, we had a scheduled lunch stop at a new restaurant called Batchum Khmer Kitchen. Situated within a large farm with a beautiful mossy pond, it is bursting with rustic charm. The home-cooked Cambodian food of fried spring rolls, curried vegetables, fish amok and chicken stir fry was really moreish. My request for fresh cut chilli was quickly answered by a young man who plucked it fresh off the chilli plants. As it turned out, the restaurant grows most of their vegetables and it really made the difference in crunch, sweetness and colour.   Siem Reap has so many wonderful and inexpensive eats. I could go on about the fresh coconuts, the charcoaled cooked rice cakes, the delicious milk coffee etc. Can't wait to go back to pay homage to both the temple and food – again!
Park Hyatt Sivutha Boulevard
Siem Reap, Cambodia
Tel: +855 63 211 234
www.siemreap.park.hyatt.com
Sugar Palm
‪Taphul St.
Siem Reap, Cambodia   ‪
Tel: +855 63 964 838
www.thesugarpalm.com 
Batchum Khmer Kitchen Food
Watdom nak, ‪Salakomreak
Siem Reap, Cambodia
Tel: +855 88 391 00 05
www.batchumkhmerkitchen.com

Roger's love affair with food started with a bang. Sent to a distant corner of Kent at 16, an Asian-food starved Roger tried to recreate mom's stir-fry with explosive results. The loss of the left eyebrow was well worth the reprieve from steak and kidney pie. Today Roger runs his own creative agency as a pretext for his food-based escapades. If you are unlucky enough to be seated next to Roger in a restaurant, do be thankful that he is annoying you with his camera, and not attempting to flambé with a wok.