Every time my wife S and I go to Kyoto, one of our all-time favourite cities, we discover new things to tell friends and family (and you) about. One of the single most popular posts on this blog is our 2009 Kyoto Guide. Recently, we've been blogging about some singularly spectacular things to do in Kyoto, such as staying in the city's most unique ryokan–style resort, exploring Arashiyama, learning zen meditation, or taking a cooking class to learn some great Japanese home cooking techniques. The following are just a few more recommendations to add to my always growing list of hot picks for Kyoto – awesome things to see, do, eat or buy in this amazing city.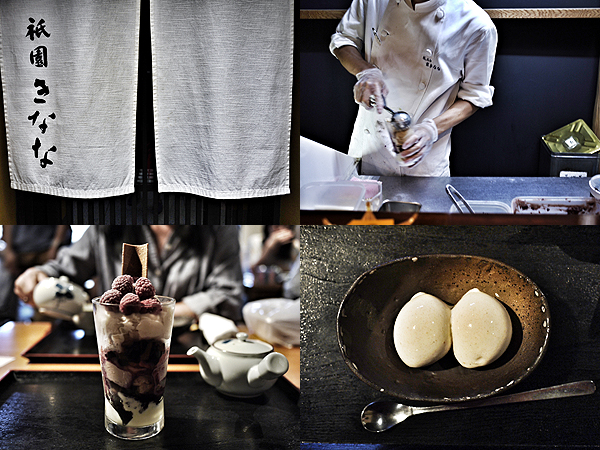 Kinako ice cream
My wife S and I love ice cream, so when I had read that Kyo Kinana serves up what could be the best ice cream in the city, I simply had to include it in our always-packed eating itinerary. Boy, am I glad I did. And boy, am I glad that I had not only printed out a map to the Gion branch (which is the main branch) but also a picture of the entrance. Without either, I would never have found Kinana and I would have missed out on the softest, smoothest, creamiest, yummiest fresh soy bean ice cream I have ever tasted. While the kinako ice cream, made daily, is definitely the star at this cool, discreet ice cream shop and cafe, diners can also choose from a variety of parfaits, all of which are amazing. For more information on Kinana and directions, please check out this post from Kyotofoodie: Kyoto Ice Cream.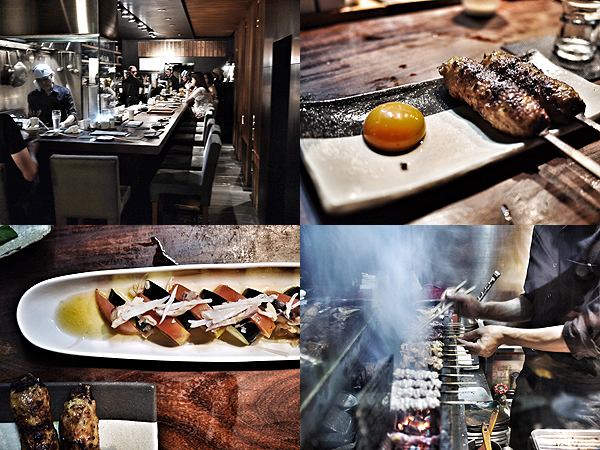 Great yakitori and booze
When S and I travel, while we do often go to one or more chi-chi, up-market (and unfortunately expensive) fine dining restaurants, what I love most is finding a real local hangout – the kind of place that local foodies head to regularly for really well-cooked but affordable grub; a fun, laid-back atmosphere; and great service. This past trip to Kyoto, S and I were thrilled to try a small, modern and really cool little yakitori joint called Sumibi Torito. The staff at Sumibi Torito are cool and eager to please. The sake list is fantastic; we had several flasks of different local sakes, all of which were excellent. And the yakitori itself was good. Some things were just okay while others fantastic. The definite highlight of the night was the tsukune, the minced chicken meatball, which is charcoal grilled, basted with sauce, and then served with an incredibly fresh raw egg yolk, which you use as a dipping sauce. In addition to the regular menu, be sure to ask about seasonal specials. If you don't, you could miss out on some really awesome stuff. Sumibi Torito is the perfect kind of place to go to unwind with friends over good food and drink. It's also perfect if you want to get away, for a night, from faux historic tourist traps and check out a place where 99 percent of the other customers will definitely be locals.
Map and address available at Sumibi Torito's website.

Kyoto style sushi
I have to be honest. I am not a huge fan of Kyoto style sushi. But if you're in Kyoto, and you want to try it at least once, the place that everyone seems to agree is the best place to head to is Izuju, in Gion. The one thing to try is the sabazushi, large rolls of sushi rice pressed together with thin layers of pickled mackerel and kelp. The saba actually has a really lovely flavour and, overall, Izuju's sabazushi is really very tasty. Izuju is also worth visiting because its interiors are amusingly anachronistic.
Map and address here: Izuju listing on Bento.
Awesome artisanal sake
One of the best things S and I did on this most recent trip was drop in on the Matsui Sake Brewing Company, which I was told is Kyoto's smallest family-run, artisanal sake brewery and one of the best producers in Japan. This tiny brewery has picked up several international awards for its products, which owner Shigeki Matsui was happy to show me when S and I turned up for a quick tour and a tasting. I love sake, so I was thrilled to be able to see a working brewery and to be able to speak with Shigeki, who has taken over the almost 300 year old family business. What I especially loved was seeing how Shigeki is modernising his production facilities in hopes of producing better quality wine; seeing the gorgeous product designs and packaging that Shigeki's wife has personally created for her husband's company; and of course tasting variety after variety of the very high quality sake produced by Matsui-san. Of the sakes I tasted, the ones I liked best were Matsui-san's line of KAGURA Kamikura sakes, all of which are high quality unfiltered sakes. Matsui-san makes a raw unfiltered Junmai Daiginjo, a raw unfiltered Daiginjo and an unfiltered Junmai. We ended up bringing home a small bottle each of the Junmai Daiginjo and Daiginjo, and also purchased a large bottle of the Junmai for a chef friend in Tokyo. So far, Matsui-san's sakes are only available at a few restaurants in Kyoto, a few in Seoul, and at the shop in his family's brewery. I definitely recommend dropping by here when you're in town!
Matsui Sake Brewing Co Ltd
1-6 Yoshida Kawaramachi, Sakyo-ku
Kyoto-shi, Kyoto 606-8305 Japan
Tel: + 81 75 771 0246
http://matsuishuzo.com/

Drinking in a Buddhist temple
Okay, here's the skinny on Kanga-an Temple. Do not, ever, go there to eat. No matter what. While some tour guides might try to convince you that Kanga-an's very special vegetarian restaurant is, well, very special, I can tell you from experience that it is not. Not even close. The restaurant here serves rather bizarre, not very appetizing, Japanified Chinese vegetarian food. And it's damned expensive to boot. I can, however, recommend you check out the very cool cocktail bar, hidden away in this lovely Buddhist temple. Yes, that's right. Bar. This temple is home to one of Kyoto's coolest places to drink. The bar's window overlooks a beautiful garden, which makes throwing one back somewhat more peaceful. The selection of booze is excellent as is the service. A very special place for a pre or post-dinner tipple.
278 Karasuma Dori, Kuramaguchi Higashi Iru, Kita-ku, Kyoto
Bar is open 5pm – 1am daily
Tel: + 81 75 256 2480
http://www.kangaan.jp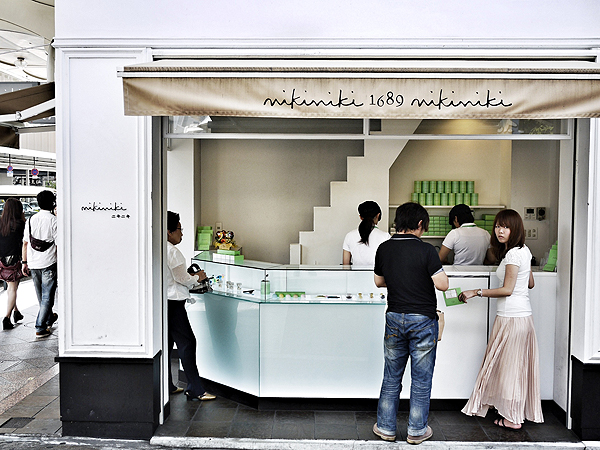 Beautiful modern wagashi
Nikiniki is perhaps the coolest wagashi shop in Kyoto. It's situated very visibly on a corner of Shijo Dori, near the Kamo River (close to Kawaramachi station). The look is ultra-modern and sleek, which stands out in a city dominated by wagashi shops that look two, three or four hundred years old. The wagashi themselves are also beautiful. The designs are modern and they change seasonally. In addition to the candy, the famous Kyoto cinnamon cookies are given a modern spin, baked to look like cinnamon sticks and packaged in boxes more akin to high fashion than food. You'll notice that on Nikiniki's awning, the date 1689 stands out. That's because Nikiniki is actually owned by Shogoin, one of Kyoto's oldest and most famous traditional wagashi companies, which was founded in 1689. And, as you'd expect, Shogoin also happens to be arguably the most famous producer of cinnamon cookies in Kyoto. Anyway, if you're in town, it's hard to miss Nikiniki. Stop by and try some of the wagashi or cinnamon cookies. You will not be disappointed.

Aun and Su-Lyn flew to Japan on tickets partially sponsored by Japan Airlines. 
Aun has always loved food and travel, passions passed down to him from his parents. This foundation, plus a background in media, pushed him to start Chubby Hubby in 2005. He loves that this site allows him to write about the things he adores--food, style, travel, his wife and his three kids!