Ever since our son was old enough to travel, my wife and I have been bringing him on an annual trip to Kyoto. It's a vacation we look forward to every year. The city is gorgeous. It's safe, has lots of open spaces and was pretty much perfect for stress-free holidays with the little guy. Over the last few years, we had built up a solid list of things to do with him, in Kyoto as well as nearby Osaka.
Last December, however, instead of the annual pilgrimage to Kyoto, we decided to take him to Tokyo instead – with a short side trip to Karuizawa. We had decided that at 4 going on 5, he might be able to deal with the craziness that is Japan's capital city. We had purposely left him behind on previous jaunts to Tokyo for two reasons: (1) we felt that it might just be too loud, claustrophobic and frenetic for him; and (2) our main reason for visiting Tokyo was to eat, and you really can't bring a toddler along to most of the city's top restaurants.
Last year, though, we decided to give bringing him to Tokyo a shot. And, it went surprisingly well. Well enough that we'd definitely bring him back. Here are a few recommendations from our trip that might come in handy for fellow parents thinking of bringing their little one(s) to Tokyo as well.
Life-savers
Babysitters.jp
Okay, so before I jump into any other recommendations, I want to give a huge endorsement to babysitters.jp. Without their services, we would not have enjoyed the trip as much as we did. Because, and let's be honest, as much as we all love our kids, sometimes we just want some couple time. Babysitters.jp offers smart, friendly, trustworthy babysitters at semi-affordable rates (much cheaper than what any hotel would charge you). The team responds to emails and requests quickly. And they try as much as possible to find the right match for your family. They contacted me very soon after I had filled out the online form on their website. The team recommended a charming young lady from Hong Kong who had a degree in early education, 5 years of daycare experience and who spoke Mandarin, English and Cantonese. They even offered to put us in touch with her in case we wanted to Skype with her prior to the appointments. Not only were we impressed with her, our son loved her. In fact, on the second night we used her, he was excitedly jumping around non-stop for a full hour before she arrived in anticipation of spending time with her. Unfortunately, when we tried to book her again for a third time with only a few hours notice (we decided to go out for one last couples night), she wasn't available. But the service was able to hook us up with an equally competent sitter very quickly. I will definitely be using babysitters.jp on the next trip and many more after.
Play
A short caveat for this section. We didn't go to Disneyland or Disney Sea, simply because our son had no interest. While we did many things together during our trip, we purposely devoted certain days (or really half days) to indulging his need to play. These are three activities that we did together that our son particularly enjoyed and that we'd recommend.
ComPaSS Room, National Museum of Nature and Science
Not enough museums offer great kids facilities. And when I say "kids facilities" I don't mean a gift shop or a dumbed down guide to the exhibits. I mean an interactive area for kids to learn and play within. The best I've seen recently — at least for kids the age our of son — is the ComPaSS Room in the National Museum of Nature and Science. This Museum is in the middle of Ueno Park, which is in and of itself a nice place in which your kids can run around. The Museum is a well-organised, typical natural history museum, complete with requisite dinosaur fossils. This is actually why we visited; we weren't actually aware of the ComPaSS Room until we were actually on site. To access this very cool room, you need to register for a ticket. There is cap on how many kids (and parents) are allowed access at any one time — which is awesome because it ensures that the space is never crowded. Families are cycled in and out on an hourly basis. I can best describe the ComPaSS Room as a cross between an indoor playgym, creative play space, learning lab and museum exhibition. The museum itself describes it this way: "This is an exhibition room for kids aged 4 to 6 along with their guardians. The purpose here is to spark communication between children and parents while they 'play', and to cultivate their ability to feel and think." Walking in the first thing you see is a giant T-rex skeleton. There are taxidermied animals, slides, hiding spaces and crawl spaces, a suspension bridge, art areas, learning areas, and a book corner, plus other things I can't quite remember. We were super impressed by the facilities and our little guy absolutely loved his time there. This is definitely a must-visit if your kid is the appropriate age.
Asobono at Tokyo Dome
Our little guy loves indoor playgyms so we decided to try and visit at least one during our stay in Tokyo. After a bit of research (that included evaluating both the city's playgyms and ease of access from our hotel) we decided to check out Asobono, located next to the Tokyo Dome. It's a large, bright and very fun playgym, with several zones, including Lego areas, a massive zone for building train tracks and playing with toy cars, lots of little mock stores, and of course, a large ball pit with slides, bridges and other things kids love to crawl, run and jump on. As you'd expect in Japan, the playgym was bright and very clean. Our little guy had a great time. Surprisingly, the food court located just opposite the playgym offered quite good food. We had an enjoyable lunch there after we left Asobono. The food court even had some low communal tables which were perfect height for kids. Fortunately the tables weren't too low for us nor were the chairs too small. All in all, a nice place to visit.
Anpanman Children's Museum and Mall (Yokohama)
A visit to this Anpanman themed play museum and mall might not be for everyone. But our son is obsessed with Anpanman and had begged us to take him here. The closest Anpanman Children's Museum and Mall to Tokyo is in Yokohama. The best way to get there is by train, followed by a quick taxi ride. Because we were staying near Yurakucho on the day we visited, it was a super easy journey — there is a direct train (the JR Keihin-Tokohu/Negishi Line) and the ride is around 38 minutes each way. There are faster routes but those all required changing trains, something I try not to do when travelling with the little guy. For those of you who have never heard of Anpanman, he is a Japanese superhero invented in the early 1970s and one that has remained a mainstay in Japanese popular culture. His name means literally "red bean bun man" and his head is drawn in the shape of a red bean bun. All of the other good guys in this series are also baked goods, while the bad guys are various germs and bacteria. The depictions of the characters and cute and often hilarious. The "Museum" is really a playgym with some cute exhibition areas and a theatre. They do a song and dance show with live action versions of the characters that is cute (for a while). While there is an admission price for the Museum, entrance to the Mall is free. The Mall consists of Anpanman themed shops and restaurants. We've visited the Anpanman Museums and Malls in both Kobe and Yokohama now. I have to admit the restaurants and cafes are surprisingly good. The shops carry, well, what you'd expect… everything and anything that could be branded, but mostly clothes and toys. While most visitors are families, it is not uncommon to see couples on dates — many Japanese never outgrow their adoration of this character and its universe. Admission is, by all accounts, really affordable — a fraction of what it would cost to visit Disney. So, I had no problem indulging my little man with this jaunt to nearby Yokohama.
Stay
Tokyo Station Hotel
We absolutely adored this premium hotel, situated directly on top of Tokyo Station. It offers the perfect mix of luxury, modernity and old world service. And of course, the location is ideal. I have to especially commend the concierge here. While we only spent one night in this hotel, the concierge helped me make reservations throughout our 10 day stay in Japan. And, if leaving from Narita Airport, the hotel's porters will walk you and your baggage right to the platform of the Narita Express train. Getting to the airport was never easier. (The picture is my slightly crazy son's reaction to the room right after he checked in. He was so thrilled, he kicked off his shoes and started dancing on the bed.)
Remm Hibiya
After staying at the Remm Hibiya, my wife has come up with a new tactic for holidays. Here's the plan: Book an affordable, modern, kid-friendly hotel that's situated across the street from the hotel you'd actually want to stay at if (1) you left the kids at home and (2) you didn't have to worry about your budget. Then, when the kids go to bed, sneak over to the hotel you really want to be staying in and enjoy their services without paying their room rates. The Remm Hibiya is perfectly located at the border of Ginza and Yurakucho across the street from The Imperial Hotel and just two blocks from The Peninsula. The Remm is a charming but simple hotel, with a Muji cafe on the second floor and, well, nothing else to speak about. The cafe is great for both breakfast and for feeding the kids before you head out on your own. And the rooms are clean and comfortable. Unlimited in-room movies can also be purchased for just Y1,000 per day, which is perfect for entertaining the little one. We loved the location of the Remm. We could walk into Ginza in minutes and after the little one went to bed, we could sneak over to the very classic bar at The Imperial and to nearby restaurants (of course, with a babysitter watching over him).
Shinjuku Granbell Hotel

There are three Granbell Hotels in Tokyo. Only the Shinjuku branch, though, offers Loft rooms (24 of them to be exact), which, if you are travelling with one small child, is perfect. These rooms are comfy with very high ceilings and either 2 double beds or a queen sized bed plus a small single bed on small loft accessible via a narrow staircase/ladder. Mind you, the child has to be old enough to be able to climb this ladder staircase without you worrying about him or her falling off. Our little one absolutely loved the staircase and his little private loft area. He had a blast bombarding us from above with his stuffed animals and looking down at us in the morning after he work up. Now, ironically, the other Granbells don't have these rooms, which are clearly designed for one child families. Which is kind of odd since this specific branch is located smack dab in Kabukicho, Shinjuku's red light district. It's not a dangerous area (and there are eateries everywhere) but it is amusing to walk out of the hotel and have to explain to one's toddler what host and hostess clubs are. That said, it's very well-located and if you'll be spending a lot of your time in Tokyo in the Shinjuku/Shibuya area, this is a good place to consider.
Eat
Tokyo has so many restaurants, it would impossible to put together any kind of proper list to family friendly eateries. Suffice it to say that with the exception of fine-dining places and high-priced, tasting menu only, counter restaurants, you could probably bring your kids with you wherever you wanted to go. The main thing is ascertaining what kind of Japanese foods your children enjoy and tailoring your dining choices appropriately. For example, our little guy loves yakiniku, teppanyaki and shabu shabu restaurants, so we visited several of those during the holiday. I picked the places we went to based on recommendations by our hotels' concierges, based on some quick internet research, and based on proximity. Lunches were picked based on our itineraries — I usually pre-picked a place near where we were going to be. At night, I picked dinner places within a 5-10 minute walk of our hotels. What's nice is that the Japanese eat really early so it's perfectly normal to make a reservation for dinner at 545pm or 6pm (which is when our son usually eats).
We particularly enjoyed visiting the new branch of Yakiniku Yazawa, just a few minutes from Tokyo Station — we are regulars at their sister branch in Singapore. We had a great dinner at a teppan and okonomiyaki specialist called Chibo — we ate at the branch located in the Bic Camera building in Yurakucho. We were nervous about taking the little guy to Akomeya but he loved how good the rice was (he's a real rice afficionado) and surprised us by eating puffer fish tempura. We had a great time at Birdland, in which he wolfed down sticks of chicken thigh and drank apple juice served to him in a beautiful, etched low ball glass. We all loved trying Tas Yard (pictured above), the extremely hipster cafe in trendy Sendagaya; our little guy had hambaaga rice while the wifey and I had curry rice.
We loved checking out the ultra old school Hamanoya Parlor in the basement of the Shin-Yurakucho building for breakfast — I could eat their fluffy egg sandwiches every day!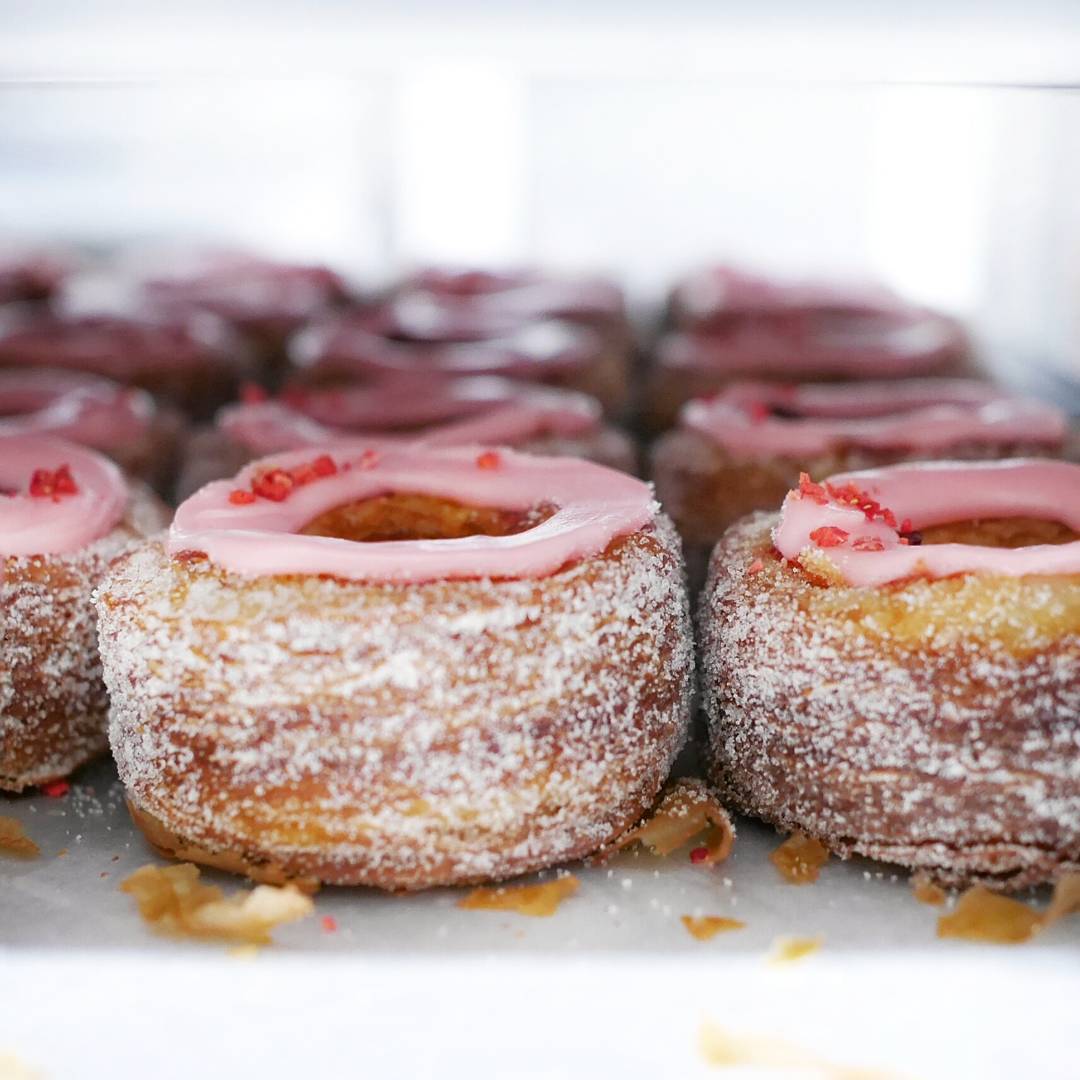 We also made visits to the Gontran Cherrier Bakery in Shinjuku so that our little croissant-addict could have a really satisfying breakfast and to the Dominique Ansel Bakery in Omotesando so that mama and papa could indulge in cronuts and blowtorched frozen smores. He enjoyed roaming the depachika in Damairu Tokyo Station with me — we particularly enjoyed a hearty snack after discovering that Blacows had a branch there. And he bought literally two arms full of financiers from Hidemi Sugino, in which his mama scared the living daylights out of him (and everyone else) by devouring a half dozen cakes in one sitting (we've discovered the best time to visit Hidemi Sugino is at noon — there is no line and almost all the pastries have been restocked by this time).
Lastly, just a random note on logistics. Both in Osaka (and Kyoto) and Tokyo, if we've done a lot of shopping or have a lot of laundry, we have found it useful to send bags to the airports a few days before we actually depart. That way, on the day we were actually heading to the airport, we weren't overloaded with luggage and could actually corral our kid if the need arose. Any and every hotel can arrange to get your bags sent via Taq-Q-Bin (or you can do it yourself if staying in a rented apartment or home). It's very convenient and picking the bags up at the airport is usually fuss-free.
Aun has always loved food and travel, passions passed down to him from his parents. This foundation, plus a background in media, pushed him to start Chubby Hubby in 2005. He loves that this site allows him to write about the things he adores--food, style, travel, his wife and his three kids!