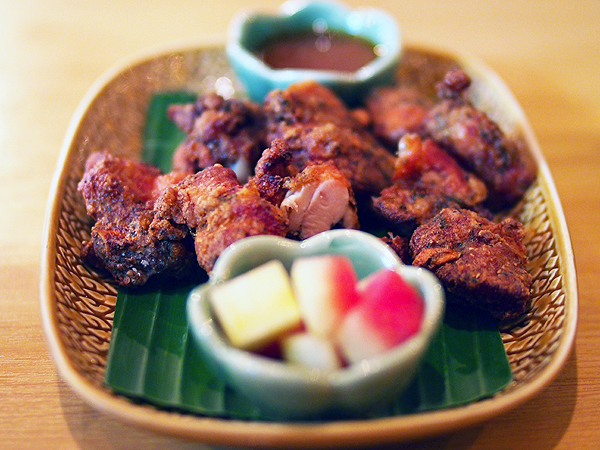 I might very well be the last food blogger in Asia to write about Soul Food Mahanakorn in Bangkok. Which is really kind of pathetic since I consider owner Jarrett Wrisley a friend. And I've known about this swanky eatery since before it even opened three years ago. Circumstances, however, had kept me from getting a chance to actually eat at Soul Food until just recently. The meal was really great, which is why I'm now, finally, able to give Jarrett a shout-out here.

I first met Jarrett many years back when he was working as a food writer in Shanghai. We were introduced by Chef Jereme Leung, who took us both out for dinner one night when I was visiting. Jereme introduced Jarrett as the only foreign food journalist he had met (at that time) in Shanghai who truly understood and appreciated Chinese cuisine — which was really high praise. I then made the mistake of accompanying Jereme and Jarrett to a few bars post-dinner (Jereme's wife wisely went home straight after dinner). The two of them got me so hammered that at the meeting I had the next morning, I pretty much sat in the corner, saying as little as possible, feeling like I was going to die, while making my incredibly young fresh-grad staffer run the entire meeting (she did an amazing job, by the way).
Anyway, back to Soul Food Mahanakorn. Sadly, this great restaurant was started partly because Jarrett, a fantastically talented food journalist, simply couldn't make a real living from writing (which, for an ex-journalist like me, is a travesty). Soul Food opened in 2010. It was a bloody simple idea which has since been copied but was revolutionary (especially in BKK) back then. Essentially, Soul Food is a cool, trendy place in which one can get good Thai street food and really awesome cocktails. Basically for anyone who doesn't want to sit on a stool on some hot street; for anyone worried about hygiene when eating at street stalls in Bangkok; and for anyone that wants to have great street food but also wants a damned good drink in a cool environment; Soul Food was and still is the best solution.
Soul Food Mahanakorn is located on one of the trendiest streets in Bangkok. Sukhumvit Soi 55, known as Thong Lor, is packed with cool galleries, bars, restaurants and boutiques. It is an area popular with both "farang" (foreigners) and "hi-so"s (high society peeps). A perfect location for this cocktail bar-bistro. The drinks menu is extensive and fabulous. The food is also satisfying. My wife S and I tried the Southern Thai samosas, sticky tamarind ribs, southern fried chicken, a seabass wrapped in banana leaf and charcoal-grilled, and a cowslip vegetable stir-fried with egg. Everything was lovely and we loved the cool, urban interiors. Soul Food is a great place to kick back, have some great grub with friends, over many, many well-made drinks.
Soul Food Mahanakorn
56/10 Sukhumvit Soi 55
Bangkok, Thailand.
For reservations, click here.
Aun has always loved food and travel, passions passed down to him from his parents. This foundation, plus a background in media, pushed him to start Chubby Hubby in 2005. He loves that this site allows him to write about the things he adores--food, style, travel, his wife and his three kids!