Each time I visit Movida, I simply rejoice.  The name, which means 'the movement', was chosen by Spanish head chef and owner, Frank Camorra.  Inspired by the arts and film movement that emerged in Madrid after the fall of General Franco, he too wanted to draw from the principles of the era, a time during which ideas flourished and innovation was encouraged.
Movida, the restaurant, serves Spanish food at its finest.  The dishes and flavours are traditional, but they're presented with such heart, and combined so delicately, that while they do evoke a sincere sense of home (especially to someone of Spanish background like myself), one can't just whip up these recipes at ease at home.  Frank Camorra knows what he's doing, and he does it very well.
Born in Barcelona, and raised in Cordoba, Andalusia, Camorra took with him from his parents' hometown what the essence of a Spanish kitchen meant, before him and his family migrated to Australia.  Then, in 2000, Frank went back to Spain to work.  He was won over by the innovative developments in Spanish cuisine – combinations of old and new, modern and traditional, and the sheer vividness of it all.  He instinctively knew that the tapas culture, energetic and pulsating, would be a hit in Melbourne.
The original restaurant in Melbourne has grown into a mini Spanish empire, with two tapas restaurants, one casual cafe that serves breakfast and lunch, a bakery and even a bar at Melbourne airport.  With such success, Sydneysiders had been demanding for Chef Camorra to take Movida beyond Melbourne.  Finally, in October 2012, it happened.
Movida Sydney is located in Surry Hills, the inner-city suburb with the highest concentration of restaurants, and the hub for all trendy new openings.  Getting a table at Movida is hard.  Reservations are taken by phone, but since half the restaurant is left available for walk-ins you either plan in advance and mark your calendar, or head to the restaurant at 5:30pm, when the doors open, to try to snatch a seat by the bar.
This may not accommodate everyone.  I, on the other hand, enjoy bar-side dining, and have found myself trying and tasting lesser known dishes based on the recommendations of the people behind the bar, where conversation tends to flow more openly.
The menu is divided into dish sizes.  Sections include embutidos or charcuterie, tapas (which come in small, single portions), raciones (larger share plates), a la parrilla (charcoal grilled or barbecued), and dessert.  The smaller dishes are the most innovative, and as the servings get bigger, the flavours become hardier.
Starting with the tapas, the bocata de buey, prawns with piquillo peppers, the eel croquettes, and the anchovy with smoked tomato sorbet are all delectable ways to begin the meal.  The petite anchovy served on a thin piece of crisp bread, topped with a quenelle of smoked tomato sorbet will make your tastebuds sing.  A really creative appetizer,  the anchovy tapa is soft, with a cool addition, on top of a crisp, wafer-like layer, to be eaten in one bite.  It makes one ponder about whether or not to order a second one.  When I tasted it, I had to rethink what I had just eaten – the combination of ice cream and anchovies, and how perfectly balance it was.  Unusual, peculiar, and completely gratifying nonetheless. The eel croquetas, light and crunchy, is another item that takes the conventional Spanish dish and elevates it to another level, as is the goats curd cigar, a spherical piece of phyllo pastry filled with creamy goats cheese and quince.  A larger tapa is the bocata de buey –  sliced roast wagyu covering a piece of bread that looks like a baguette, but is actually hollow.  Accompanied by white and black roasted garlic and extra virgin olive oil, this riveting dish had me dancing the Flamenco inside.
There is no loss when ordering from the charcuterie section.  Not also does it pair well with Movida's selection of sparkling wines, whites, rosados, and cider, but the embutidos on offer are premium.  The Iberico de Bellota, the cured chorizo from Pamplona, and the bull negra, a pork and liver sausage will please all self-proclaimed lovers of good jamon.
For the raciones selection, there are salt cod fritters with pil pil sauce, sweet and sour braised rabbit leg with pinenuts and raisins (a true andalucian dish that draws its sweetness from both honey and sherry vinegar), mojama, a dish of air cured tuna with beetroot, watermelon and marcona almonds, and finally the cecina, air cured wagyu beef with a perfectly poached egg and truffle foam.  Traditional Spanish dishes altered with elegance, elevated to bliss.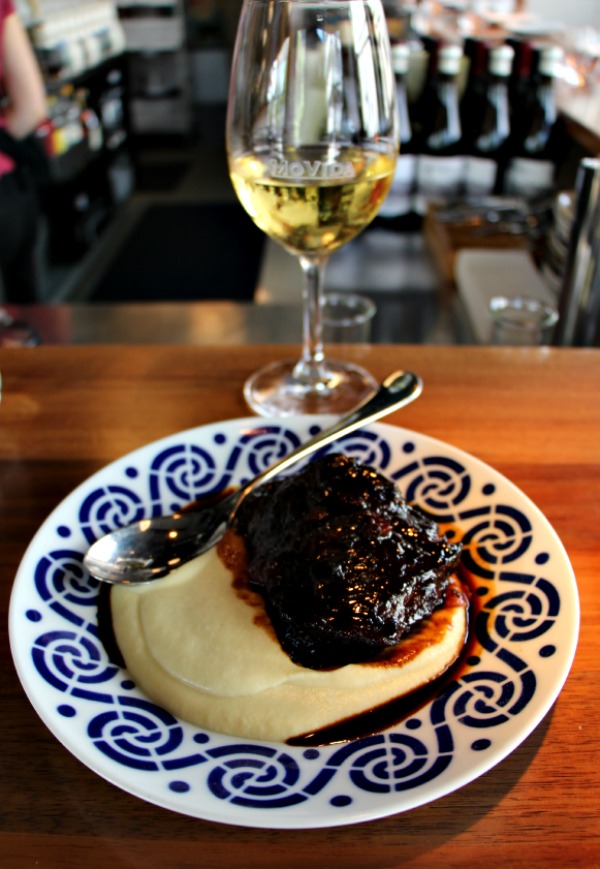 The beef cheek in Pedro Ximenez sherry served with cauliflower puree is, to this day, my favourite dish from all of the Movida restaurants.  It is served in Melbourne, it's made its way across the border to Sydney, and I hope it stays around for as long as Frank Camorra is cooking. Tender, juicy beef that you can easily cut with a spoon, with a dark glaze of Pedro Ximenez that gives it a deep, sweet undertone, without overpowering the natural flavour of the meat.  Combined with an almost silky cauliflower puree, this is manna.
Grilled vegetable escalivada, zucchini escabeche, smoked baby potatoes with faux bacon dust, and a tomato salad with pickled cauliflower and tempura white anchovies, are featured in the verduras or vegetable section of the menu; while sausages, lamb, rib eye, and pork ribs can be ordered straight from the parrilla.  There's a selection of cheeses and a few classic desserts; churros with chocolate, crème caramel, and tarta de Santiago served with fig leaf ice cream, all of which add a nice touch to the end of the meal.
If your appetite is curbed, the wine list alone is worth delving into.  Cava, Albarino, Verdejo, Garnacha, Tempranillo, Monastrell. The range of Spanish wine is a good exposure of varietals from north to south, something uncommon to Sydney's wine lists.
The design is contempo-rustic.  The decorations conjure a Spanish feel, yet they are neither bright nor over-the-top.  There are brick walls, paintings that look like retro posters, and tiles next to the bar and kitchen. The service is vivid. From the restaurant manager to the bar staff, everyone is helpful, accommodating, and friendly.   Combined with such wonderful food, it is no surprise that Movida Sydney, as its Melbourne counterparts, is a resounding success.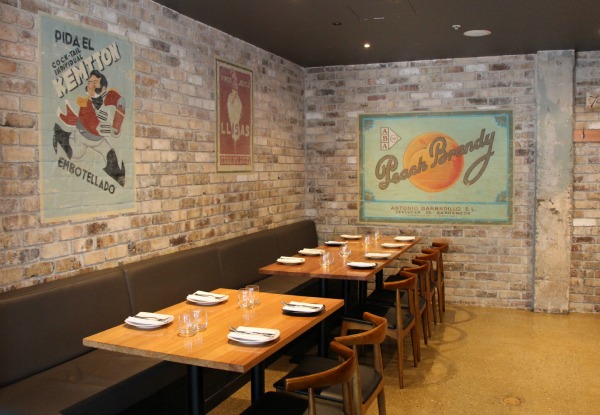 I own two of Frank Camorra's books, I have taken a cooking class with him and sat through a Q&A, I have dined at several of his restaurants, and throughout it all, there has been consistency, satisfaction, and continued enticement .  Movida not only moves me, it blows me away.
MoVida
50 Holt St (cnr Gladstone St), Surry Hills
New South Wales 2010
Australia
Tel: +61 2 8964 7642
www.movida.com/sydney

Janice is a girl from Lima, Peru who loves a good cebiche and a glass of dry Riesling. She travels the world (often for food or to check out new restaurants) and lives in Australia. Janice tries to learn about different countries through cuisine, and takes advantage of Sydney's multiculturalism by exploring gastronomy in all of its forms. Grower's markets, wine tastings, restaurant openings, cooking classes, shopping for specialty spices; she's keen to do it all.