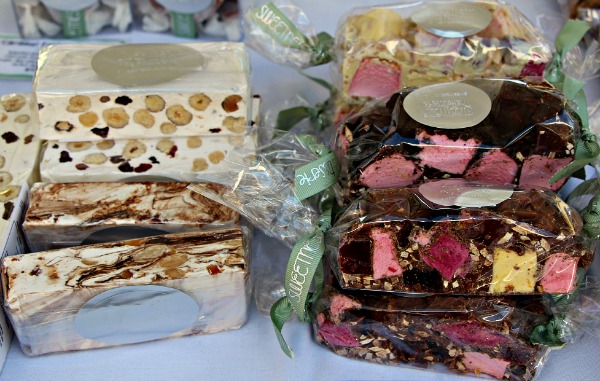 Sweetness is not your everyday patisserie, neither traditional French nor modern and overly elaborate.  Sweetness has just the right dose of old and new.  The delicacies are beautifully presented, wrapped with care, all made by hand.  The flavours, on the other hand, cater to one's inner child.  They're sweets that evoke a sense of longing – marshmallows, chewy caramel, whoopie pies, rocky road, fruit jujubes, caramel popcorn, are only the beginning of a number of insanely delicious treats.
Sweetness was established in 2007 by Nebraska born Gena Karpf.  Gena grew up surrounded by great home baking; cookies, cakes, and pies were part of her everyday life.  After moving to Sydney, she joined the Cordon Bleu to become a pastry chef.  From that moment on, Gena Karpf and her infamous treats have taken Australia by storm.
"Committed to the values of beauty, integrity and respect, Gena shares the philosophy of creating handmade delicacies on a small scale for everyone to share." – Sweetness The Patisserie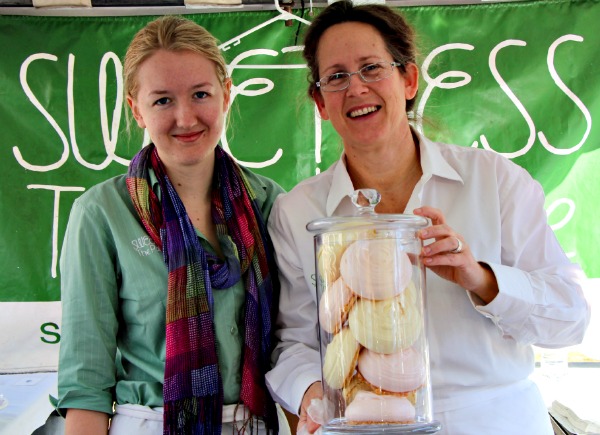 The flagship store of is located in Epping, a suburb twenty kilometres north-west of Sydney's central business district.  The distance, however, is no reason or excuse to miss out on Sweetness' goodness, as every weekend, Gena and her staff set up a stall at a few of Sydney's most famous gourmet markets.  Starting with the multi-flavoured marshmallows, which were the treat that put Sweetness on the map, and slowly moving my way through the whole range of sweets, I can honestly say everything is good.  Caramel mars are my absolute favourite.  I could eat them forever.  They remind me of dulce de leche (something I genuinely miss from South America), and Sweetness sells large, chewy bars as well as small pieces of chocolate coated caramel that slowly melt in your mouth.
Fudge brownies, cake pops, macarons, shortbread cookies, dense fudge bars and nougat all hit the spot.  Yet the Florentines and the crunchy English toffee, coated in milk or dark chocolate and some silvered almonds are a dream.   I have sprinkled some of the toffee on a creamy ice cream base and then reveled in the resulting decadent dessert.
Small pieces, a petit four table spread built for a king, include pate de fruits (jujubes), peppermint patties, nougat pieces, coconut ice, sour citrus gummies, and chocolate-dipped honeycomb bites that put any commercial candy to shame.  Sweetness' rocky road took me by surprise, especially the white chocolate combination, as it goes perfectly with the almonds stirred through the bar (no peanuts used in the Sweetness kitchen), and also the aromatic flavours of the sweetness marshmallows stirred through the rocky road.  Passion fruit and raspberry mallows with white chocolate are a faultless match.
Finally, at the Royal Hobart Fine Food Awards in Tasmania, Sweetness's caramel popcorn won both a gold medal as well as the all rounded Championship Trophy in the Best Chocolate & Confectionary category.  This caramel popcorn is off the charts.  Not too sweet, with a touch of salt, a tiny bit of burnt sugar flavour to brighten up the taste, all wrapped up in a bundle of crunchy texture.  No wonder the judges agree.  A bag of caramel popcorn will keep both children and adults munching together happily.
Whether looking for biscuits, confectionary or baked goods, Sweetness offers a delightful experience in every bite, from beginning to end.  These treats are all made by hand, piece by piece, with care and thoughtfulness.  Aside from the flagship store and the gourmet market locations, Sweetness offers delivery of their products via online purchases.  A box full of sweetness makes a great edible gift, trust me on that one.
For readers based in Singapore, please keep an eye out for Sweetness marshmallows, as a range of large and mini mallow packs, some individually wrapped, other drizzled with chocolate, will soon be making their way to your shores.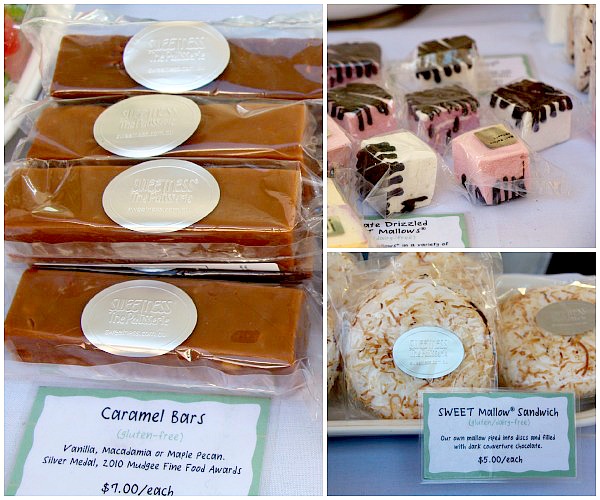 SWEETNESS The Patisserie
38 Oxford Street, Epping
New South Wales, Australia 2121
Tel. +61 2 9869 3800
www.sweetness.com.au
Open Monday to Friday 8:30am-5:30pm, Saturdays 9:00am-5:00pm
Market Locations
Good Living Growers Market
Where: Pyrmont Bay Park – Pirrama Road, Pyrmont (opposite Star City Casino)
When: The 1st Saturday of each month
Time: 7-11am
Good Living Market Details
Castle Hill Farmers and Fine Food Market
Where: Castle Hill Showground, Castle Hill. Entrance via Carrington Road
When: Every 2nd  and 4th  Saturday of the month
Time: 8am – 12pm
Castle Hill Market Details 
Northside Produce Market
Where: Miller Street, North Sydney (surrounding the green adjacent to the N. Sydney Community Centre)
When: Every 3rd Saturday of the month
Time: 8am – 12pm
Northside Produce Market Details
Eveleigh Farmers' Market
Where: 243 Wilson Street, Darlington
When: Every 2nd and 4th Saturday of the month plus additional markets based on seasonality, noted below.
Time: 8am – 1pm
Eveleigh Farmers' Market Details

Janice is a girl from Lima, Peru who loves a good cebiche and a glass of dry Riesling. She travels the world (often for food or to check out new restaurants) and lives in Australia. Janice tries to learn about different countries through cuisine, and takes advantage of Sydney's multiculturalism by exploring gastronomy in all of its forms. Grower's markets, wine tastings, restaurant openings, cooking classes, shopping for specialty spices; she's keen to do it all.