Farmhouse is the new kid on the block; aside from being cool and chilled out, this new kid has a big, warm heart.
I walked past the refurbished alterations studio right before the restaurant launched three months ago.  I couldn't believe the wonders that had been done to that tiny working space, and how it'd been transformed into a twenty-seat restaurant.  The scent of freshly baked bread and food cooking pulled me in from across the road, it smelled utterly delicious.
Farmhouse is the combination of clever interior design, fine carpentry, and brilliant food. Co-owners Nicholas Gurney, Aidan Thomas and Brodie Stewart have recreated the feeling of a barn, in the middle of one of Sydney's busiest suburbs and nightlife areas, Kings Cross.
Aside from the rural embrace the space provides, culinary talents Tristan Rosier and Mike Mu Sung are the final ingredient that makes Farmhouse a hit.  Open Wednesday to Sunday, there are two seatings of 20 people per night, at 6:30pm and 8:30pm.  A four course set menu is offered, plus a slice of cake at the end of the meal – you know, for good measure.  The best part is that the menu changes every three weeks, so while the chefs come up with new ideas, guests can look forward to revisiting Farmhouse for a taste of something new.
There is one long communal table where all the guests dine side by side, the kitchen area is open, and service is done in unison by co-owner Nick and the chefs.  It is, by far, the best dinner party you'll attend without having to actually do the cooking, without running out of a conversation topic, and without breaking the bank.
The chefs' focus is clear.  They want their food to be direct and true to the bold flavours they choose and for their menu to be balanced, well-executed, and generous.  Tristan and Mike's experience in Sydney's two and three hatted restaurants, Est, Biota Dining, Sixpenny, among others, shines through in the precision of their cooking at Farmhouse.
However, unlike fine dining, their main drive is simple.  First and foremost, at Farmhouse, fresh is best. The chefs prepare everything on the day for that evening's service. The three week menu cycle allows Mike and Tristan to work on their dishes before the menu commences; not only creating a high standard for each dish, but also giving them time to test out their ideas, before re-inventing their next dinner party.
The chefs stick to a few simple confines, "fresh, no more than five components in a dish, healthy portion sizes (as we hate leaving restaurants with empty wallets and empty stomachs) and no flowers and unnecessary cresses", says chef Tristan Rosier.  No chemistry, no pretension – just well implemented, astute combinations made with fresh produce.  The result is packed with flavour: comfortable, affordable, and delicious.
Farmhouse is a licensed restaurant.  There is beer, cider and wine in the drinks list. A small yet clever offering that matches the multiplicity of flavours to be sampled during the course of dinner.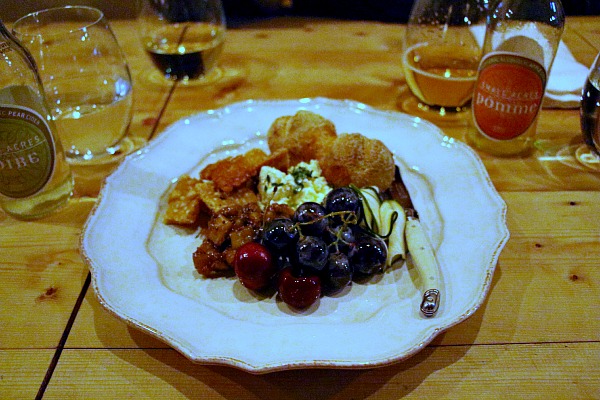 I had the pleasure of eating at Farmhouse when they were serving a Christmas in July menu.  The snack platter we started with had pickled cherries and grapes, lemon ricotta cheese, chutney, pickled zucchini ribbons, pork crackling and freshly baked, warm wholemeal bread rolls; a sensational way to start celebrating Christmas in July.  Then, we were served a warm version of a prawn cocktail. This dish had my name written all over it.  Prawn, avocado, crispy whitebait on top served with a refreshing fennel salad.  The main event, turkey, smoked in-house, and glazed ham, came with a side of brussels sprouts and pancetta, cranberry sauce, and potato salad.  Dessert was pavlova, semi deconstructed, true to Aussie form, with strawberries and cream.  If that wasn't enough, after four wonderful courses, we had fruit cake with brandy caramel sauce. A feast fit for a winter wonderland.
The atmosphere adds to the experience. Everyone feels at home at Farmhouse. The music gets a little louder, yet it doesn't intrude in the least.  As the night progresses, people sing along, conversations along the table cross beyond set groups as guests chat with their neighbours.
You don't want to leave, and when the meal is over, you're already thinking about your next visit.
Farmhouse
4/40 Bayswater Rd, Kings Cross
Tel. +61 448 413 791
www.farmhousekingscross.com.au
Wednesday to Sunday 6.30pm and 8pm sittings

Janice is a girl from Lima, Peru who loves a good cebiche and a glass of dry Riesling. She travels the world (often for food or to check out new restaurants) and lives in Australia. Janice tries to learn about different countries through cuisine, and takes advantage of Sydney's multiculturalism by exploring gastronomy in all of its forms. Grower's markets, wine tastings, restaurant openings, cooking classes, shopping for specialty spices; she's keen to do it all.