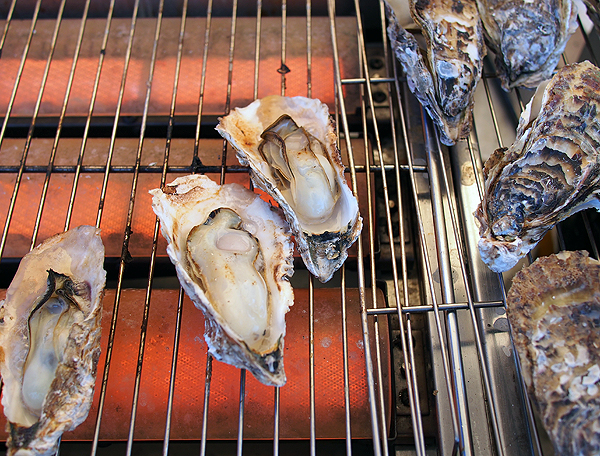 Matsushima, a small city near Sendai in the Miyagi prefecture (in Tohoku, Japan), is worth visiting any time of the year. The Japanese consider the views of Matsushima Bay, teeming with more than 260 small islands, to be one of the most beautiful views in the country. As you may or may not know, the Japanese love making lists. Especially lists that rank things. They are also a people obsessed with natural beauty, man-made beauty and festivals. So, for centuries, they have designated and celebrated things like the country's top three gardens, Kyoto's top five Zen temples, Japan's top three festivals featuring floats, Kamakura's top ten wells, etc. Most famous among the many designations might be Japan's three most scenic places. Selected several hundred years ago, they are Matsushima, Miyajima and Amanohashidate.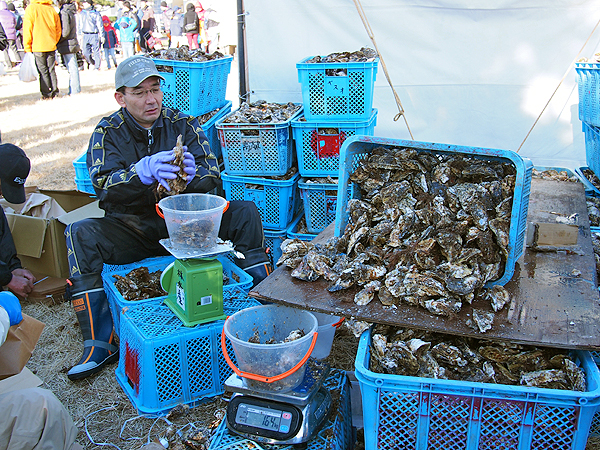 But while nature lovers might flock to Matsushima all year round, for me, there was one specific weekend over which I knew I had to visit. You see, aside from its views, Matsushima is also famous for its big, plump, flavourful oysters. And every first Saturday and Sunday in February, the town hosts its annual Matsushima Oyster Festival. If you're an oyster lover, this is one shindig that you simple must experience at least once in your life!
It's simply amazing being in town during this festival. The night before, every hotel and inn in town is completely full. The hotel I stayed in, The Hotel Matsushima Taikanso, which offer the best scenic views of the bay, was packed with hordes of happy, enthusiastic, foodies who were excited about spending the following day filling their bellies with fresh oysters. Most were, as you would expect, local Japanese, but they had come from all over the country. The festival is very famous domestically. And, because the region was still suffering from the after-affects of 2011's tsunami and earthquake, last year's festival had been cancelled. I was told by staff at the hotel that the response this year had been so incredible, both because people were so excited that it was being held again and also because they were keen to help support the region.
As said earlier, the festival usually lasts the whole weekend. But because the fisheries and oyster farms in this part of Tohoku are still recovering, this year there were only enough oysters for one day. That, however, didn't stop people from coming.
The festival opened officially at 930am but people were in line in the cold winter weather as early as 845am, queuing for both places to set up their own little areas, for bags of oysters they could purchase, and for a free oyster stew that was being dished out to all attendees. By 1030am, all roads into Matsushima were jammed with rows and rows of cars, filled with local travellers who were driving into town to attend the festival that day. I was really glad that I had spent the night at a hotel in town as opposed to trying to drive in on the day itself.
The festival is set up in three main parts. In one large area, attendees can pick out a spot and set up their own grilling/barbecue equipment, chairs, tables, etc. Essentially, they build a little area for cooking and a little area for eating. Many just ate directly over the grill. In another area, for a small fee, you could rent a little area already set up with a grill and chairs. In both these areas, you're expected to cook your own food — basically a giant DIY oyster roast. Upon entering the festivals, you'll encounter large stalls from which you can purchase big bags of super-fresh and juicy oysters, plus other seafood. The third area hosts a food market. Here you can purchase all kinds of seafood, cooked on the spot in front of you, as well as other yummy things. You can also purchase drinks (beer and locally brewed sake mostly) as well as gourmet products to take home as souvenirs. I had a blast eating my way through several stalls, especially enjoying the oysters grilled in their shell and also deep-fried in batter.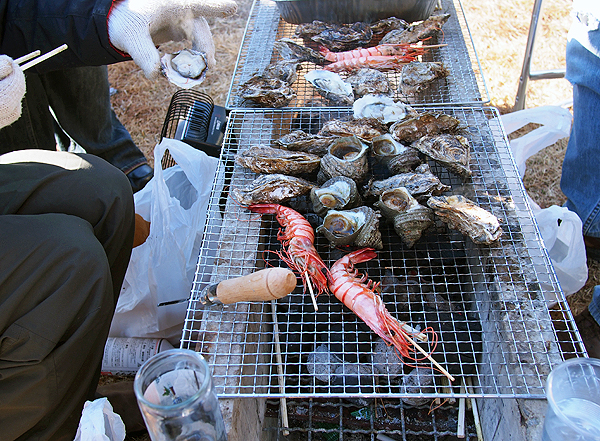 For my American readers, this festival seems similar to the Lowcountry Oyster Festival held annually in Charleston, South Carolina. If you've been there and enjoyed it, you should definitely consider planning a holiday to Matsushima's festival. Obviously, the oysters served at the these two great oyster roasts are completely different. Which is why I think it would be awesome to be able to visit both (they are held around a week apart from each other) in the same year and compare the differences between them. But that's just me daydreaming again and wishing I had enough dosh to pop into a private jet on the weekends.
While in Matsushima, one of the great things to do is visit Entsuin Temple. Entsuin Temple was built in 1646 next to Matsushima's most important temple, Zuiganji Temple, to house the mausoleum of Date Mitsumune, the son of the ruling local feudal lord Date Terumune. The temple was built in mourning and is devoted to Kannon, the Buddhist goddess of mercy, as Mitsumune died an untimely death at the age of 19. This is a beautiful small temple which, fortunately for me, was just a short walk from the grounds of the oyster festival.
When I was planning my trip through Tohoku, visiting the oyster festival and Entsuin were two things very high on my list. The former for obvious gustatory reasons. And the latter because I had read that at this temple, its staff would help you make your own prayer bead bracelets, which I thought would be really fun.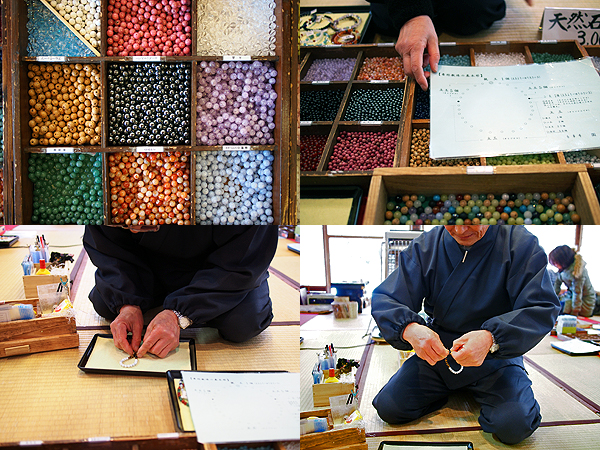 Of course, idiot that I sometimes am, I didn't expect this workshop to be as popular as it was (I only found out after my visit that you can make advance bookings). The bracelet making workshops are conducted in a small tatami room. You take your shoes off and enter. You are then asked to choose a bracelet style from one of four price categories. These depend on the size of the stones you will use and whether you wish to use semi-precious stones or not. All stones/beads have been blessed and each connotes a different prayer or meaning. Interestingly, the temple staff said they would only tell me what each bead stood for after I had made the bracelets; I was to choose based on instinct and only then would they tell me what prayers I had picked.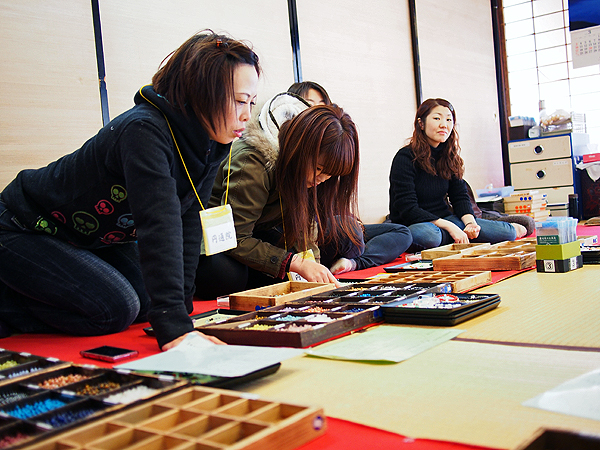 I decided to make 3 bracelets, one for my wife, one for myself and one for one of my best buddies. As I sat down, I noticed one group of young women to my right. All were very engrossed in their decision-making process. I asked my guide about this and she told me that they (the Japanese), and especially young women, took this very seriously because they really believe that the beads had power. She also said that a lot of young women made these with certain wishes or hopes in mind. And if they chose the wrong beads, they'd be crushed.
It was a really interesting experience. My assigned temple instructor informed me that for each bracelet, I had to pick a larger "head" stone from one tray, and then two identical stones from another tray. These latter two had to match. Five stones would separate the head stone from the two identical stones. Those I could choose freely. Similarly, I could also choose any stones for the others, the number of which varied according to wrist size. The two pictured above are the bracelets I designed for my wife and my friend. For S, I decided to stick with only two stones, howlite and tiger's eye. The temple staff told me that the white howlite is a prayer to soothe and calm one's soul; the tiger's eye is a prayer for financial fortune. Which, I thought, was perfect.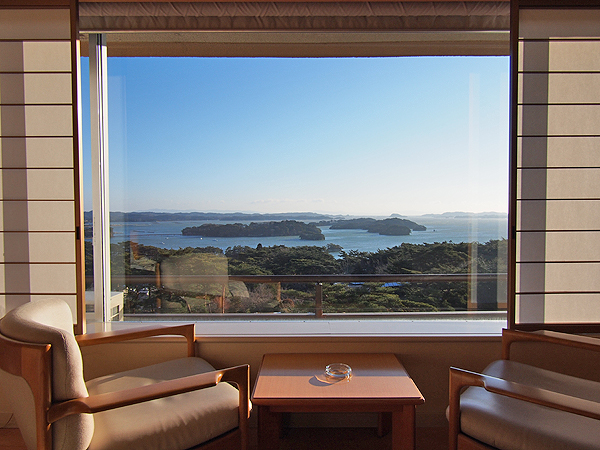 I was in Matsushima for only one night and one day. And I had a fantastic time. I ate wonderfully fresh seafood and attended one of the coolest food festivals I'd ever been to. I had a great time designing some very cool bracelets that have significance beyond just aesthetics. And, of course, I got to see one of Japan's three most scenic views.
Aun has always loved food and travel, passions passed down to him from his parents. This foundation, plus a background in media, pushed him to start Chubby Hubby in 2005. He loves that this site allows him to write about the things he adores--food, style, travel, his wife and his three kids!