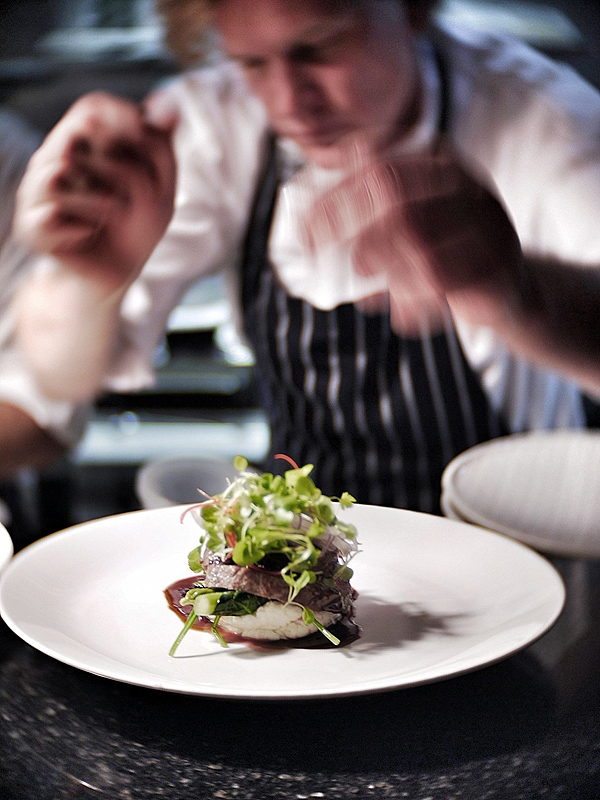 For our second night attending the Noosa International Food & Wine Festival, S and I chose to attend a guest chef dinner at Embassy XO, a small but chic local East meets West restaurant. In addition to the one we went to, there were four other guest chef dinners happening in town, plus a massive eight course, eight (celebrity) chef Mediterranean Degustation experience held at Berardo's restaurant and bar. S and I had chosen the Embassy XO dinner because the guest chef in question was Teage Ezard. The funny thing is that I'm a huge fan of Teage, but until that night I'd never really eaten his food. I have all of his cookbooks and love the recipes from them. And we know several of his proteges, all of whom produce amazing food. So, I was very excited to finally try his food. We were also keen to try Chef Brendon Barker's dishes; Barker, himself an another Ezard protege, is the chef and owner of Embassy XO. For this dinner, each chef was preparing three dishes, with Chef Ezard also taking care of the amuse-bouche.
The food was, honestly, really fabulous. While Barker may have learned his craft under Ezard, his food was distinctive and focused. Where Ezard's dishes were packed with powerful flavours, Barker's two savoury courses were masterclasses in subtlety and freshness. My favourite dish of the night was Ezard's steamed spanner crab dumpling with salmon roe, celery cress and tom kha. S was really taken by Barker's ability to create really gorgeous salads–he accompanied his five-spiced smoked ocean trout with a beautiful watercress salad and his red cooked duck with a really delicious bean shoots and pineapple salad. We both also enjoyed Ezard's wagyu beef, served with soft white polenta, asparagus, a sticky shallot sauce and a truffle and mache salad (which you can see being plated by Barker in the photo at the start of this post). The winning dessert, by far, was Barker's signature steamed chocolate buns, served with a chilli raspberry sauce. This is similar in style to the custard buns we get in local dim sum restaurants, but instead of a salted egg yolk custard, Barker has filled his buns with a piping hot dark chocolate sauce. Everyone who attended the dinner had a wonderful time, thanks to the great food and aided by the wines, which were being poured extremely liberally.
The following day, S and I did a little site-seeing around Noosa but made sure we dropped by the festival village to catch An Exclusive Wine Australia Landmark Cabernet Sauvignon Masterclass. Hosts Aaron Brasher (from Wine Australia), wine journalist Mike Bennie and Yalumba winemaker Jane Ferrari were fantastic, cracking jokes with the audience, while also coaching us through a really interesting tasting of some really special cabernet sauvignons. My favourite of the day was a 2009 Fraser Gallop Estate Parterre. Amazingly, this Margaret River cabernet sauvignon (made by ex-Vasse Felix winemaker Clive Otto) was also the cheapest of the ones we tasted. As soon as the tasting was finished, I made sure to track down reps from Fraser Gallop and have already negotiated some rates to ship some of this amazing wine to me here in Singapore.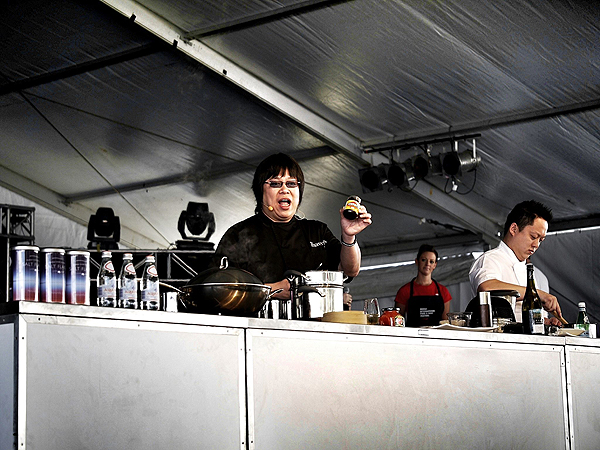 The festival village itself was quite a sight. Taking over Lion's Park, it consisted of a main stage (used for both cooking demos–for example Hong Kong rockstar chef Alvin Leung, pictured above–and concerts) with rows and rows of seating; two VIP rest areas (complete with free-flow booze and snacks); a tented area that could house several auditoriums and several showcases for award-winning produce suppliers; rows and rows of food stalls, helmed by some of Australia's favourite chefs, and lots more seating strewn across a large lawn; a few more tented areas for smaller talks and demos; and a makeshift al fresco dining area for some of the festival's special lunches. S and I really enjoyed wandering around the lawn on both Saturday and Sunday, trying different things that the various chefs were cooking up for the hungry and very happy festival-goers.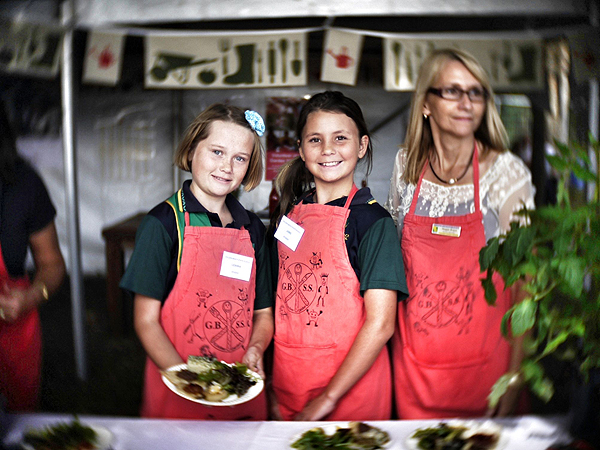 One of the largest stalls was devoted to Stephanie Alexander's Kitchen Garden project. It would take me too long to really describe what this amazing Foundation does (and I know I just wouldn't do it justice), so please click over here for more info. Kids from Sunshine Coast schools that have adopted the program were helping to prepare and serve some gorgeous dishes as well as talk to attendees about the Foundation. The food was marvelous but even better was meeting youngsters so passionate about growing, harvesting, preparing and sharing healthy and nutritious food.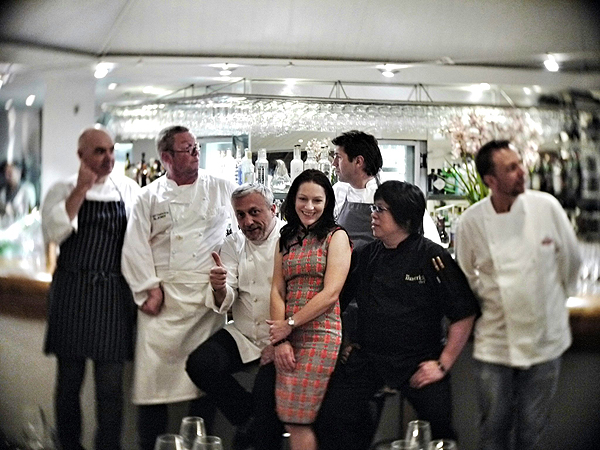 The highlight of the festival, for the well-heeled gourmets in attendance, came on Sunday evening. Dubbed The Best Dinner in the World, this is festival director Jim Berardo's baby. Started in 2011, this dinner brings together chefs whose restaurants have been ranked among the top 100 in the world by the San Pellegrino World's Best Restaurants lists. For the second edition, Berardo brought together Mark Best of Marque in Sydney, Fergus Henderson of St John in London, Alvin Leung of Bo Innovation in Hong Kong, Davide Scabine of Combal.Zero in Turin, Ben Shewry of Attica in Melbourne, and David Thompson of Nahm in Bangkok (originally, RyuGin's Seiji Yamamoto, a real hero of mine, was supposed to appear, but unfortunately, he was forced to cancel due to overlapping commitments). Presiding over the dinner was Matt Preston, food journalist turned superstar thanks to MasterChef Australia. In charge of the wines was Lisa Perrotti-Brown, a Master of Wine who works for Robert Parker and is based in Singapore.
Overall, the dinner was loads of fun, made especially so because S and I were seated with some amazing people, including Chef Marty Boetz from Longrain. The food was, well, to be honest, mostly very good, with some notable exceptions. Alvin Leung's rendition of Singaporean chicken rice was superb. That was one truly inspired, inventive, and damned delicious dish. He described it on the menu as "Slow Poached Chicken. Butter Lettuce, Braised Shitake, Aromatic Broth. Seven years old Aquerello Chicken Rice." This was a dish served in two parts. The first was a delicious, super moist roulade of chicken served with a butter lettuce tempura, and pickled shitake, all of it dusted with an oyster sauce powder; the broth was poured tableside. The second part was the most ridiculously good risotto, flavoured with all the familiar chicken rice elements, but crafted in a much more sophisticated way. The second standout dish was David Thompson's Curry of Grilled Beef with Bai Yor. While not really a fine-dining dish, this lovely, rich, savoury, spicy curry was so good that I had seconds and Chef Boetz–a former protege of Thompson's–had thirds.
While the food was great, the wines, I have to admit, were exceptional. S and I have attended a lot of wine dinners but I have never attended a wine dinner before this one that (1) got the pairings so perfectly right and (2) were so generous with the pours. Honestly, at times, it felt like I was at a free-flow party–which, in retrospect, is exactly the kind of atmosphere you want to encourage at a blow-out, big bucks, super gourmet experience like this one. I'll run down the wines and the dishes they were paired with quickly: 2004 Perrier Jouet Belle Epoque pre-dinner; 2005 Tyrell's Vat 1 Semillion served with David Thompson's cured scallop salad; 2008 Penfolds Yattarna Chardonnay with Ben Shewry's Noosa spanner crab broth with eleven basils; 2008 Blain-Gagnard Bâtard-Montrachet with Mark Best's new season leeks with murray cod, pomelo and egg jam; 1999 Beringer Cabernet Sauvignon Private Reserve with Leung's "chicken rice"; 1999 Wynns John Riddoch Cabernet Sauvignon with Fergus Henderson's barnyard farm quails; 2003 Château Pichon-Longueville Comtesse de Lalande with Thompson's beef curry; and a 2006 Château Guiraud with Davide Scabine's dessert, called "Sunshine Coast Cold Fusion".
Overall, the Noosa International Food & Wine Festival was really quite spectacular. S and I are so happy we made time for the trip. Not only are we planning to return for future editions of this festival, but we want to bring our son down with us to explore other areas of the Sunshine Coast. From speaking with some of the other attendees, we discovered that many had been booking tickets for the various events (and there are so many great events — we only attended and wrote about a small fraction of what was available) since December last year. So, if a gustatory trip to Noosa next May sounds attractive, I urge you to start planning your holiday by year's end.
Aun and Su-Lyn visited the Noosa International Food & Wine Festival at the invitation of Tourism Australia and Tourism Queensland.
Aun has always loved food and travel, passions passed down to him from his parents. This foundation, plus a background in media, pushed him to start Chubby Hubby in 2005. He loves that this site allows him to write about the things he adores--food, style, travel, his wife and his three kids!