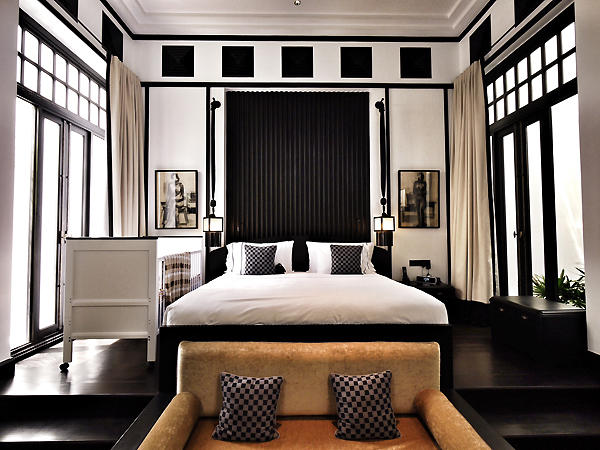 Over a decade ago, my next door neighbor, a stunning half Chinese, half British gal from Hong Kong met an equally handsome Thai rock star and fell in love. A number of years later, Kriss (the rock star, now also an actor) led S and me on a fun, rather amusing tour of his favourite old buildings in Bangkok, which culminated in us being chased out of the former Russian Embassy by security guards at two in the morning. Another couple of years later, Kriss showed us an amazing plot of land, on the river and in the old part of the city, that had been in his mother's family for decades. He told us how he wanted to build a truly stunning, riverside, five-star urban resort there – something that would fit within his mother's hotel company but that would also embrace his love of antiques, architecture, vintage glamour and luxury. That dream would eventually become The Siam, one of the most stunning hotels in Asia and easily the most significant new property to open in Thailand this year.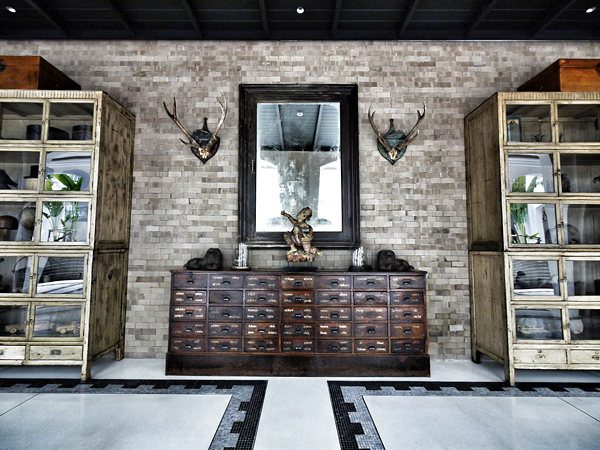 A couple of weekends ago, my wife S and I had the pleasure of checking in and staying at The Siam. Over the past few years, Mel (my former neighbor) had been keeping me updated on the progress of the project. I even visited last year, when I had to don a hardhat and wellies in order to get a first glimpse of the structural foundations of what would become this breathtaking resort.
This trip to Bangkok was also our first family vacation, i.e. the first overseas trip S and I would be taking with our now 17-month old son T. We figured that a weekend of nesting in a luxury hotel would be ideal for his first out-of-towner.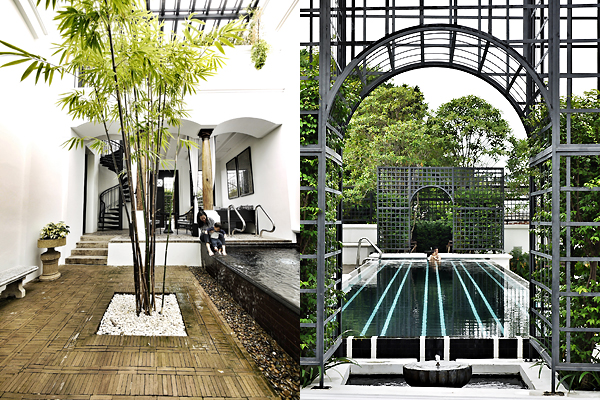 The land on which The Siam is situated could easily fit a several hundred room hotel. But Kriss wanted something smaller, more old world, and more luxurious. The hotel has 28 suites, the smallest of which is 80 square metres, and 11 one bedroom pool villas. One of these villas in particular is very special. Named Connie's Cottage, it is a century-old Thai house that was brought downriver to Bangkok from Ayutthaya. Its former owners were respected collector Connie Mangskau and the legendary silk merchant Jim Thompson. Staying in Connie's Cottage is like stepping into history (but with all the modern amenities).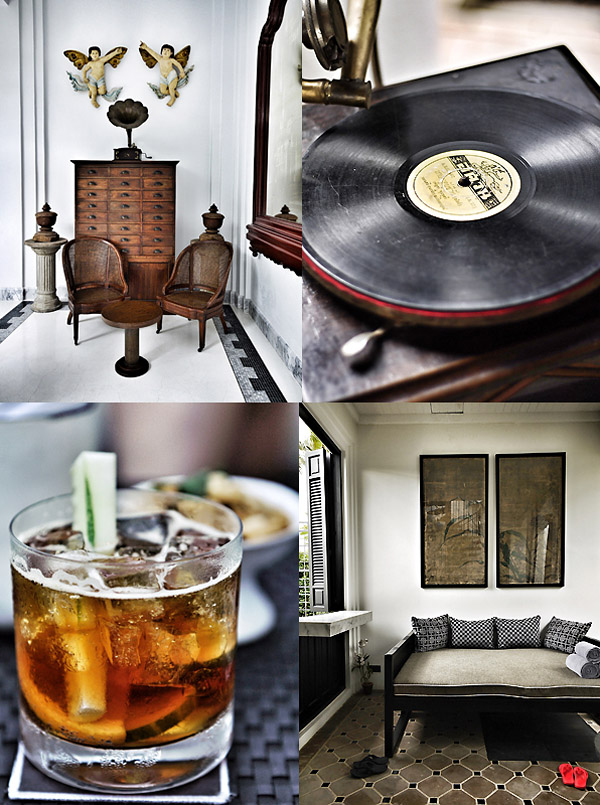 To design The Siam, Kriss engaged one of the most experienced hotel and resort architects in Southeast Asia, Bill Bensley. If you've travelled around Southeast Asian, you've definitely seen Bill's work. He's designed some of the most iconic properties in the region. What I like most about what he and his team have done for The Siam, though, is that they appear to be working with a new and fresh vocabulary. Kriss told me that Bill and his team took inspiration from Paris' Musée D'Orsay when designing the hotel's main lobby, which immediately appealed to this singing-dancing-acting devotee of old Hollywood style. Add in Kriss' own collection of antiques, and the hotel looks and feels like something from an old movie. This is one place in which fans of Panama hats, white linen suits and flowy kaftans would feel very much at home.
We stayed in a huge pool villa that looked out over the river. We were very smartly given the villa closest to the restaurants – which meant that we could take our baby monitor with us to dinner after T had gone to sleep and it would still be within range. The villa was also behind the hotel's lovely, long infinity pool, which T decided he needed to swim in several times each day. Inside our villa, we had two nice open-air lounge areas, one right past the doors, and one elevated one, accessible via a spiral, cast iron metal staircase. This upstairs lounge was amazing because it really offered fabulous views of the river, especially at sunset. Just past the ground floor open-air lounge, there was a generous courtyard and lovely private pool–which T also loved lounging in. The main bedroom was lush and comfy. The walk-in wardrobe area huge and the bathroom enormous, with ceilings that probably stretched some 30 or 40 feet high.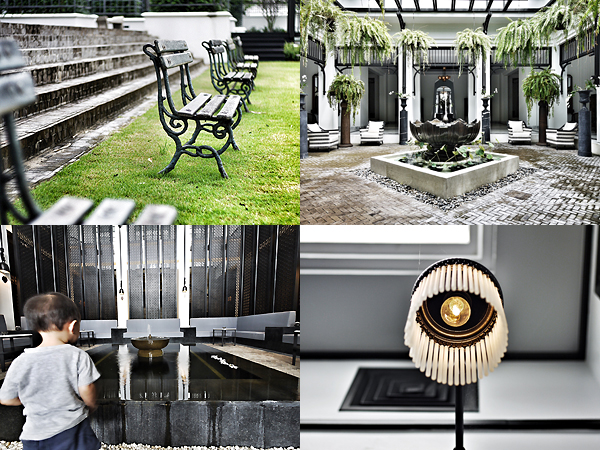 After we had checked in on our first day, S went off to the really rather sexy Opium Spa, where she tried out their signature Muay Thai massage. She came back to us smiling, so she must have really enjoyed it. While S was getting worked on in the spa, T and I went exploring. Unfortunately, the Library and Screening Room (yup, The Siam has a private cinema) weren't open yet, but we did get a sneak peek of these really well appointed spaces. We ended up spending quite a bit of time in the hotel's state of the art gym. T had a lot of fun with the gym attendant, rolling Pilates balls back and forth. We also checked out the gym's boxing ring – The Siam even offers personal Muay Thai training. It's something that, if we stayed for a longer duration, I would definitely have tried.
I would have also liked to have spent an afternoon or a morning taking some cooking classes at the hotel's very cute cooking school, simply because the food was fantastic. But I'll talk more about the food in my next post.
Each evening, after T had gone to bed, S and I sat on the candlelit riverside deck and enjoyed a drink before dinner. I particularly liked The Siam's signature Mojito, tweaked ingeniously with tamarind and sugar cane. It was one of the best versions of a Mojito I have ever had and it left me wondering how else I could incorporate tamarind in cocktails.
All in all, it was a truly wonderful stay. The staff were all super accommodating, especially given we had a super-energetic 17 month year old who would never sit still. One of them told me that they aspire to be Bangkok's number one hotel. I think, after given time to get over some opening jitters, these guys are well on their way.
I simply couldn't be prouder of Mel and Kriss and what they have accomplished. And to think, just a few years ago, S and I were standing with them on an empty plot of land, talking about this project. To have witnessed that plot become this stunning ultra-luxe hotel, so imbued with Kriss' personality and style, has been truly remarkable. I'm so looking forward to returning here again and again for years to come.
The Siam
3/2 Thanon Khao, Vachirapayabal
Dusit, Bangkok 10300
Thailand
Tel: +66 (0) 2206-6999
www.thesiamhotel.com
Aun, Su-Lyn and T were guests of The Siam.
Aun has always loved food and travel, passions passed down to him from his parents. This foundation, plus a background in media, pushed him to start Chubby Hubby in 2005. He loves that this site allows him to write about the things he adores--food, style, travel, his wife and his three kids!