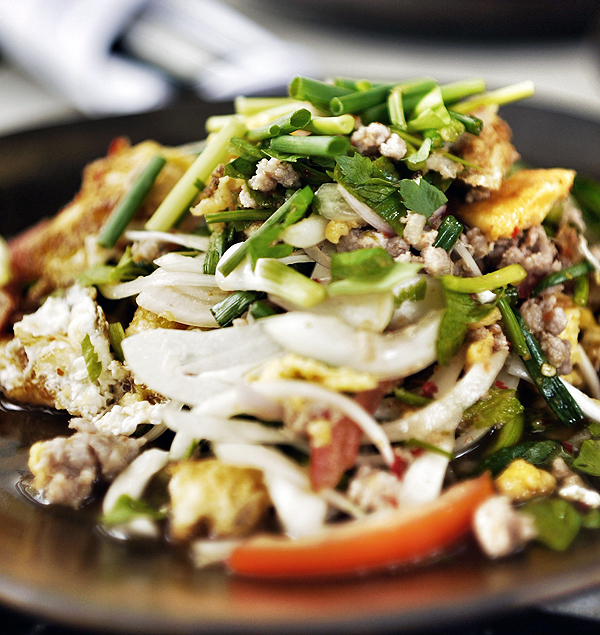 When my darling wife S and I choose a hotel to stay in, one of the most important factors (for us) is the food. While I realise that there are many that choose not to eat in the hotels they stay in, we tend to have at least one real meal (other than breakfast) if not more on property. To me, the food and beverage side of a hotel is as important as the room size, the service, and the architecture. When I choose to stay somewhere nice, I want to experience all that the hotel offers. And that means checking out their restaurants and bars (as well as their spa, gym, etc). When S and I checked into The Siam a few weeks back, knowing that the owners Kriss and Mel are real foodies, we were very much looking forward to exploring the hotel's restaurants.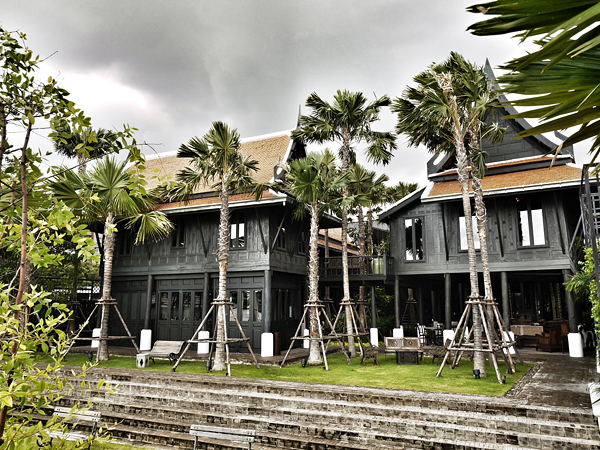 The Siam currently has two restaurants with a third, a casual deli cum cafe, slated to open soon. Cafe Cha will be located near the hotel's reception, up by the main road. The two main restaurants, Chon and Deco Bar & Bistro, on the other hand, are located at the opposite end of the hotel, by the river. Chon is located in a magnificent setting. The restaurant, and its attached cooking school, resides in three centuries old Thai teakwood houses. These houses were originally sourced by silk tycoon Jim Thompson and once formed part of antique dealer and OSS agent Connie Mangskau's home. According to Kriss, Ms Mangskau was quite the celebrity and hostess, entertaining many Western dignitaries during their visits to Thailand. Some of these include Jackie Kennedy, John Rockefeller, Roger Moore, William Holden and Henry Ford.
The interiors of Chon are sleek without being overly modern — sort of a contemporary rustic Thai. Deco Bar & Bistro, on the other hand, is overtly Western, celebrating Thailand's Art Deco period and its love affair with Western style, design and music. Sitting directly behind Chon, its black glass facade reflects Chon's striking lines, creating an amazing contrast between the past and present and east and west.
S and I, for pretty obvious reasons, chose to eat mostly at Chon. Well, actually, during the day, we ordered room service from Chon and only dined in the restaurant in the evenings. On our first day, we enjoyed some simpler dishes — Khao Soi Kai (my favourite Northern Thai noodle dish) and Pad Thai. Both were very well made. My only gripe was that I was wishing for more curry in my Khao Soi, but that's less a fault of the kitchen's and more an indication of my greedy nature.
At dinner that night, we really pigged out, ordering a whole range of dishes. Everything was fresh and delicious. And surprisingly, the dish I enjoyed the most was also one of the simplest — a mouth-wateringly good salad of fried eggs, minced pork, onion and tomatoes (pictured at the very top of this post). An incredible balance of flavours and textures, I had never had this dish (Yum Kai Dow) before. Of course, I immediately asked the chefs for a copy of the recipe, which I am sharing with all of you at the end of this post.
For starting the next day properly, I ordered one of several Thai brekkie options: sticky rice with pork satay and grilled, crispy pork belly, served with a chilli dip. Talk about a real killer breakfast. S, T and I then had lunch with Mel and Kriss at their home before returning to The Siam for another excellent dinner at Chon.
I should also say that our son T ate very well. We had originally vacuum-packed meals for him that we had prepared from home. But on our first day there, he refused to eat what we had brought along. So we were forced to order off of The Siam's kid's menu. Fortunately, the kid's menu there rocks and T was a very happy camper throughout the weekend. The above picture, for example, is the cheeseburger with fries he had for lunch on our last day there (the bowl in the background contained some beautifully cooked red rice which he had with his burger instead of the bun). In fact, before I saw T's burger, I was planning on having my final meal at The Siam at Chon. But when I saw how good his burger looked, I called room service and ordered the adult version for myself, which was pretty damned good.
What's really special about the restaurants at The Siam is that while very sexy, the food is unpretentious, comforting, and delicious. They are the kind of places you want to be seen in, serving the kind of food you could eat every day. And I think that's a very, very smart formula. And one that more hotels should take on board when planning their own F&B programs.
The Siam
3/2 Thanon Khao, Vachirapayabal
Dusit, Bangkok 10300
Thailand
Tel: +66 (0) 2206-6999
www.thesiamhotel.com
Yum Kai Dow (Dao)
Feeds 4 as part of a larger meal
3 eggs
80gm white onion, fine sliced
50gm tomato, sliced
20gm celery, sliced
150gm minced pork
20gm spring onion, sliced
30 gm small green chilli, finely sliced
Handful of coriander
Dressing
200gm palm sugar
10 calamansi limes
200ml fish sauce
To make the dressing, dissolve the palm sugar in the juice of the 10 calamansi limes. Then add in the fish sauce and mix thoroughly.
In a wok or fry pan, heat up a few tablespoons of oil over high heat. Crack the eggs into the pan/work one at a time. You want the oil so hot that the eggs immediately fluff up upon contact and the edges become nice and crisp. When you feel the egg is cooked perfectly (edges crispy but the yolk not overcooked), remove them and lay them on some paper towels to drain off some of the oil.
Drain off almost all of the oil in the pan. Put it back on the hob over medium-high heat. Fry the minced pork in the pan until it is cooked and remove from the heat. Sprinkle a pinch of salt over the pork while frying.
Mix the onion, tomato, celery, spring onion, and green chillies together in a bowl. Mix in the minced pork. Cut the eggs into quarters and carefully fold this into the rest of the food. Drizzle the dressing over the salad. Stop when you have used half of the dressing. Toss the ingredients and taste. Add more dressing if you feel it needs more flavour. You may want to add in all of the remaining dressing depending on your own personal tastes.
When serving, toss coriander leaves over everything.
Aun has always loved food and travel, passions passed down to him from his parents. This foundation, plus a background in media, pushed him to start Chubby Hubby in 2005. He loves that this site allows him to write about the things he adores--food, style, travel, his wife and his three kids!