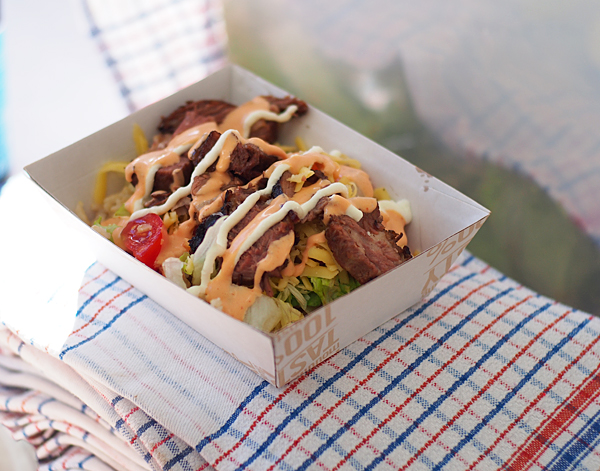 Regular readers will know that I'm uber-passionate about the Noosa International Food & Wine Festival, a super-fun, four day gourmet extravaganza held in a lovely little beach town on Australia's Sunshine Coast. I attended the festival both last year (covering it for this site) and this year. This time, though, I was invited to be a participant. One of the activities I was asked to be part of was the festival's annual Food Critics Cooking Competition.
This popular competition pits several of Australia's most celebrated food journos against each other. Each competitor is given a stall in the main festival village and is asked to serve up their best dish, based on a predetermined theme. This year, the theme was "Dude Food", which I was pretty cool with. As soon as the theme was announced, I had a few ideas of potential dishes. What I was less confident about was actually winning.
You see, for several years, the winner of this public cook-off (oh… that's right, did I mention the public was voting for the winner?) has been Matt Preston. Yup, that Matt Preston… cravat-wearing, Masterchef judge and (inexplicably) Aussie culinary sex symbol. Not only did I have to compete with Matt, all of the other participants were also highly regarded and very popular local food heroes: Necia Wilden, John Lethlean, Tony Love, Simon Thomsen, Lizzie Loel, Elizabeth Meryment, Jana Frawley and Simon Wilkinson. As the token foreigner, I didn't stand a chance.
But, to be honest, winning wasn't really the point. At a festival as fun as Noosa always is, it's about having a damn good time and serving up the best food you can possibly create.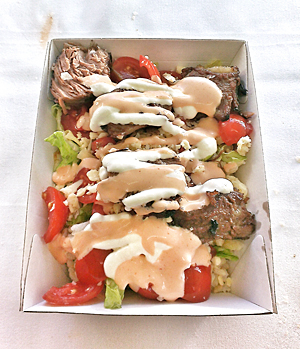 The Festival's culinary team was fantastic. They had contacted me to ask if I could share my recipe at least two months prior to the Festival. This would give them time to test the recipe, source all the right ingredients and then create the best plan for prepping them during the Festival itself.
You see, while I had to come up with the recipe and "work my stall" on the day itself, the great kitchen crew was actually going to do all the hard stuff for me. During the competition, I even had an assigned chef plus two absolutely amazing volunteers to help me finish off and assemble my dish. Not that it was easy work, mind you. The Festival had estimated we'd receive some 10,000 visitors on the Saturday that we were competing. Our stalls were supposed to serve continuously from 1130am through to 330pm. The kitchen team had prepped 1,500 servings for each of us to serve and I can tell you that every single one of us "sold out" of all of our food.
Each of us had been assigned a protein. I lucked out and was given Cape Grim Beef. If you haven't tried the marvelous beef produced by this very eco-aware farm in Tasmania, I implore you to seek it out. Really great product produced by a really great group of guys. I was truly honoured to have had the pleasure to work with their beef during the Festival.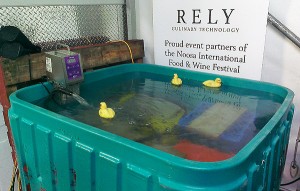 As soon as I was assigned beef, I made up my mind. I'd create a version of one of my favourite dishes, Okinawan Taco Rice. But instead of using minced beef, I'd use a sous-vide short rib and I'd tweak the sauces towards flavours I knew an Aussie crowd would love. (Amusingly, because so many of us wanted our proteins cooked sous-vide, the Noosa kitchen crew had to create a giant water bath on site, which is pictured to the right.)
The competition itself was a blast. It was definitely hard work, assembling over 1,500 portions of my dish, ensuring each one was as good as the last, and had just the right amount of seasoning and sauce. The feedback was great. Several people came back for seconds; some even came back for thirds. And many came back just to compliment me and my crew. We also got to feed many of the talented wine makers who were helming their own stalls. And a few of them came back and passed us some bottles of their excellent wines, which was a real treat for me and my volunteers.
By the end of the day, I was exhausted. But I was thrilled. It was a really fun experience and one I'd do again in a flash if asked. And who won? Well, there were two votes this past year, one based on audience applause and one on social media. Lizzie Loel won the former and, yup, you guessed it. Matt Preston took home the second trophy.
Below is the recipe I used that day. Because it was written specifically for professional chefs, it is a little less detailed and more formulaic than my usual recipes. It is also a recipe that is meant to be scaled up. So, if you do try this, please read it through carefully and try and work out the exact quantities you'll need for your own version.
Aun has always loved food and travel, passions passed down to him from his parents. This foundation, plus a background in media, pushed him to start Chubby Hubby in 2005. He loves that this site allows him to write about the things he adores--food, style, travel, his wife and his three kids!