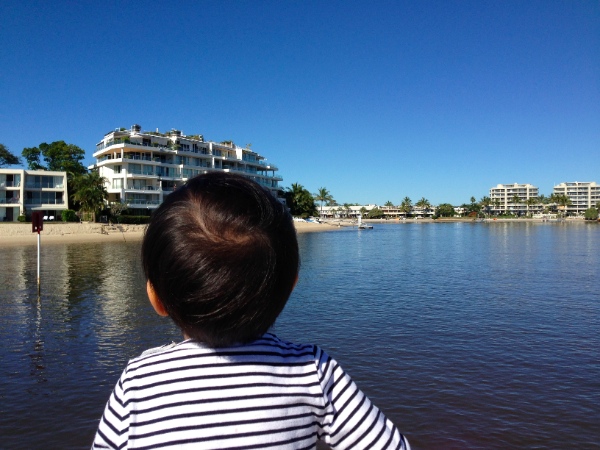 School's out and I'm guessing that many of our readers will be hitting the road with their families for the holidays, so I thought a quick list of useful things I discovered on our first family road trip with our two-year-old in tow might be a helpful thing to share.

We recently took a red eye flight to Brisbane, Australia and then drove 90 minutes to Noosa, which is on the Sunshine Coast. Despite having a fitful night's sleep, T managed to enjoy the drive as well as the numerous other trips in the car thereafter. There were no meltdowns, no complaints. I was most grateful as a girlfriend of mine had terrified me with her memories of a drive from Perth to Margaret River where she had to stop at every playground along the way to keep her then toddler happy. Here are some simple tips for a happy family road trip.
1. Take regular breaks
We arrived at a little past 5 in the morning after a nearly 8-hour flight. Instead of rushing to bundle ourselves into the car and getting on with our journey, we opted to freshen up a little and have a little breakfast at the airport. This gave all of us a chance to stretch our legs. CH and I got to grab some coffee (it's important that you don't feel sleepy on a long drive, it can have disastrous consequences). And we managed to unwind a little so that we didn't feel like we had to keep to a tight schedule. It helps maintain peace in the family. Similarly, on longer drives, it's worth identifying interesting stops for the family. When driving in Australia (our favourite destination for self-drive holidays), CH and I enjoy taking ice cream, pie or coffee breaks.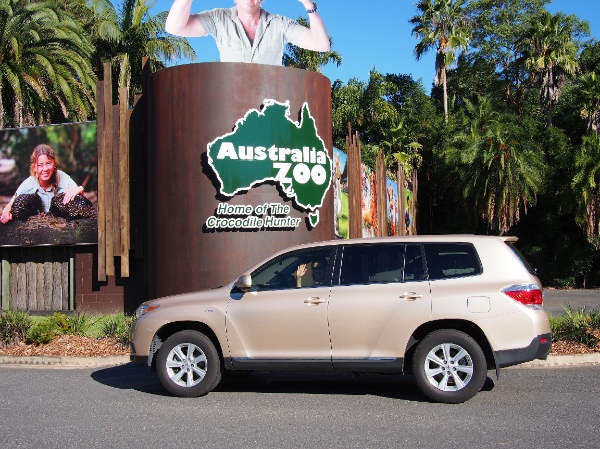 2. Invest in a comfortable car
I'd honestly never given much thought to this in the past since all our previous trips only included the two of us. But you'll find that I am now going to go on and on about the choice of car. From the selection at Hertz (where we got our car), we would have ordinarily rented a sedan for longer trips, and—on rare, self-indulgent occasions—something from their Fun Collection for city driving simply because it's the only way we can afford to get behind the wheel of a cool car we love. This time, for our first family road trip, we got an SUV (sport utility vehicle). The Toyota Kluger (above), to be precise. This was the first time I'd driven an SUV of any kind. And I loved it (save for when I needed to park it in a tight spot).
I never thought I'd genuinely rave about a car so much. I rarely care much about such things. I enjoy getting behind the wheel and taking to the open road, but I understand very little about vehicle performance. So, forgive me if I dwell on what petrolheads may deem unimportant. These are the details that I would've done without if they had cost me extra in the past. But having enjoyed them, I'd invest in them again if I were embarking on another family road trip.
I just loved that the car was really easy to handle, nice and stable at highway speeds, and places passengers at a great height for taking in the view (especially for little T). And the rear view camera that helps with parking the car did make things a lot easier. I guess, what I'm saying is that anything that makes you feel more relaxed and happy while you're driving is a good thing. And, there's no point in arguing over maps and directions, rent a GPS unit. And for peace of mind, invest in insurance and invest in zero excess. For years, I'd make CH slow down to a snail's pace on gravel roads (driving him insane in the process) because I once got a hairline crack on the windscreen of a rental way back when I was an undergrad driving down gravel roads in Margaret River and had to fork out the full excess fee for it. The fewer arguments you have, the happier the holiday.
The ample legroom in the back made a significant difference to T. We brought our own car seat (we had it wrapped at the airport before we checked in both in Singapore and Brisbane) to avoid dramas with adjustments and installation upon arrival. In this SUV, we could tilt the car seat back for naps without T hitting his feet on the driver's seat (something that happens all the time in our own car and which leads to occasional 'situations'). This was great because on long drives, we could squeeze his afternoon nap in while we were on the go rather than try to rush back to our hotel. Each seat in the back had separate controls for backrest adjustments so no one was forced to sit in an uncomfortable position, and we could've easily and comfortably accommodated three people in the back (plus another two way back in the third row if we needed to) without making anyone feel like they were packed in like sardines. Similarly, separate temperature controls for the back meant that we could adjust heat or air-conditioning without major drama. These small things make a huge difference to little ones stuck in a car for long stretches of time, especially if they're new to the concept of layering clothing. Ample storage compartments and drink holders in the back were also a boon for all the in-car amusements, snacks and drinks we needed at our fingertips.
Up front, two charging outlets meant that we could plug in the GPS unit we got from Hertz and charge a phone or iPod at the same time. Incidentally (as someone who has received far too many speeding tickets in Australia), the Hertz GPS unit amusingly called the NeverLost pointed out all speed cameras and alerted us when we were over the limit, all very handy when driving in Australia, I must say. And a huge lockable glove compartment made me very happy as I could store all our travel documents and other valuables in there, and still accommodate the all important camera in an easy-to-access location.
In many ways, on a road trip, your car needs to function a little like a hotel room, and I now realise that all these little details gave me the peace of mind to truly enjoy our time together as a family. So, the next time I rent a car for a family trip, these are going to be on my checklist! Your list may turn out to be quite different, but the key thing is to work out what's important to your family when you're selecting a car for a road trip.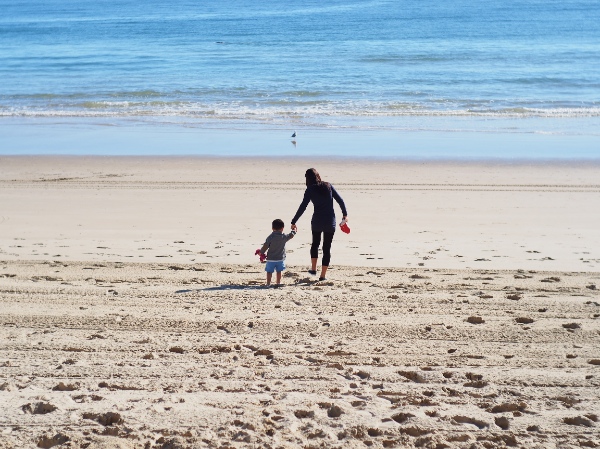 3. Take turns driving
If you can take turns at the wheel, it lets each driver get a little rest. It also means that the children get someone different to entertain them every now and then. And never ignore sleepiness and exhaustion. Be honest about it. Falling asleep at the wheel can cost lives.
4. Remember to hydrate
We know how important proper hydration is for the body. Just bear in mind that the lack of hydration also exacerbates jetlag, and being hydrated helps beat constipation (both fairly common issues when kids travel), making it even more important to ensure that everyone drinks plenty of water. Pack a water bottle or sippy cup for each child to avoid spills as well as fights. We use them on the plane, too. In places where water safety is an issue (or you simply can't get access to refills easily), buy a large bottle of water—they're generally more economical—and store it in the car so that no one ever goes thirsty. I often pack reusable melamine cups so that everyone has his or her own cup.
5. Pack snacks
Fresh fruit, dried fruit, trail mix, homemade granola, pieces of cheese, small packages of wholegrain cereal and biscuits are useful to have on hand when hunger pangs strike. We know toddlers don't have the patience to wait for the next rest stop or gas station. Using a tackle box for snacks is a fun idea. And the Yumbox, which I recently chanced upon, would also be handy. I like the fact that it is leakproof. A small insulated bag for perishable items will help prevent tummy upsets and a supply of wet wipes will make clean up a breeze. I find that such snacks are also great standbys for those moments when the little one refuses to eat anything at the restaurant we've happened to stop at for a meal.
6. Pack in-car amusements
As far as I can, I try to avoid handing over my phone or tablet to T in the car. This means that I try my best to have a range of toys on hand that will engage T. I'm a huge fan of Mr Printables where I get ideas as well as free downloads for beautifully illustrated kids' printouts. The flash cards and printable number lines are awesome. Simply choose a bunch that your child will enjoy. And for older children, there are great games and puzzles that make learning such fun.
Compact books are also great. I couldn't resist this set of Pantone mini board books  that have fun cut outs and introduce different shades of each colour, which I picked up at the gift store at the State Library of Queensland. To create anticipation for our trips, I enjoy pulling out Miroslav Sasek's This Is… series of travel books for children. They're a little unwieldy to travel with, but T loves the illustrations. And small wind up toys (we love the rattlesnake we picked up at Lone Pine Koala Sanctuary) are great distractions for when a child is at the brink of a hissy fit.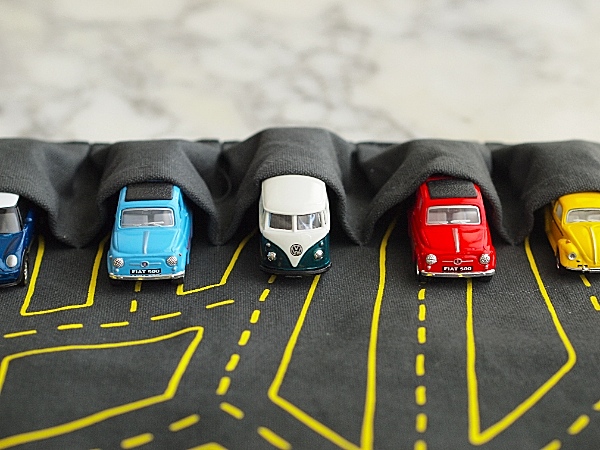 We never leave home without a couple of model cars. Storing them in a travel pouch makes for easy access. I bought T one with vintage cars (above) from Bonpoint last Christmas which doubles up as a car circuit. You just store the cars in the pockets, wrap the circuit over itself and tie it up for neat and easy packing. But there are great tutorials for making your own over at All For The Boys.
Don't underestimate the entertainment value of stickers, especially little ones that can be stuck on limbs, water bottles and other personal belongings. I hoard them obsessively. Even colourful dots are great. Something to doodle on is also useful. I find paper and crayons or marker pens a little difficult to manage in a car, so I was thrilled when we chanced upon the Boogie Board, an impossibly compact LCD eWriter that comes in a range of candy colours. It's a hi-tech version of the Magna Doodle, now called a Doodle Pro, I believe. Roughly the size of an iPad Mini, it's wonderfully portable. And with the touch of a button, you get a perfectly clean slate. A small board for magnetic toys is also good fun. T is currently obsessed with reciting the alphabet, so the alphabet and number magnets from Magnetic Poetry have been a huge hit with us.
Finally, don't forget to pack a favourite stuffed animal or blanket, some music (especially songs that you can all sing to, the iPod is great for this) and be sure to bring along your sense of humour. There is no better source of entertainment for your child than you!
Safe travels and happy holidays!
Su-Lyn is Aun's better half and for many years, the secret Editor behind this blog known to readers simply as S. Su-Lyn is an obsessive cook and critical eater whose two favourite pastimes are spending time with her three kids and spending time in the kitchen. She looks forward to combining the two in the years to come.