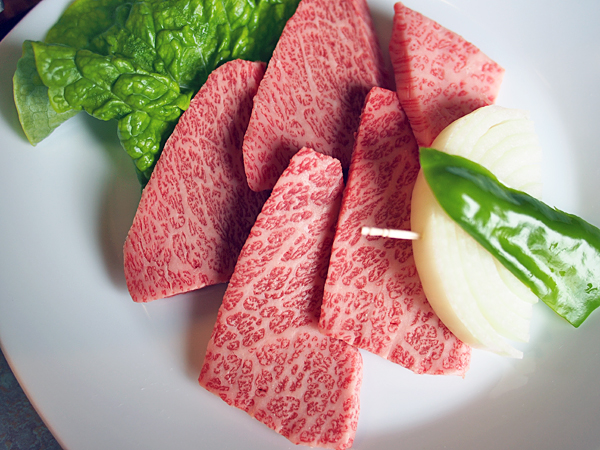 Every trip to Japan, to me, means great eating. This recent trip to Tohoku was no exception. Tohoku is known (domestically at least) for having some of the best seafood and meat in the country. The earthquake, tsunami and the Fukushima Daiichi nuclear disaster, however, hurt the region's food industry severely. The two natural disasters left many farms damaged and fisheries completely destroyed. And the latter incident created huge fears both locally and internationally of whether the region's food would be safe to consume.
With regard to issues of high radiation levels in food products, the good news for greedy folks like me is that thanks to regular and often double or even triple checks (plus many other measures), the Japanese are now able to ensure that only the safest possible food reaches consumers. But, truth be told, right after the nuclear disaster, testing wasn't done properly, partly because the authorities simply weren't ready to deal with a problem that was so devastating and far-reaching.
One man who was seriously affected by the nuclear disaster is Mr Horigome, who owns one of Sendai's biggest wagyu farms (much of which gets graded A5, the highest possible grade for wagyu). After the earthquake, tsunami and disaster at Fukushima Daiichi, he and his peers were all told by the central government that there should not be any effects on his herd, that essentially everything was fine. Two months later, when the issue of food safety was becoming a larger and larger concern, the central government again issued statements that everything was fine. But then, in July that year, his beef (and that of his peers) was found to have high and unsafe levels of radiation.
Horigome-san was both shocked and distraught. This test was part of a random spot check. Which meant that he had no idea if beef that had gone to market previously was also unsafe. All of his shipments were suspended while he searched for a reason. His biggest fear was that he would have to kill off his entire herd and basically lose his livelihood. Eventually, he discovered that the rice straws that he used to feed his cows had been contaminated. So while the cows themselves were never exposed to high radiation levels from the Fukushima Daiichi disaster, crops used to feed them were. And this, he realised, was something that no one had thought about.
Fortunately, he and his peers were able to take measures that naturally brought radiation levels in livestock back down to safe levels. Shipments resumed on 15 November. But by then, the damage had been done. Consumers didn't want to eat Sendai beef. The auction price for his ultra-high quality product dropped by 50 percent. And as feed prices and his overheads remained the same, things became very tough for Horigome.
Fortunately, with rigorous testing and with time, people have slowly begun to trust Sendai and Fukushima beef again. Sales are back up to 90 percent of what they were prior to the disaster. And while there are still lingering fears, he's hoping to export his beef overseas, to markets that pay premium for Japanese wagyu.
Seafood is also tested vigorously. While in Sendai, I had the pleasure of visiting the wholesale seafood market and attending the tuna auction. While Tsukiji market in Tokyo hosts perhaps the most famous tuna auction in the world, the majority of tuna being bought and sold there is bluefin. Sendai's auction specializes in bigeye tuna. Mr Seiichi Yamaguchi, the head of the Sendai Central Fish Market, was kind enough to get up extra early to attend the auction with me. As we walked through the facilities, he explained how checks were being done now at all levels of the supply chain. Radiation monitors have been given to fishermen, to wholesalers, to distributors, etc. At every stage, someone is ensuring that the seafood being caught, processed and sold is 100 percent safe for consumers.
I have to admit, when I was first approached to tour Tohoku, my single biggest concern was food safety. I knew that rumours of high radiation in the air were just rumours. I mean, ambient radiation levels in New York, Singapore and London are all higher than those of Tokyo. My real concern wasn't about radiation in the air but radiation that had seeped into the ground, that would affect crops and animals, and radiation in the water, that would affect seafood. But after speaking with farmers, distributors, chefs, hoteliers, civil servants and people like Mr Yamaguchi, I have to say I became completely confident that I could safely eat anything served to me at any restaurant or hotel in the region. Which, given the amazing quality of the produce, was a very good thing!
I ate like a king (or a pig depending on your point of view) on this trip. Most of the high-end onsen ryokans and hotels I stayed in provided dinner as part of the nightly rate, so I "stayed in" almost every night. And those meals were exquisite. Every single one of them was a multi-course extravaganza that left me feeling halfway through the trip that I was turning into one A5 grade, heavily marbled chubby hubby. The best of these meals were at Tatsumiya Sanso Satonoyu (the highlight of that meal is the gorgeous Sendai beef pictured above); at Yunishi Ichijoh, where among other delicacies, I had steamed crab legs, followed by Sendai beef, followed by a mini aka buta (local pork) shabu-shabu, followed by sakura ebi rice; and at Hotel Kanyo, where the two standout dishes were a whole grilled abalone and the best ikura rice I've ever eaten (both also pictured above).
But my favourite meals of the trip weren't in the hotels. My two favourite meals were in many ways simpler. But what they lacked in volume, the chefs behind them made up for in skill and passion.
The first of my two best meals was a real shocker. My guide and I had driven into a tiny city called Ofunato because we were asked to visit a small Italian restaurant there called Porco Rosso (Tel 019226080). We were told nothing about the food. We were sent there because chef-owner Jun Yamazaki had been a real inspiration in the aftermath of the tsunami. Knowing that thousands of people had lost their homes, Yamazaki-san dedicated himself to feeding as many people as he could, with whatever food he could find. He organised many volunteers to prepare food and to help deliver them, reaching a peak of being able to cater as many as 2000 meals a day to the evacuees. He worked tirelessly, aiming to feed as many as he could. his mission was to continue "making meals until the disaster victims are able to support themselves." His restaurant stayed closed from March all the way until October that year. And during that time, Yamazaki had worked himself so hard that he actually collapsed and had to be briefly hospitalised. When he did reopen his own restaurant, he made it his goal to foster links between the local fishing, farming, catering, and manufacturing industries, in addition to developing a sustainable approach to the reconstruction of the town.
Porco Rosso is a charming, intimate little trattoria. The minute we entered, I could somehow predict that the meal was going to be really good. But honestly, I didn't expect it to be as great as it was. Unfortunately, because we were rushing to a meeting in a town 90 minutes away, we only had time for the set lunch, a "quick" four-course meal that consisted of antipasti, a small first course, a pasta and dessert. The first course was an elegantly composed plate of small bites, all homemade and all incredible. There was homemade sausage, bacon, terrines, smoked fish, All simply outstanding. At this point, my guide (also a major foodie) started asking Chef Yamazaki's assistant some questions. Chef had lived in Rome for many years before returning to his hometown to open Porco Rosso. No wonder the food was as authentic and tasty as it was. But the most interesting thing we found out was that Yamazaki had competed on the newly relaunched Iron Chef television show in November 2012… and won! Our next course was super simple but also super yummy, two small pieces of bread, slathered with cheese, grilled and then topped with olive oil and herbs. For my main, I had chosen spaghetti with fresh scallops and fresh sea urchin in a light cream sauce. This pasta, hands down, beats any uni pasta I've ever tasted in Singapore. A delicious dessert trio rounded off a surprisingly charming lunch. Driving away, I was simply shell-shocked. So too was my guide, who said, "he should be in Nishi Azabu (a trendy part of Tokyo), not Ofunato!"
My other favourite meal was a totally unplanned one. My guide and I had changed our itinerary a little bit while on the road. There was one night in which we were originally booked into a classic ryokan, but it was two hours away from Sendai. And that next morning was when I had to be at the fish market at 530am. There was no way I was going to get up at 3am and then drive for 2 hours. Instead, we decided to stay in Sendai, which allowed us to get up closer to 5am. When we checked into our hotel, we asked its concierge to recommend a cool izakaya with great food that was within walking distance. She immediately suggested Inase-Inase, located just a five minute walk from Sendai station.
Inase-Inase was not what I was expecting. It was much sleeker and more modern that I had thought it would be. It had one small counter facing the chefs plus a larger common dining room and a private room in the back. My guide and I had booked seats at the counter. Our meals were wonderful. We both ate different things. I had an ahi tataki that was probably the best version of this I've ever had; some wonderfully crisp but still juicy aka buta katsu; simply outstanding tsukune served (of course) with raw egg yolk; and marvelously rich sushi made with Sendai beef. At the end of the meal, I was trying desperately to convince the chef to open a branch in Singapore. It's the kind of place, serving the kind of food, I would eat at on a weekly basis, if I could.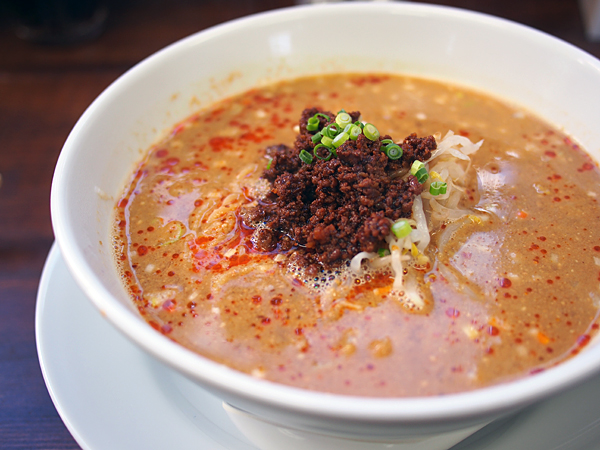 Finally, I want to end this post with a picture of some delicious ramen I had. Honestly, I have no idea what the name of this shop is. My guide and I stopped off at this ramen joint while driving to the Horigome cattle farm. Which means it's somewhere near Sendai. The small eatery had been set up in a temporary building, among several other businesses that had sprouted up to service displaced townspeople, aid workers, construction workers and other city workers.
I hope that when planning you next big overseas adventure, you consider Tohoku. It's a region that dearly needs your help (through the dollars you'll spend while there). And trust me, the food is something you'll definitely write home about. Or more likely these days, tweet about.
Aun has always loved food and travel, passions passed down to him from his parents. This foundation, plus a background in media, pushed him to start Chubby Hubby in 2005. He loves that this site allows him to write about the things he adores--food, style, travel, his wife and his three kids!