So far, most of the stories I have written for this site, and the few more I have planned, about Tohoku, are lifestyle pieces. They are travel and food related posts that hopefully will encourage you to consider this beautiful region when deciding where to go for your next vacation. But I also want to spend some time thinking about, and sharing with you, some challenges facing Tohoku as it tries to bounce back two years after the earthquake and tsunami (and nuclear reactor incident) that claimed lives, destroyed whole towns, wrecked whole industries, and left the region reeling from widespread damage. And I say "bounce back" because two years later, there is still so much more to do; so many homes to build; so many industries to restart; so many communities to rebuild; and so many problems to fix.
There is no simple way to retell the stories that I heard while I was touring Tohoku. Nor was it that easy to sit through some of the stories that I heard. But I think that the act of talking about what happened is healthy and I was happy to try and listen to what the survivors I met had to say. The stories, of course, while centered around the same natural disasters, were all unique in their own way.
In Shiogama, known across Japan as the city with the highest density of sushi shops in the country, the owner and head chef of Sushitetsu–the city's most highly rated sushi restaurant–showed me photos of the flood and how his restaurant was almost entirely submerged by water. If you look at the photo above on the left, you'll see a white marker pasted near the ceiling, along the corner that separates the back and a side wall. That marker indicates how high the water rose. The photo on the right was a shot that was taken by the chef's camera phone from the roof top of a neighbouring building.

In Sendai, I visited the airport because I wanted to meet and speak with Junichi Ishimori, its Director, who, along with many of his staff, was trapped in the airport for 3 days after the tsunami hit. Sendai Airport is 13.6 km southeast of Sendai itself, but just 1.2 km from the ocean. During the tsunami, waves as high as 5.5 metres crashed into the terminal, causing damage to the first two floors and relocating several of the 200 cars parked outside that day inside the building. 1,700 people were in the airport at the time of the disaster–700 passengers, 400 local residents who had evacuated to the airport thinking it was the safest place to go, and 600 staff members and small business/kiosk owners.
Mr Ishimori spoke to me about bravery. And the sheer admiration he has for his team. He told me in particular about one employee who witnessed (from the roof of the airport) her home being destroyed; her grandmother, she knew, was inside and most likely dead. Nonetheless, she refused to take time to grieve and worked tirelessly to look after the evacuees and passengers, whose welfare she and her colleagues took on as their personal responsibility.
Ishimori-san is also one of the rare people I met who have the ability to find a bit of humour in what was one of the darkest days in his country's recent history. As I left, he passed me a small present. It was a box of egg custard buns (hagi no tsuki) that are a specialty of Sendai. Ishimori-san said that these were once his favourite sweet treat. But over the 3 days that he, his colleagues, the evacuees and passengers were trapped in the airport, they basically lived off airport snacks. What was once his favourite local food souvenir is now something he can't bear to eat.
What was particularly interesting to me was Ishimori-san's thoughts on how to increase foreign tourism numbers in Tohoku. As the head of the region's largest airport, this is, of course, something he is very interested in. Further (and as mentioned in a previous post), since the central government has decreed that foreign (and domestic) tourism is a necessity in rebuilding Tohoku's economy, it's something many people are thinking and talking about. I asked Ishimori-san directly what he thinks has to be done. Three things from our discussion stood out. First, Ishimori-san said that Tohoku needs to increase resources that will appeal to and attract foreign tourists. He advocates creating "world's best" attractions that will garner international attention. "We should build something like the world's best and biggest aquarium," he said. "We need such attractions. Because even if I run the best, most efficient airport…no matter how great this airport is, people won't fly to Sendai to see the airport. We need to create things they want to see." The second point was more of a question, and one that Ishimori-san hasn't yet come up with a solution to. "We have large stretches of empty land now, because of the tsunami. We need a clear and visionary plan to do something with this land." What Ishimori-san left unsaid but was clear, is that development of this kind and scale cannot be left to individual towns or cities; it's something that needs to be addressed by the regional or central government. Which dovetails nicely into the third point I found particularly noteworthy. Ishimori-san sees a vital need to promote the region of Tohoku as a whole, something which can only be done if all the various stakeholders are able to come together and work together. He told me that right now, and before the disasters, there was no sense of promoting the region–each town or city or prefecture did their own thing. "Compare, for example," he told me, "the number of onsens and golf courses in Tohoku versus, say, Hokkaido. Tohoku has many more of both. But if I compare visitor arrivals in each region's main airports, Hokkaido get one million visitors a year, while we see two hundred to three hundred thousand only. Hokkaido has done a brilliant job of building a regional brand, something we lack."
Tourism is a issue that Mrs Abe, ower of the Hotel Kanyo in Minamisanriku, is also trying to address. Minamisanrikyu, as mentioned in a previous post, was one of the towns most severely damaged by the tsunami. Over 80 percent of the town disappeared in an instant, leaving behind the single largest death toll of any town in Japan. Before the tsunami, Minamisanriku was a beautiful little town, with a thriving salmon fishing industry and picture-perfect views that drew travellers from across Japan. Mrs Abe told me that she's worried, worried about all the businesses that have been destroyed by the incident and worried because so many of them may never be able to start up again or be replaced. Like others in her region, she knows that tourism is one of the keys to the future. To try and build a capacity to service foreign guests, she's enrolled many of her staff in English conversation courses.
She's also set up a daily tour, led by a local survivor, that leads guests through the ruins of the town. It's an emotional hour-long experience, as the guide talks about lost friends and tells the story of local heroine Miki Endo. This 24 year old city worker broadcasted evacuation annoucements, refusing to leave her post, even as the 16 metre waves crashed into the building she was broadcasting from (the wreckage of which is pictured above). Only a small number of her colleagues, who clung to the antenna on the roof of the building survived. When we met, Mrs Abe told me that the only real redevelopment of what was once the town-centre has been the removal of debris. She's desperately waiting for someone to do something, to see and hear a real plan for how her town and other towns like hers will be brought back to life. For her and many others like her, it's a frustrating situation.
One project that I saw in Tohoku that was particularly inspiring was a hydroponic lettuce farm, set up in Rikuzentakata. Like Minamisanriku, Rikuzentakata was almost entirely wiped out by the tsunami. Much of the what was once farmland is now, because of high-levels of sodium and debris, unfertile. After assessing the area, the city government designated certain sections of such farmland for hydroponic farming — the only kind of agriculture possible at that point. Enter Takaaki Abe, who grew up in Aomori, the northern most prefecture of Tohoku. Mr Abe, a former banker, had started Granpa Co, a hydroponic farming business in 2004. Eager to help his home region, when he heard about the designated hydroponic farming sites in Rikuzentakata, he quickly agreed to build a farm there (of course, it helped that the government also gave the Granpa farm in Rikuzentakata a 300 million yen subsidy).
The farm started operations in August 2012, employing twenty local staff to help manage 8 pods/farms, with five more soon to be set up. Granpa's hydroponic systems are amazing to see. Vegetables are grown in water, on rotating metal wheels, set inside giant climate controlled and ultra-bright bubble tents. The system, I was told, is patented and is something unique to Granpa. At the Rikuzentakata farm, they grow three varieties of lettuce: frill, red coral and greenspan. They can harvest 470 heads a day during warmer months and 300 a day in the winter. The product here is fantastic — yes, I did sample the different kinds of lettuce. And this farm supplies Subway sandwich outlets across the region, Tokyo Disneyland, and Aeon, a nationwide supermarket chain. I was super-impressed with this project. And I was glad to hear that many municipal governments within Tohoku are studying this project. So much of Tohoku's coastline, and so much of its bordering farmland are still unused wastelands. Developing these areas into hydroponic farm zones makes sense. These farms can be set up just about anywhere, so why not in places that are being underutilized or that cannot be developed for different reasons? These farms can bring in revenue. And they can create employment. There are, from what I could see, only positives about replicating this project across the region.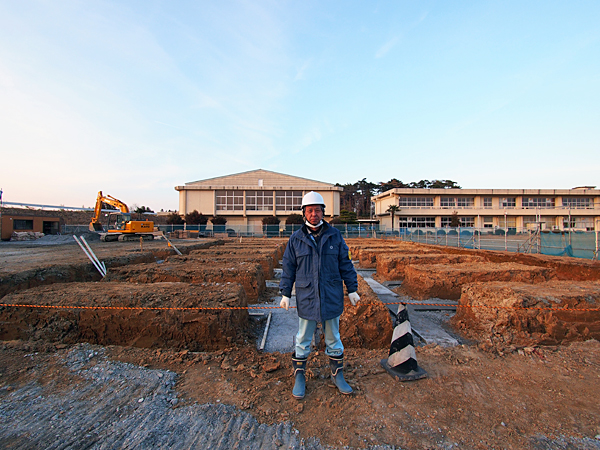 Another positive development that I happened to visit was in Soma, a coastal city in Fukushima. Parts of this city were totalled by the tsunami, including and especially one residential area called Isobe. Three hundred and forty four buildings and homes in that area were washed away, including the local community centre. Mr Koyama Kenichi, a city worker whom I met in Soma, told me that while funds from the central government were made available to rebuild municipal buildings and temporary homes, facilities like community centres were not supported. That said, a new Isobe community centre is being built, funded entirely through donations that came in through the Singapore Red Cross.
This new community centre is one of four facilities made possible through donations from the Singapore Red Cross. Kenichi-san took me to the site. It is built on high ground, next to a middle school that acted as an evacuation centre during the disaster. Work has, in fact, just begun (the site is pictured above). Kenichi-san asked me to pass along his city's thanks to everyone here in Singapore. For communities that have had to deal with a tragedy as great as the 2011 tsunami, such centres, while seemingly non-essential to some bureaucrats when drawing up budgets, are, he said, truly vital in rebuilding and restoring hope.

Tohoku has a long hard road ahead of it. Tourism is just one way that the region can hope to rebuild its economy. But to be able to welcome more foreigners, the stakeholders in the region also need to invest in tools and skills. People like Mrs Abe, who has started English conversation classes for her staff, are doing what is right and necessary. Resources too should be developed. There are few guides to Tohoku in English or other languages that target today's travellers. Given how great the onsens and sake breweries are in this region, guides centered around those topics would certainly be welcome. I also really like Mr Ishimori's idea that Tohoku should build one or more world class attraction. But such developments cost money. It also requires true regional masterplanning. I can only hope that the regional government, the central government and agencies like the Japan Tourism Agency can work together to put together a true masterplan for the region and gain access to the funds to make their ideas a reality. There are others like Mr Ishimori that have interesting ideas.
In Rikuzentakata, Deputy Mayor Takashi Kubota wants to turn the devastasted coastline into a national park. In Ichinoseki (in Iwate prefecture), the gentlemen who run the chamber of commerce there launched the Naka Tohoku Mochi Summit, a festival celebrating this versatile Japanese rice dumpling (that can be served sweet or savory) that they hope becomes a huge tourism draw (last year, 3,000 people attended). And while all these ideas are great, as Mr Ishimori opined, all of these stakeholders need to start working together more closely. So that Tohoku the brand can start to be better developed and promoted. Tohoku also needs to rebuild in so many other ways. Communities need to be rekindled. Towns need to be rebuilt. Industries need to either be redeveloped or alternatives need to be kickstarted. It's a region with a very tough road ahead of it. But one very much deserving of your attention. And, if possible, your help.
Aun has always loved food and travel, passions passed down to him from his parents. This foundation, plus a background in media, pushed him to start Chubby Hubby in 2005. He loves that this site allows him to write about the things he adores--food, style, travel, his wife and his three kids!