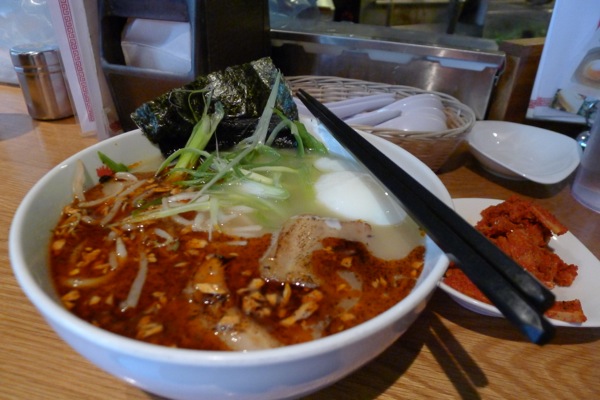 I spotted Totto from a distance by recognizing the crowd outside. Yes, it is one of those places that have chosen to forego reservations altogether, instead preferring to have a crude pen and paper waitlist. Located in Hell's Kitchen in NYC, this place is touted to be one of the top ramen places along with Ippudo and Momofuku (neither of which takes reservations either). There are about 20 seats or so in total, of which around six to eight are at the bar. Wait times are about 30 minutes for lunch and about an hour for dinner. If you miss your name as it is called out, you lose your turn and you have to wait all over again; the good news is that the waitlist is often shorter than how it looks as people tend to leave – in frustration or with sheer impatience! Rumour has it that if you arrive at the door 15 minutes before they open at 5.30pm for dinner, you can breeze right through. Of course, the million dollar question is: Was the ramen worth the hype?
The answer is a big resounding YES. The differentiating factors for me are the noodles and the pork bone broth. In my spicy miso ramen, the noodles were springy and firm to the bite. I rarely finish my noodles when I eat ramen but these were so good that I finished them just as I was down to half a bowl of soup. The pork bone soup was milky and flavourful, and what really stood out was that it was not oily so it felt like we could continue to slurp the soup without it becoming too heavy on the palate. The accompanying scallions and bean sprouts gave each bite a different texture and for those of you who prefer your ramen without the extras, a friend told me that they gave her two extra pieces of char siu (pork) for free when she requested for the noodles without the vegetables. Score! The char siu was served thinly sliced and a little fattier than I'd like but still fork tender and well marinated. I usually like my char siu in thicker chunks so that I can feel and see the flesh tear as I bite into the char siu but this was really delicious. There are add-ons like bamboo shoots and onsen-style eggs so you can customise your ramen to your liking. A word of warning: The XXXXXX extreme spicy bamboo shoot is definitely not for the faint hearted. Mine came on the side looking more like spice clumps than bamboo shoots.
We also had the tuna avocado starter and while it is not a scene stealer, it definitely is a nice cool change from the ramen. The tuna was fresh and gently seared, so when combined with the avocado, the garlic chips and yuzu sauce, the difference in textures created a really nice and light combination.   
Service is quick once you actually get a seat: the turnaround from the minute you order till the food arrives at your table is around ten minutes. The bar seats allow you to look into the hustle and bustle of the kitchen – be impressed by just how much they can move around each other and cook in the tiny space, and really enjoy the cheerfulness of the chefs and wait staff. For those vegetarians out there who lament that ramen places just do not have options for them, this place serves a vegetarian ramen made with a non-meat broth.
Totto Ramen
366 West 52nd Street
New York, NY 10019 
United States
Tel: +1 212 582 0052
www.tottoramen.com
Prices: Ramen bowls start at US$10, additional toppings cost US$1 between US$2 each.

Jeannice is a world traveller and eater. She has lived in Chicago and Madrid (as well as Miami and Yellowstone National Park, albeit for much shorter periods) and has recently moved to New York City. Like many Singaporeans, she seeks out the best places to eat when travelling as recommended by locals, friends who have previously visited the city or a simple online search.