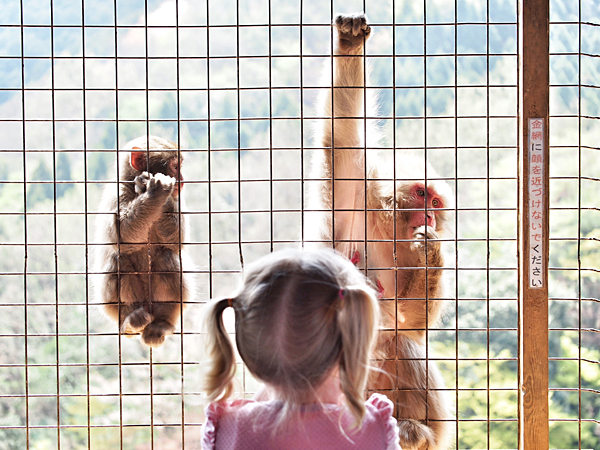 My wife S and I have been to Kyoto many times. But until this past April, we'd never gone there with a young child in tow (of course, since we only had our first child two years ago, that would kind of make sense). This most recent trip, because we had brought along our son T, was remarkably different from all of our previous trips. Our schedule, because we had to plan everything around his schedule, was different. Where we went and what we did each day, because we wanted to do and see things that would be fun for him, was different. And where we ate, because we wanted to go to places that served food he liked, was different.

We had a good time. More importantly, T had a terrific time and, from what we could tell at least, really enjoyed himself. While Kyoto is a city known for culture, history, handicraft, and food, it is also a great city to visit with kids. There are a lot of outdoor playgrounds and a lot of things you can do with young ones. Below, I have listed the things that we enjoyed the most. This list, of course, is by no means an exhaustive list of child-friendly activities. It is just the few things we experienced and enjoyed the most. I already have a list of things we want to do with T on future trips, like strawberry picking for example, which we just didn't have time for this time.
Experiences / Attractions
Nara Park and feeding the deer.
Of all the things we did with T, the one thing he's told us he enjoyed the most was feeding the deer in Nara Park. Now, some friends have pointed out that the practice of feeding the deer in Nara is ruining the ecosystem of the area because the "deer senbei" (the crackers that visitors purchase to feed them) aren't meant to be part of the deer's natural diet. Intellectually, I can understand this. But, visiting, interacting with and feeding the senbei to the deer there is just sooooooooo much fun. For adults as well as for kids.
Nara was the capital of Japan from 710 to 784. It's a small city that is easy for tourists to navigate their way around. It is home to some very well-known and often visited temples, shrines and gardens, many of which are in or around Nara Park. Getting to Nara from Kyoto is a cinch. Take the Kintetsu Railway express train from Kyoto Station straight to the Kintetsu Nara Station. It's a quick 35 minute journey which deposits you right at the western edge of Nara Park. From there, you only have to walk east for a few minutes and you'll find yourself both in the park and face to face with some rather friendly, slightly over-zealous and very greedy deer.
(We decided to walk past the deer hounding visitors at the edge of the park and walk further into the park, making our way towards Todaiji Temple. The deer are all over the park, so you don't feel like you have to stop and feed the first ones you come across.)
One packet of deer senbei usually runs 150 Yen. From the moment you buy a packet, deer will start following you, and if you don't feed them quickly enough for their liking, nudge you and even occasionally nip at you. So, it is advisable not to pass let your children hold onto the senbei or feed the deer unsupervised. When you're not holding onto the biscuits, the deer will treat you with a mild interest (or really disinterest); they are actually very tame, and very friendly.
Arashiyama
I've already written heaps about Arashiyama. Not only is it a fun place for adults, but kids love visiting this much beloved tourist area as well. T had a great time looking at all the stuff for sale in the boutiques lining the main road and playing along the banks of the Hozu River.
Arashiyama Monkey Park
Also in the area, and the main reason we went there, is a the Arashiyama Monkey Park. The monkey park is home to approximately 130 Japanese macaques, whom many call "snow monkeys". This sanctuary is located on the top of a hill, accessible via a 20 minute hike. There is a large clearing which affords amazing views of Kyoto and which the monkeys roam around freely within. And a small wooden house, in which visitors can rest and from which one can feed the monkeys.
Feeding should only be done from within the safety of the shelter. You can purchase diced apples or nuts. Because the monkeys do tend to get a little grabby, it is advised to place the food in the palm of your hand, as opposed to holding it with your finger tips. The monkeys cling onto bars that enclose the windows of the shelter and happily accept as much food as you're willing to buy for them.
Not only is this fun for the whole family, the hike up and down to the park is just beautiful. We went during cherry blossom season, which was simply gorgeous. I would love to return again in the Fall when the leaves are all orange and red.
Getting to the Monkey Park is easy. From Arashiyama station, walk towards the Hozu River. Cross the river and turn right. You'll see a sign for the Park after a few steps.
Hirakata Park
Hirakata Park is an amusement park outside of Osaka. From Kyoto, if you hop on an express train via the Keihan Railway line from Gion, you can get there in half an hour, which makes it a very convenient place to visit. Since we've returned to Singapore, S hasn't been able to stop talking about how much fun she and T had visiting Hirakata Park, mostly because the number of rides suitable for toddlers was quite remarkable.
T had a grand old time running us back and forth between rides. Once he had established his favourites, mama or papa had to go on them with him over and over again, which honestly, we didn't mind doing at all. We also liked that the Park was clean and open, affording us a lot of open space in which our crazy little kid could run around and exhaust himself.
My only caution is that the food we ate there–we went to the curry house on property–is quite awful. My advice is to get your hand stamped (for re-entry), leave the Park, have a great, cheap, local meal somewhere near by and then head back into the Park if your kids still want to ride more rides.
There are also fun rides for older kids and parents. Once T fell asleep, I decided it was my turn and checked out some of the Park's more thrilling roller coasters.
As said, getting there is easy. Hop an express train from the Keihan Railway Gion-Shijo station going south. Ride until Hirakatashi and then transfer to a local train for one stop. Get off at Hirakatakoen station and the Park is a three minute walk away.
Kyoto Aquarium
Kyoto's aquarium, located in Umekoji Park, only opened in March last year. It's a wonderful, new and shiny attraction that's fun for kids and adults alike. We visited on a drizzly Sunday morning and the place was packed. Irregardless, we had a great time.
The aquarium's main pool is thrilling. We and many other families whiled away a good portion of our visit staring up at all the fish and other aquatic life swimming around in this giant tank. T especially loved the sea animal zone and the fur seals that swim directly over and around you; the penguin zone; and the invertebrates area (he's currently obsessed with jellyfish). We also enjoyed the dolphin show despite the fact that it was entirely in Japanese.
Getting to the aquarium is pretty easy. There are detailed instructions on this page here: http://www.kyoto-aquarium.com/en/access/index.html
Kiyomizudera Temple area
This is one of Kyoto's cutest little areas. A small hilly tourist enclave, with one of the city's most beautiful temples as its focal point, S and I have always loved coming here and checking out all the food shops, handicraft shops, cafes, and souvenir shops. Seeing this fun neighbourhood through T's eyes made the experience all the more enjoyable.
This area is also home to several of the most famous cherry blossom viewing spots in Kyoto, so it was understandably packed when we visited. But the sakura were truly breathtaking and both mama and baby were thrilled by the view. T was even happier when we gave him a taste of some sakura soft serve ice cream I had bought for myself. In fact, he liked it so much he refused to give it back to me, shoving as much as he could into his face and down his little gullet.
I'll be following this post up tomorrow with some recommendations for eating around Kyoto with really young kids. So please stay tuned.
Aun has always loved food and travel, passions passed down to him from his parents. This foundation, plus a background in media, pushed him to start Chubby Hubby in 2005. He loves that this site allows him to write about the things he adores--food, style, travel, his wife and his three kids!