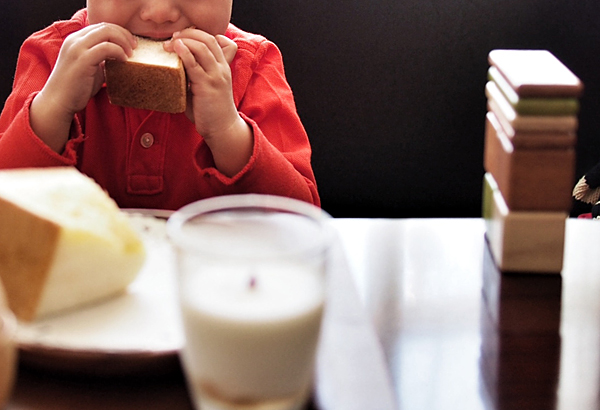 Dining with toddlers when travelling is a world apart from eating out when it's just you and your hunny bunny. On previous trips to Japan, I would have made reservations at cult places I've been dying to try or restaurants that I already love weeks in advance. Because many of my favourite haunts are uber-popular, booking ahead is essential. However, with the tiny one in tow, not only could I not plan ahead, but the kinds of restaurants we visited were very different. 
Eating out with the youngster
My favourite kinds of restaurants in Japan are small, kappo (counter-only) places. Most of these serve only one menu, with a few variations depending on how much you are willing to spend. But such establishments are definitely not toddler friendly. Try asking the cult restaurant that specializes in one specific kind of food if they'd be cool to make something else for your fussy little boy, and you'll most likely get a stern "Dame! ("no")" back from a slightly offended chef or restaurateur.
As every parent of a young'un knows, their tastes can be somewhat bewildering and aggravating. Some days they're happy to eat anything. Other days, they want only one specific things. And usually, they aren't super adventurous. My son, for example, while willing to try most things, has extremely strong opinions on what he eats. If he doesn't love something, he won't eat it. Which can be a real pain in the tush.
Anyway, the list below consists of places that both we and the fussy Master T enjoyed dining in. Depending on your own child's tastebuds, they may or may not work for you. But at least you'll know they're kid-friendly.
Trattoria Pizzeria Amore
One of T's favourite foods is pizza. And even then, he's fussy about the quality. If the crust is too soggy or happens to be charred just a tad too much, he won't eat it. Fortunately, the pizzas served up in this chic trattoria and pizzeria on Kiyamachi dori were just right. In fact, on our first visit (we went twice), T was so thrilled he ate three-quarters of an entire pie. And then followed that up with a scoop of vanilla gelato.
The ground floor of Amore is divided two spaces. The front is an industrial-chic bar with high tables and a cool urban vibe. Go back into the restaurant, past the kitchen, and you'll discover a charming dining room with white-washed wooden walls and gorgeous views of the Kamo river. There's also a deck, which was closed when we visited–I can imagine it would be wonderful to sit out there in the summer. Just past the entrance, there is a staircase going to a second floor, but I don't know if it's used for dining or offices. When we visited, it was definitely off-limits.
Amore has a great big pizza menu. But it also has a fabulous à la carte trattoria menu as well. While T was happy devouring his pizzas, S and I satisfied ourselves with a range of seafood dishes. The clams were gorgeous. The frito misto was sensational. S declared it one of the best she's ever eaten. And I loved the prawns with fettucine in a tomato-cream sauce.
Amore quite simply is a great place with a cool vibe, wonderful food, and really nice staff. This was easily T's favourite restaurant in Kyoto.
Amore is located on Kiyamachi dori, south of Shijo-dori. As you walk south, you'll pass by one bridge that crosses the river. It's just a minute or two after that.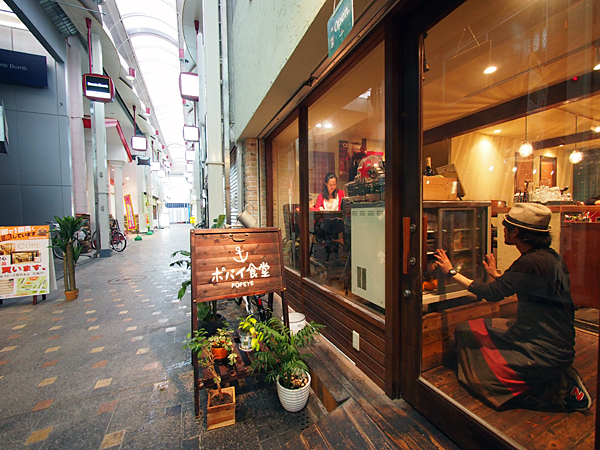 Popeye
I had read about Popeye in a Japanese magazine devoted to cafes in Kyoto. "Read" may be stretching the truth a bit since I can't read or write Japanese. What motivated me to check out this cool cafe, nestled in a tiny alley off of the pedestrian Shinkyogoku shopping street was a gorgeous picture of a hambaagu (hamburger) rice set. T loves burgers and at home he usually has burgers with rice. So, we definitely knew that we had to find a good hambaagu rice place in Kyoto. The fact that the cafe was super central and easy to find was the second reason we decided to have lunch here. And I am very glad we did. The food and the service was simply fantastic.
Popeye is small. On the ground floor, there is just one table and a counter. On the second floor, there are several low tables–the patrons dining there sit on the floor. The lunch menu consists of 3 sets. T, S and I, of course, took the hambaagu rice set. What's nice is that the burger patty is only made when you order, so you know it's fresh. The set consisted of a the burger, covered in a nice rich sauce (which we had asked to be served on the side for T), a cabbage salad, some potato salad, some macaroni salad and a bowl of rice with pickles. Perfectly satisfying.
To get to Popeye, head into the Shinkyogoku shopping street from Shijo dori. Turn right at the first alley. It's on your right a few steps into the alley.
Yakitori Tarokichi
We walked into this yakitori joint partly to get out of the rain. I had originally planned for us to check out a small cult unagi place off Yamato-oji dori a friend had told me about. Idiot that I am, I thought we could just rock up and get a table. The manager, when we opened the door and asked for a table, gave me one of those looks and said, "It's sakura season… we are fully booked… thank you." And closed the door on me. Since it was drizzling, we decided to head down the street towards our rented house (which was on the same street) and check out one of the many restaurants along the way.
We had walked by Yakitori Tarokichi previously, so when we spotted it, I knew I wanted to go there. It's a charming, urban yet traditional and modest little place with the main grill in the front room, surrounded by counter seats, and a few small tables in the back. Fortunately, they had translated their whole menu into English so ordering was a breeze. We had a delicious meal there. As with most yakitori places, the bulk of the menu was chicken, but they did have a few pork dishes and several nice salads and grilled vegetable options. The atmosphere was very laid back and T had a fun time exploring the restaurant.
Yakitori Tarokichi is located on Yamato-oji dori. To get there, simply head south on Yamato-oji dori from Shijo dori (in Gion). When you get to the first intersection, it is on the southeast corner.
Kimura Sukiyaki Ten
Because we've had sukiyaki dinners with T with success, S wanted to take T to have sukiyaki in Kyoto. We decided to check out Kimura Sukiyaki Ten because we had read that it was large, extremely informal and very affordable (no point taking the toddler anywhere uppity and expensive, yah?). It was also very centrally-located, right along the pedestrian Teramachi shopping street.
I do have to admit that Kimura feels touristy. But the beef was very good and the staff didn't mind that T wanted to run around the restaurant (despite our attempts to wrestle him down). And as promised, the prices were good, less than half what S and I have usually spent on sukiyaki in Kyoto in the past.
To get there, simply head north on Teramachi dori from Shijo dori. It will be on your left after walking for about 2-3 minutes.
Cafe Violon
The charming Cafe Violon was a few minutes walk from our rented machiya. It was also the one cafe in the neighborhood that our landlord had recommended for breakfast. Which is what we went there for. Cafe Violon opens at 9am and serves just very affordable one breakfast set. As pictured, you get two slices or buttered toast, a tiny salad, a hard boiled egg and your choice of coffee drinks. The coffees here were all especially well made. And our little guy T loved the large fluffy slices of toast. On our first visit, he was two-fisting them, having grabbed a slice with each hand and eating them both in alternating bites.
The cafe itself looked like something from an old movie (with the exception of the state-of-the- art stereo speakers on the bar). There's a long bar that runs down the right wall of this narrow space with banquettes along the right wall. From what I could tell, Violon is one of those quirky Japanese places that transitions artfully from cafe to cocktail bar as the day turns to night.
Violon is located on Matsubara dori, east of Yamato-oji dori. Walk east from Yamato-oji dori and it will be on your left after a 3-5 minute walk.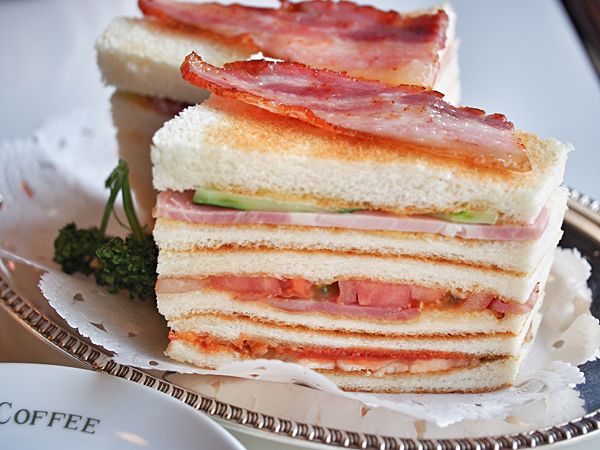 Inoda Coffee
Inoda Coffee is a true Kyoto institution with branches all over the city. It's very old school–almost theme parkish. But the coffee is great and the food is, while basic, actually pretty good. The menu consists of sandwiches, pastas, salads, cakes and ice cream desserts, so there's definitely something your kids will enjoy.
We had stopped into the Kiyomizudera branch for a midday snack (the delicious club sandwich pictured above). We had a perfect table, right by the window, offering us gorgeous views of the cherry blossoms in the garden next door to the cafe. We had also snuck in at the perfect time. By the time we left, there was a huge line of women, both young and old, waiting for tables to have their mid-afternoon tea and cake breaks.

Cafe Kawa
Cafe Kawa is a sleek, French-run cafe on Kiyamachi, with great views of the Kamo River. There is both French and Japanese food available here. Honestly, we only stopped in for drinks and the view. But I am sure, judging by what we saw people munching on around us, that the grub is well worth trying.
Getting there is easy. Kawa is located on Kiyamachi dori, just a minute's walk north of Matsubara dori.
Patisserie au Grenier D'Or
Wanna hop up the kids on sugar? Heh heh. We stopped into this cult pastry shop one afternoon while T was snoozing away. S had read about this patisserie, helmed by Chef Kinzo Nishihara, some years back but for some reason we never made our way there. The Patisserie au Grenier D'Or is famous for re-igniting the passion for French patisserie among foodies in Kyoto when it opened back in 2001.
You can purchase yummy-looking desserts at the counter or head up to the salon du thé and enjoy a leisurely drink accompanied by several sweet treats. Since S was carrying T around in the Ergo, we figured that our only option was takeaway. S purchased their uber-popular chocolate mousse pyramid and a milk pudding while I picked up a pound cake for breakfast the next day.
The Patisserie au Grenier D'Or is located on Sakai-machi dori, north of Nishiki Market.
Aun has always loved food and travel, passions passed down to him from his parents. This foundation, plus a background in media, pushed him to start Chubby Hubby in 2005. He loves that this site allows him to write about the things he adores--food, style, travel, his wife and his three kids!