It's amazing how a great meal can all of a sudden put you in a good mood. That's how I'm feeling right now. Happy, bubbly, energized but at the same time stuffed and sated. But I'll get to that meal much later. There's a lot to catch up on.
I flew into the UK last Friday morning, arriving at an ungodly early hour and then caught the first bus from Heathrow to Cheltenham, a beautiful spa town in the English countryside some 2.5 hrs away. Because the town is a popular weekend destination for London yuppies (and partly but less because the Cheltenham Ladies College has become a popular place for wealthy parents from around the world to dump their daughters for a few years), Cheltenham is quite cosmopolitan, with a healthy selection of chic cafés, gourmet restaurants—including a two-Michelin star French place called Le Champignon Sauvage—a disproportionately high number of fancy kitchenware shops—including a branch of my fave HongKong kitchen supply store, The PanHandler—and an enormously well-stocked cookbook store called amusingly Cooking the Books.
On our first day in town, we ate at Raymond Blanc's Le Petit Blanc, a no-frills restaurant through which Blanc proposes to cook unpretentious, reasonably-priced food. Both my colleague and I had the promotional menu, a two course meal with a glass of wine for 10 Pounds. I started with a pork belly and prune terrine, served with apple chutney. This was followed by deep fried whiting, pommes frites, and tartare sauce (yes, fish and chips). The food, while good, was nothing special.
Amazingly, the weather throughout our visit was amazing… perfect "sitting outside with a cuppa" weather. And the best place that I found to do this at was a very French café called Café Rouge. Here's a quick picture of the menu that I like, followed by a picture of one of their two al fresco areas. You can see how nice the weather is from that one.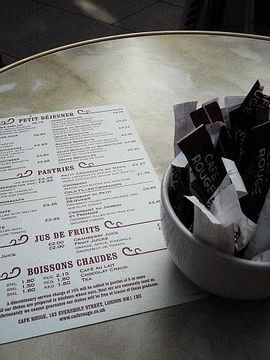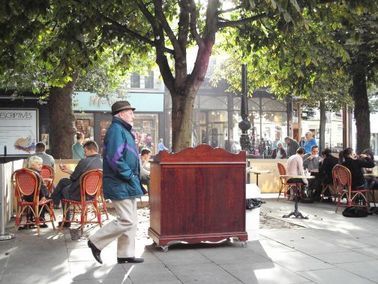 The other place in Cheltenham that I tried and that's worth mentioning is called very unoriginally The Pie & Mash. Yup, no rewards for figuring out that it's a pie shop. But it's a pretty unique pie shop. In fact, it's the UK's only 100% organic pie shop. Some purists, of course, might scoff at that. Pies are, they'll argue, meant to be unhealthy. But I think that this is an impressive effort. Unfortunately, while the owners' hearts are in the right place, their tastebuds weren't. Organic is fine. But organic doesn't have to be bland, which the food here was. Of course, a healthy helping of their organic ketchup and a liberal sprinkle of salt, and my chicken, bacon and leek pie was actually pretty good. Here's a picture of it.
We took another coach back to London on Sunday, getting into town around noon. After quickly unpacking, I headed over to Knightsbridge for an afternoon of shopping. My first stop was Harvey Nichols, where I enjoyed a late lunch at Wagamama. After Harvey Nicks, I made my way down the road to Harrod's, home, among other things, of some pretty legendary food halls. Imagine my surprise when entering the baked goods room to see this: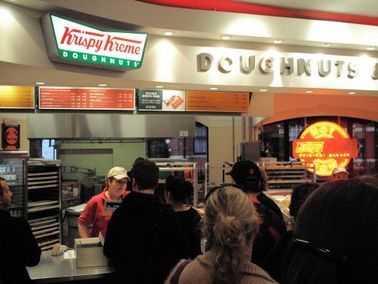 Yup, a Krispy Kreme outlet. Yum. Of course, I joined the queue and 15 minutes later was happily devouring two hot original glazed doughnuts. Yum Yum! That night, I caught up with some friends over a lovely French dinner at a very classy restaurant in South Kensington called Racine.
The next day was a work day and that meant meetings after meetings all day. Our last meeting ended around 530ish. My colleague and I had made plans to meet another colleague, vacationing in London, and cult foodie Kevin Gould at St John for dinner. Kevin's a huge advocate and fan of St John and its amazing chef-owner Fergus Henderson. S and I have the cookbook at home and while before that night, neither of us had ever eaten there, we were fans too. So, this was a meal I'd been looking forward to for a long time. The restaurant's great looking, all white and modest, which forces the attention of the diners on the food.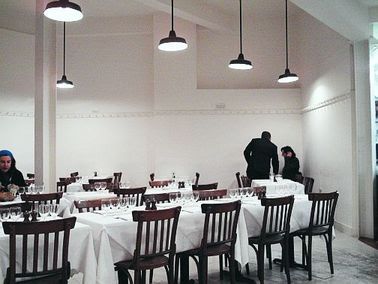 The crowd was also young, surprisingly young given the prices and the prestige of the restaurant. I knew that I had to try the Roast Bone Marrow and Parsley Salad. It was wonderful. The marrow was rich, oily, and full of earthy goodness. I was instructed to dig the marrow out and spread it on the toast that the dish came with. Over this goes the parsely salad, which is dotted with capers, and diced and sautéed small onions. The combination is pretty amazing.
For my main, I had calves' liver and onions, a traditional English dish that's been taken up a notch. For side dishes, Kevin had ordered some sautéed sprout tops (these were wonderful), a mixed salad, and a Welsh rarebit. For dessert, I ordered a half dozen madeleines, baked a la minute. This was the only dish that disappointed. Both Kevin and I agreed that the madeleines were only passable.
Yesterday was another busy day. Fortunately, we had a late morning meeting on Monmouth Street and a bit of time before the next one. One of my favorite places to eat in London is Food for Thought, on Neal St. I've been popping in there since my university days—especially because back then that was pretty much all I could afford. For those of you who don't know it, it's a delightful, laid-back and tiny vegetarian restaurant and take-out joint. The food has always been consistently delicious. For lunch, I had a spinach quiche and a salad. It was fantastic. My colleague and I chased down our meals with equally amazing espressos from the Monmouth Coffee Company.
That night I went to Gordon Ramsay. I want to be as honest as possible about my meal there. It was my first visit and despite the fact that some friends of mine aren't fans (ahem… Kevin), I was really excited. I went with a friend to the branch on Royal Hospital Road. The space really surprised me. It's the complete opposite of Parisian 3-Star restaurants. While those are often majestic, palatial and fantastical, this restaurant is small and deceptively humble. Both my friend and I had a 4 course meal. I started with the ravioli of lobster, langoustine and salmon poached in a light bisque with a lemon grass and chervil veloute, After this, I had a small portion of slow braised pied de cochon pressed than pan fried with poached quail's egg, ham knuckle and hollandaise sauce. My main was line caught turbot on the bone with coriander, tagliatelle, braised vegetables and a citrus butter sauce. For dessert, my friend and I split a tarte tatin and vanilla ice cream for two. Of the dishes, the pied de cochon and the tarte tatin were the stand-outs. They were truly amazing. The ravioli and the turbot were good. They were executed perfectly, but they didn't knock my socks off. Which I think I was expecting.
One of the criticisms of Ramsay is that while his team serves up technically perfect food, it's not exciting, not new enough or different enough. And, after eating there, I have to agree with this assessment somewhat. While the meal was very good, it comes nowhere close to the brilliant experiences I have had at places like Le Cinq. In fact, the restaurant that I have been to recently that I was most reminded of during my dinner at Gordon Ramsay was Gaddi's in Hong Kong. The meal that David Goodridge cooked for S and I two months back was equally technically competent, and equally delicious. So either Gaddi's deserves 3 Michelin stars or Ramsay doesn't. Either way, there's no way this restaurant is on the same level of a Le Cinq or an Alain Ducasse. That said, it was still a hugely enjoyable experience.
We flew into Frankfurt this morning, had an appallingly bad lunch at the restaurant that's in the hotel we're staying in, and spent the afternoon being amazed at the Frankfurt Book Fair. By evening, I was exhausted. Hoping to eat somewhere close to my hotel, I took a short walk down the road and found a small Italian restaurant called Da Pio. I had some antipasta (aubergine, zucchini, mushrooms, seafood, and onions), followed by a tagliatelle with shaved truffles (yum). The antipasta was really, really good. And the pasta delightful. And the after effect of the good meal is a natural high that's motivated me enough to sit down and finish this post.
Aun has always loved food and travel, passions passed down to him from his parents. This foundation, plus a background in media, pushed him to start Chubby Hubby in 2005. He loves that this site allows him to write about the things he adores--food, style, travel, his wife and his three kids!