My family's just returned from a whirlwind trip to Fukuoka over the long weekend, and boy, did we love it. It was a shamelessly gluttonous getaway spent, among other highlights, slurping our way through seven different bowls of Hakata-style ramen over two hours; stumbling upon a fruit farm in the countryside; and devouring what I am prepared to swear on my immortal soul is the best damned wagyu tenderloin steak on the planet…in a town with a population of less than 130,000. But we also ended up meeting some of the most colourful, amiable characters this side of Asia – from a steak chef who almost cooked for Obama, to a family of grape-growers who happily allowed us to pick our own grapes from the vine, to Satoshi Tokunaga, sushi chef-owner of Uotoku in Fukuoka city and my new favorite restaurant.
We made a reservation at Uotoku on the recommendation of Sushi Mitsuya's Ryosuke Harada, who knew the chef, Tokunaga-san, from when they were both in Hong Kong ("I like his philosophy and style," Harada-san told me; endorsements don't really come any bigger than that). After two great meals there – yes, we liked it so much we went a second time – I've become a fan, too. The experience is so different from any sushi restaurant in Tokyo or Singapore, but no less exquisite.
Just two months old as of August 2013, Uotoku is an exciting new venture for Tokunaga-san, a gregarious veteran with over 15 years' sushi experience, 11 of which were spent in Hong Kong. The restaurant itself is a quiet affair grottoed in a small gourmet enclave along one of the city's many narrow backstreets, close to the glitzy department stores of the Tenjin district. Inside, it feels invitingly intimate, with its five or so tables and cosy counter seating for four. We were lucky enough to sit at the latter for both our meals, and had the pleasure of chatting with Tokunaga-san as he prepared our food in a claustrophobic open kitchen about one meter long and ten meters wide. He's a remarkably friendly chef and host, and I felt like I was at a house party – the sake flowed freely, piano jazz piped in from the overhead speakers, and the dishes kept on coming.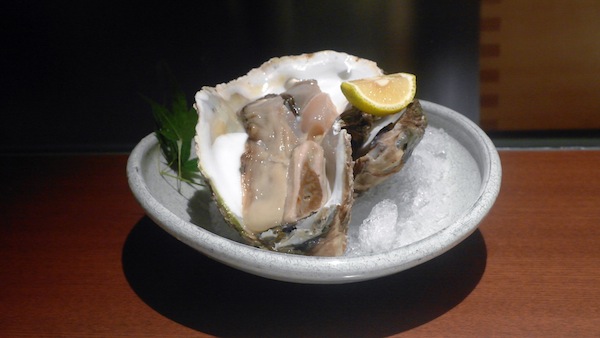 We decided to go with Tokunaga-san's recommendations on both occasions, and were rewarded with two stunning meals featuring the freshest produce paired with gentle, gorgeous technique.
By virtue of its location on the southwesternmost island of Kyushu, eons away from Tokyo, Fukuoka receives a rather different bounty from the infinite variety on display at Tsukiji market. We were presented with some very satisfying local produce  – a plump Kyoto oyster bigger than my palm and succulent to the very last bite; oily akamutsu snapper broiled to sweet, sublime perfection on a small salamander behind the counter; and most unusually, fresh saba sashimi, which had all the robustness of the vinegared version found it many sushi restaurants, but with a completely different texture.
With other dishes, Tokunaga-san appeared to be evoking the spirit of Fergus Henderson, reuniting flesh and guts on the same plate. Both stonefish (okoze) sashimi and braised abalone were served with the respective liver, adding a viscerally yummy dimension to familiar foods. Predictably enough, the steamed legs of a snow crab (zuwaigani) legs were stacked on its own carapace alongside a dollop of slimy roe; but no one at the counter was complaining.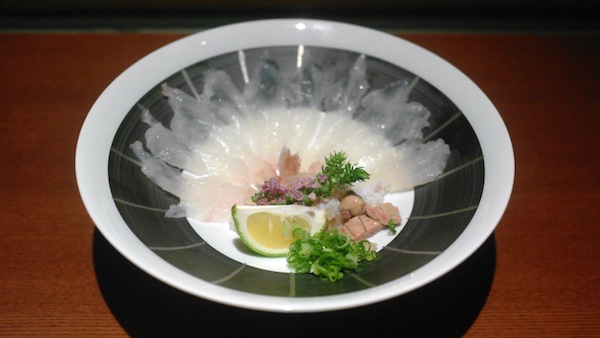 I haven't even gotten to the sushi. Oh my god, the sushi.
It's easy to see why Harada-san thought so highly of Uotoku. Tokunaga-san has a wonderfully delicate approach to sushi, teasing out an astounding array of flavour from his fish. He loves playing variations on the same theme – we were given two pieces of sanma, one raw and garnished with ginger, the other seared aburi-style to unlock the oily essence of the fish; and two cuts of chutoro from a bluefin and bigeye tuna, the latter a tad less luxurious but with more bite. There was an obvious absence of otoro, which I think (and hope) is a conscious choice on Tokunaga-san's part – why give customers something predictable, when there's lots more fun to be had with other kinds of fish?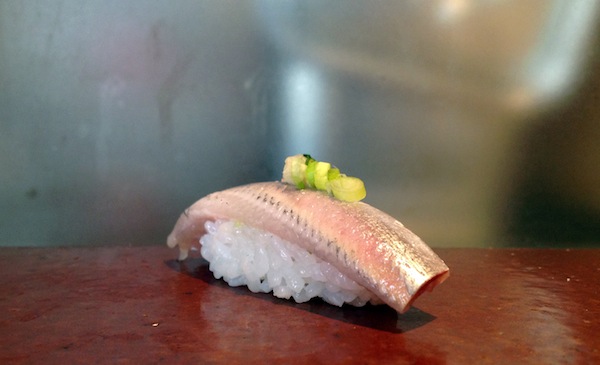 Why indeed. My biggest regret is not asking for more pieces of the kohada and iwashi, which could have been the best pieces of sushi I've ever had, period. The kohada, usually a humble, vinegared, flaky fish, was elevated to monstrous magnificence; it had the texture of silk and a flavour amplified ten times over. The sardine, too, blew me away with a mouthfeel so far removed from any other piece I've had, and a briny, buttery boldness that towered over the other fish on show. I'm going to measure all future pieces I have against Tokunaga-san's versions.
Equally remarkable was the sushi rice used in Uotoku, which Tokunaga-san gets from a farmer in Yamaguchi prefecture, on the island of Honshu to the north (ish – my geography is terrible). Pillowy and sweet on the inside, smooth and polished on the outside, it complements the fish beautifully. As he lugs a sack of the stuff out of the larder to show us, he tells us that he likes this particular farmer's crop because "you can tell that he loves what he's doing. He puts a lot of love into his work."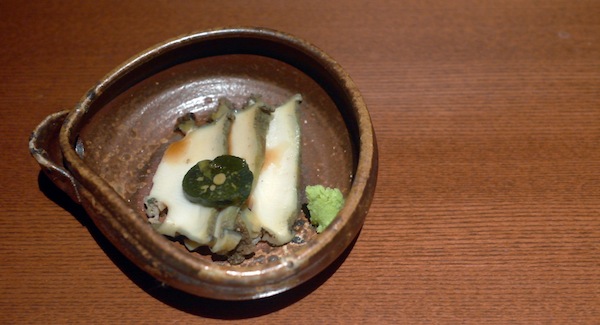 The same can be said of the chef himself. Uotoku is the work of a man who's preternaturally passionate about what he's doing. He rides a motorbike to the wharf every morning to pick the day's catch, and vrooms his way straight to the kitchen to start preparations. He tells stories about everything, from famous Tokugawa-era fans of the sake you're drinking to his baby boy, born just before the opening of his restaurant. And, he makes it a point to serve at least one dish to the diners not seated at the counter, like a master of haute cuisine proudly delivering his works of art.
By the end of the holiday, my parents, my brother, and I all agreed that five days just wasn't enough, and we'd have to come back in the near future – to sample more Saga beef, to convince my mom to try motsunabe, and most importantly, to eat the sushi and seafood at Uotoku again and again and again. If you're traveling to Fukuoka, please give the restaurant a try – it's great, unpretentious, and dare I say, mindblowing.
Uotoku
17-14-1 Imaizumi 1-chome, Chuo-ku
Fukuoka, Fukuoka Prefecture 810-0021
Japan
Tel: +81 092-724-3635
Brandon Chew's first memory is of him eating chicken rice at the dining table of his parents' old flat. His second memory is of him politely asking for, and receiving, a second helping of fries at KFC, which taught him two things: manners gets you places, and fries are the most awesome food known to man. Brandon has just returned to Singapore from New York and is happily exploring the food scene here.