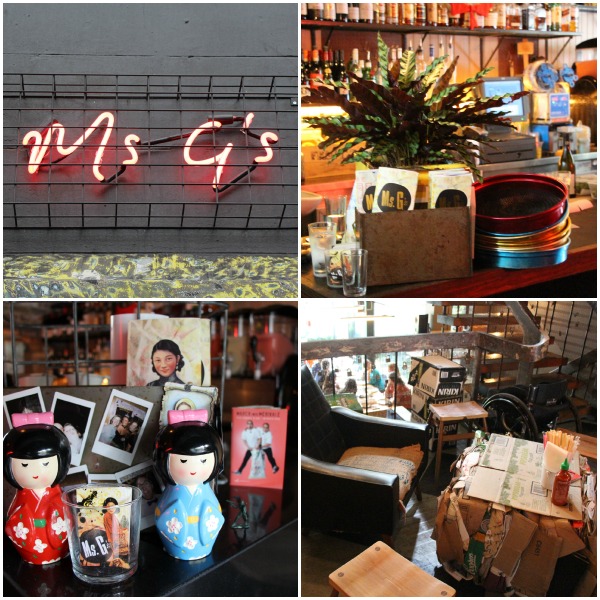 Ms G's is a fun space.   From the name, you know this isn't somewhere to take yourself too seriously. A play on the acronym for the common food additive monosodium glutamate (MSG), this modern Vietnamese restaurant has kept strong and steady since it opened in Sydney two years ago.
Part of the Merivale Group which has venues all around the city from fine-dining to pubs, Ms G's is headed by Chef Dan Hong.  The place is not full of light – there's one main window on the second level, and the natural light from the entrance, and then the rest of the place feels like a warehouse, or a cool garage with cardboard boxes and sets of stairs made from wood.  As soon as you walk, you sink right in.  Several of the tables are communal; to be shared with other people as they arrive.  Small seats, large benches, tiny wooden stools, and even comfortable one-person couches are available. All different little clusters, all spread out through the four levels of the restaurant.
Bright signs with red lights, old newspapers and recipes to decorate the walls, hanging pieces of rope, promotional posters of the chefs with special events to be held at the restaurant are what you see from the get-go.  It's a sensory overload, and the multiplicity of elements, one on top of the other, create an eclectic décor.  They give MsG's personality; they make you feel like you're somewhere fun, wherever that may be.  Additionally, the choice of music, well blended in, takes you progressively back to the nineties, and it seems to please the crowd.  As plates are shared, and people are brought together through those big tables and small spaces, the atmosphere builds up in unison.  It's like all of a sudden you're all know each other, and are all enjoying great food together at this friend's hip place.
The service is friendly and very helpful.  Water keeps getting topped up, dishes cleared when necessary, new cutlery offered as they see fit, suggestions over which drinks to order are made sincerely, and recommendations on what to choose from the menu are also based on the personnel's individual preferences and their own excitement about the food.
There are two bar areas, one at the front of house, the other on the top level, where funky cocktails and slushies are prepared.  Ms G's has even designed its own plastic seal to serve some of the drinks in the same style as bubble tea, with a big, thick straw, to evoke more fun when drinking things like "Viet Nom Nom", made with cachaca, pomegranate and lime syrup, pineapple and lime juices, thai basil; or the "handsome Boy Lemonade" which combines sake, Cointreau, Jack Daniels, lemon, lime, orange, and cardamom jelly.
We start with a round of appetizers: a Mexican style corn on the cob, topped with generous amounts of cotija cheese, snow crab dressed with creamy yuzu on betel leaf, and mini bahn mi of both pork belly and chicken katsu.  There's no doubt about it.  Ms G's mini bahn mi sliders are the best way to start the meal.  They are one-bite wonders. The chicken katsu, especially, is the perfect marriage of western influences on Vietnam (the baguette) and Japan (fried, crumbed goodness).
The fun part of the share plates at Ms G's is that you can take a different route each time you go.  There are textural selections as well as hot and cold dishes that lets you choose your own adventure.
From the raw section, a tostada of scallops with green papaya salad and the Vietnamese steak tartare are crowd pleasers, yet I was also delighted with the kingfish in buttermilk.  On this take of the traditional ceviche, the fish is dressed with buttermilk, accompanied by jalapenos, thin strips of rhubarb, and counterbalanced with a spoonful of crunchy quinoa.
For the mains, the Vietnamese Snapper Curry is a hit. Generous, aromatic, perfectly cooked snapper, loads of yellow curry, generously garnished with herbs.  It is lovely and fragrant.  The beef medallions with pho flavours arrive next, and it's a great dish to share. No noodles in this pho, just the garnishes that usually make the soup special, such as fresh coriander, chilli, and sliced onion.  Grilled wagyu flank steak comes drenched in star anise gravy, evoking the traditional Vietnamese soup, yet presented differently, with the original flavours of pho that come through rather effortlessly.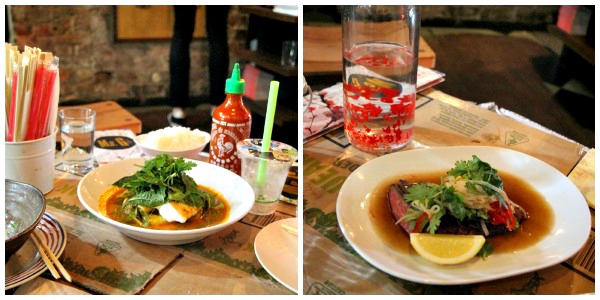 Finally, desserts are a creative sugar hit.  The stoner's delight 2.0, which is the restaurant's famous doughnut ice cream served with peanut butter, raspberry jam, candied bacon, potato chips, mars bar slice, and banana fritter is the epitome of dude food.  Another winning dessert is the "breakfast", made of crunchy cereal, sticky rice, burnt honey ice cream, cranberries and mango.
Ms G's is always packed, and I can see why.  They host creative tasty events on a regular basis, from a 'Prom Night' for Valentine's Day to a 'Green Eggs and Ham' to celebrate Dr.Seuss's birthday, or even a 'Mother and Son' Lunch that brought Head Chef Dan Hong and his mother to cook together in the kitchen.
There's always something happening, there is room for everyone, the menu gets tweaked and adapted seasonally, yet the essence remains the same, and the space is fun and engaging.
Delicious, inventive, with the right amount of cool.
Ms G's
155 Victoria Street,Potts Point
New South Wales 2011
Australia
Tel. +61 2 8313 1000
merivale.com.au/msgs/

Janice is a girl from Lima, Peru who loves a good cebiche and a glass of dry Riesling. She travels the world (often for food or to check out new restaurants) and lives in Australia. Janice tries to learn about different countries through cuisine, and takes advantage of Sydney's multiculturalism by exploring gastronomy in all of its forms. Grower's markets, wine tastings, restaurant openings, cooking classes, shopping for specialty spices; she's keen to do it all.