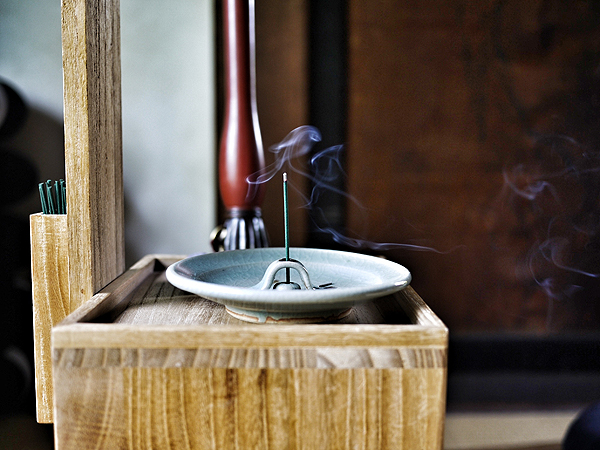 One of the things that all visitors do in Kyoto is visit temples. It is, after all, an ancient capital city with over 1600 temples. What a lot of first-time visitors don't know is that many of these are actually subtemples, i.e. temples housed within larger temple complexes. One of the biggest such complexes is Myoshinji, located in Kyoto's Northwest. It is home to around 50 sub-temples, one of which is well worth the visit, not because it's the oldest or most beautiful. It's worth visiting Shunkoin temple because of its charming and articulate Vice-Abbot, the Reverend Takafumi Kawakami, who leads daily classes in Zen Buddhist meditation.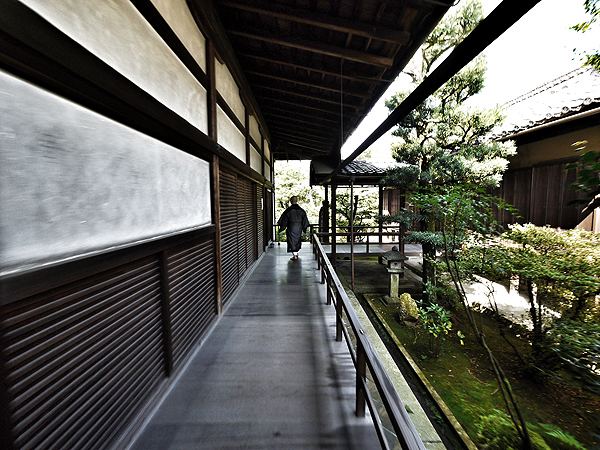 Reverend Kawakami is a friendly, enthusiastic, modern, incredibly intelligent, American-educated Buddhist priest. Three times a day, he leads a zen meditation workshop in the temple that his family has been taking care of for multiple generations.
Each class is 90 minutes and is led in English, which Kawakami-san speaks flawlessly. During the workshops, he explains how to incorporate Zen Buddhist philosophy and meditation into one's everyday life by using, as he puts it, "religious, philosophical, and neuroscientific concepts". That last bit is really interesting because the last thing I would have expected when visiting a Zen Buddhist temple for a meditation class was a deep discussion on neuroscience. But as mentioned, Kawakami-san is a very modern priest, with a great interest in how the mind works and how that relates to spiritual discipline.
The class starts off with a 10-minute chat on Zen Buddhism and meditation. Interestingly, Kawakami-san did not tell us we need to "empty our minds" as so many mediation gurus claim. Instead, he tells us that a wandering mind is normal, that for beginners, there is no way we're really going to be able to clear our mind of all thoughts. Instead, he suggests focusing on breathing and on being still. He also points out that, for many, a five minute meditation session is as valuable and impressive as a 90 minute session, i.e. it doesn't really matter how long you meditate (after all, you're not really in competition with anyone) as long as you can achieve your goal of a few moments of true relaxation, mental peace, and clarity. He then leads students through two 15-minute meditation sessions.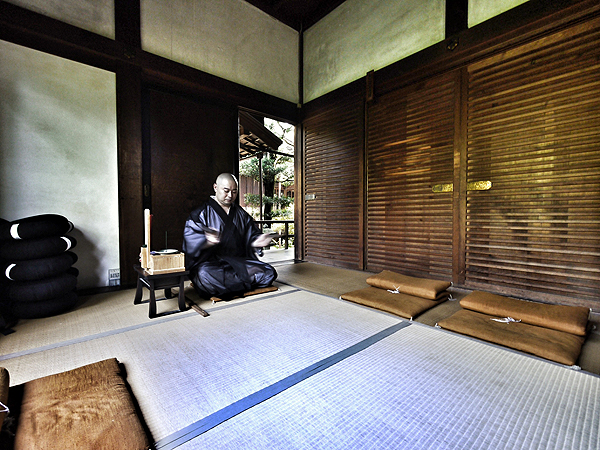 After the meditation sessions, Kawakami-san then leads his guests on a short tour of this 16th Century temple. Things to note here include the Bell of Nambanji, a 16th Century Jesuit Bell that was hidden in the temple when Christians were being persecuted in Japan; the Garden of Boulders, the temple's main garden whose design actually mirrors a map of Japan; and several rooms with beautiful sliding door panels, painted by respected early 19th Century artist Kano Eigaku.
The tour ends with green tea and snacks in a small sitting room. During this time, the various students get a chance to speak more casually with Reverend Kawakami.
I have to admit that I first approached the idea of attending a Zen Buddhist meditation workshop with some skepticism. The last time I took part in a meditation class (some 15 years ago at the Canyon Ranch spa in Arizona), I fell asleep.
But I really enjoyed my time at Shukoin. I think that Kawakami-san is a perfect ambassador for Zen Buddhism and its traditions. He is able to make his religion and its practices relevant. He's able to speak about a multitude of subjects and is clearly living in the present (unlike some religious leaders who seem stuck in the past). When one student in our class asked for a suggestion for timing one's meditation sessions, Kawakami-san said that the Apple app store has several good meditation apps that you could download onto your iPhone; some even has alarms that resemble the chimes that Japanese Zen Buddhist priests like himself use to end sessions. I truly enjoyed listening to him speak about the neuroscientific affects achieved because of meditation–framing meditation in a way that made sense to practice even for people that aren't religious. I left the class really happy I went to Shunkoin and really excited to have met a young spiritual leader as progressive as Kawakami-san.
In addition to the meditation classes, Shunkoin also offers guest lodgings. So if you want to really experience temple life on your next visit to Kyoto, this might be the perfect place for you to check out.
Shunkoin Temple
42 Myoshinji-Cho, Hanazono, Ukyo-Ku
Kyoto 616-8035, Japan
Tel: +81 75 462 5488
www.shunkoin.com

Aun and Su-Lyn flew to Japan on tickets partially sponsored by Japan Airlines. 
Aun has always loved food and travel, passions passed down to him from his parents. This foundation, plus a background in media, pushed him to start Chubby Hubby in 2005. He loves that this site allows him to write about the things he adores--food, style, travel, his wife and his three kids!