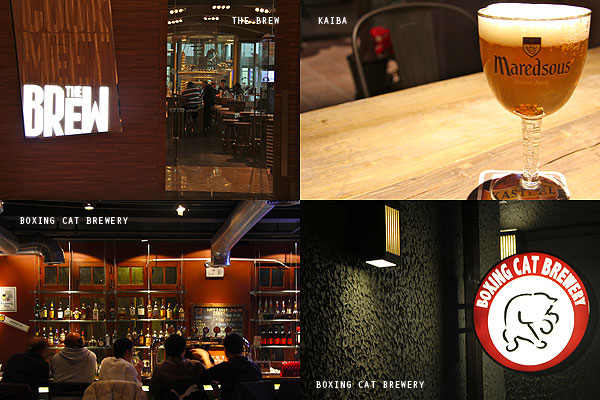 In Shanghai, there has been a sudden and recent explosion of "boutique" beer bars and microbreweries. It appears that for both locals and foreigners alike, the current drinking trend is beer. However, this is not just your average easy drinking beer like Tsingtao or a local pilsner. Everyone is mad for premium, imported brews–the harder to find and more unusual the better. While the classic Paulaner beer gardens of Shanghai remain respectably busy, the places that are really packing them in are exactly these "boutique" beer bars and microbreweries. 
Any self respecting beer lover should count these on their 'must do and drink' list when looking for a better brew in Shanghai.
Head to The Brew in Pudong for some serious beer crafted on site by world-class brewmaster Leon Mickelson. 
A microbrewery inside a posh hotel in Shanghai might seem a bit unusual, but it works. I had the opportunity to tour and taste with Leon, and an hour with this expert was an amazing education on the art and craft of brewing. Leon makes six hand-crafted beers and a cider on site, from organic brews and fruit brews to a seriously hoppy IPA (India Pale Ale) as well as seasonal beers. Leon says, "I always have the classics but love to experiment with unusual combinations in my seasonal beers." Even if you're on the Puxi side of Shanghai, I would say this is one stop that's definitely worth the trip. While they also serve up a mean burger and other gastropub food, the masterful beer of Leon Mickelson is the real attraction.
Try The Shed if you are into dive bars. 
This local pub, which some affectionately call a "dive bar," hides a surprising assortment of beers. Opened by a group of beer importers after their Friday night happy hours at the office were deemed a little raucous by some neighbors' standards, it initially started out as a place for these displaced beer lovers to hang out. Word spread quickly and now it is a popular haunt for beer lovers in Shanghai. I was astounded and impressed to find American craft beers like Rogue Ales' Dead Guy Ale and Brooklyn Brewery's Brooklyn Lager, as well as elusive Aussie imports like VB, Pure Blonde, Crown and Cascade Premium. Owner Mat Ryan tells me, "We've got the cheapest Guinness in town at 45RMB (about US$7)."
Go to Kaiba for possibly the most extensive Belgian beer list outside of Belgium
I have never seen a bar with a Belgian beer list this deep, ever! From trappist beers like Trappiste Rochefort 10 to Maredsous Blonde to St Bernardus Tripel, this treasure trove is an embarrassment of riches. It's like going into a restaurant where you want to sample every dish on the menu but are forced to make a choice. On top of the astounding beer list, it's simply a chic and cool place to hang out. A beer bar that manages to be both date friendly and boss appropriate. They have three locations and particularly now that it's summer, the Taikang Terrace location is especially popular.
Have an authentic German experience at Papa Bierstube where German beers are served fresh daily 
You'd swear you were in Germany at this family-run classic German Beerhaus on Hongmei Road in the Gubei/Honqqiao area. Papa Bierstube is popular both for its beer list and its German cuisine. German style beers are the most popular and are brewed on site, but they also have an impressive selection of craft beers. I find the place particularly charming because of the local, family-style fashion that it is run–by a Chinese family whose children both married into German families. Somehow, it's both very Shanghainese and German at the same time.
See the Shanghai expert on beer at Jackie's Beer Nest
Jackie has a passion and that passion is beer. He can sit and talk for hours if you like at his laboratory cum retail store cum bar. While Jackie brews his own beer for fun and is happy to give you a taste, he sells over 60 kinds–local and imported–and prides himself on having the most diverse selection in town. When I went to visit Jackie, he made me a special concoction he called Harry Potter's Butter Beer. He literally whipped out a hot plate, melted butter, added the beer and topped it off with whiskey and whipped cream. Jackie is so beloved by his Shanghai clientele that they often bring him back unusual beers from their travels to add to his collection.
The original microbrewery in Shanghai is the Boxing Cat Brewery
So named after a cat who liked beer and wanted to box after imbibing, the Boxing Cat Brewery is a Shanghai institution. Michael Jordan is at the helm here–no, not that one! MJ is an American brewmaster, hailing from the craft beer capital of Portland, Oregon. With 11 beers all made locally, Boxing Cat Brewery has the strongest assortment of craft brews in town. The pub food here is also outstanding–I would recommend the mini sliders paired with the TKO IPA. There are multiple locations, with my favourite being the Sinan Mansions location.
Honorable mention goes to Southern Barbarian, a Yunnan restaurant with an unexpectedly comprehensive beer list
How this Yunnan restaurant came to be an institution for beer lovers is a mystery. Then again, nothing goes better with spicy food than beer. Try the potato pancakes or the fried goat cheese with a hearty Belgian ale. There are over 80 beers from China, Belgium, Germany, the United States, Australia and the United Kingdom. Also, from time to time there are "special guest beers"–hard-to-find brews including the likes of Brooklyn Local 1 and Hazelnut Stout. Check the website as the restaurant often hosts beer tastings when these special gems come along.
The Brew
Level 1, Kerry Hotel
1388 Huamu Road (near Fangdian Road)
Tel: +86 21 6169 8886
The Shed
528 Kangding Road (near Changping Station, Line 7)
Tel: +86 21 6288 1189
www.shedsh.com
Kaiba
169 Jianguo Zhong Lu, Taikang Terrace
Tel: +86 21 6280 5688
www.kaiba-beerbar.com
Papa Bierstube
22-24 Hongmei Pedestrian Street, Lane 3338 Hongmei Road
Tel: +86 21 6465 9987
www.papas-bierstube.com
Jackie's Beer Nest
76 Zhaozhou Road, near Xizang Nan Road
Tel: +86138 1650 2260
www.beernest.com
Boxing Cat Brewery (Fuxing Location)
Sinan Mansions, Unit 26A, 519-531 Fuxing Zhong Road (near Sinan Road)
Tel: +86 21 6426 0360
www.boxingcatbrewery.com
Southern Barbarian
2/F, Area E, Ju'Roshine Life Art Space
56 Maoming Nan Road (Huaihai Zhong Road near Changle Road)
+86 136 2179 7634
www.southernbarbarian.com
Joanna Hutchins is a culinary travel blogger based in Shanghai, China.. In 2009, Joanna founded Accidental Epicurean, a culinary travel blog focused on Asia. Joanna is also a contributor to CNNGo, Look East magazine, SE Asia Globe and Two magazine.