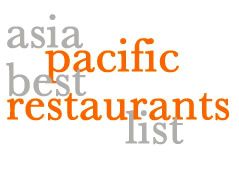 Well, it's time for bloggers to nominate what they feel are the best and their personal favorite restaurants in Asia-Pacific. Non-bloggers still have until 12 June 2006 to email me (aun@chubbyhubby.net) their own nominations. For more info on the Asia Pacific Best Restaurants List and how to take part, please click here. While I've been totally thrilled at the response so far, a good survey requires as many entries as possible. So, please take a few minutes to read about this survey and vote.
It's time for my own nominations, which I am going to qualify by admitting, rather sheepishly, that I don't know some countries, like Japan and India, as well as I should. Which is why I don't have any restaurants from these countries on my list.
2 best in Singapore
Iggy's. What more can be said about this amazing over-the-counter restaurant. Exquisite, tiny plates of gustatory heaven; perfect service; fine wines poured by the glass; and the nicest restaurateur husband and wife team in town.
Hua Ting. This Cantonese restaurant in the Orchard Hotel serves fantastic Chinese food. While there are flashier Chinese restaurants in town, none are as consistently good as this always packed crowd-pleaser.
Favorite in Singapore
Hu Cui. I love this sleek Shanghainese restaurant owned by the Crystal Jade group. With its cool decor and gorgeous food, Hu Cui never disappoints me. This is where I retreat to when I need a pick-me-up, want to celebrate a special occasion or simply want a delicious meal. S and I especially like the small tables for 2, with leather armchairs in the back of the restaurant, near the bar.
3 best in Asia-Pacific (excluding Singapore)
Tetsuya's. I can't not put Tetsuya Wakuda's eponymous, Sydney-based restaurant on this list. I really admire Tetsuya. He's not only a creative genius, he's a creative genius whose cookbook is remarkably accessible and easy to use. Dinner in his restaurant is a once in a lifetime experience that every foodie must have. Course after course of amazingly inventive and mouth-watering dishes are served in what must be one of the most serene restaurants in the world.
La Petite Cuisine. It's no secret that I'm a big fan of Justin Quek. Justin has really taken his cooking to the next level since moving from Singapore to Taipei. What really delights me is his dedication to sussing out the very best and freshest local Taiwanese produce. Using his very refined skills, he's able to transform these ingredients into gorgeously simple, light and elegant Modern French fare.
Gaddi's. I was really blown away by Chef David Goodridge when I dined in this old and famous French restaurant in the Peninsula Hong Kong. Goodridge, formerly of Le Manoir Aux Quat Saisons, Pierre Gagniare and Maison Troisgros, has given life to this grande old dame. His cooking is refined. It's clean. It's highly competent. And it's beautiful. The dishes he creates are works of art, to be admired and then consumed hungrily. I wish I could afford to eat here more often.
2 favorite in Asia-Pacific (excluding Singapore)
Yu'u. I love this over-the-counter Japanese hole in the wall in Melbourne. I was so enchanted with it on my first trip that I went back just 2 days later. The food here is very reasonably priced. It's also cooked perfectly. I was so enamored with many of the dishes here that I tried replicating them as soon as I got home.
Buon Ricordo. If anyone were to ask me what would be the last dish I would want to eat before I die, my answer would be the truffled egg pasta from this fabulous Italian restaurant in Sydney. I try to make a pilgrimage to Buon Ricordo as often as possible. Of course, the truffled egg pasta isn't the only thing divine here. Everything is fantastic.
Well, those are my nominations. I'm totally excited to read those of my fellow bloggers. I'll be trying to compile a list of which bloggers did take part and post a round-up /list as soon as possible. And of course, I still need your vote. So, quick, stop whatever it is you're doing. Spend the next 10 minutes thinking about the best meals you've had in Asia-Pacific and then email me.
Aun has always loved food and travel, passions passed down to him from his parents. This foundation, plus a background in media, pushed him to start Chubby Hubby in 2005. He loves that this site allows him to write about the things he adores--food, style, travel, his wife and his three kids!