Last Friday, my wife and I did something that was entirely new to us. It was rewarding, exciting, educational and challenging. But it's also something I'm in no rush to do again soon. Last Friday, S and I did our very first professional catering job. While the two of us have thrown countless dinner parties over the years, cooking for friends at home is nothing compared to cooking for paying guests at their place. The latter, especially because of the professional nature of the engagement, is a whole different category of stress. Fortunately, this first gig was relatively small. The dinner, hosted by two close friends, was for just eight people. Two of the guests, however, were not only major VIPs but also very well-known as gourmands. Knowing this added a little more pressure to what was, as I mentioned, an already stressful situation.
The hosts of the dinner wanted a small, but exciting menu. We proposed having four courses, three of which would be composed of trios of dishes.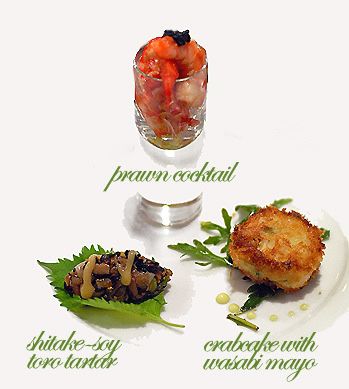 The first course was a trio of seafood. It consisted of a crabcake with wasabi-mayonnaise, a prawn cocktail with a sauce made with freshly grated horseradish, and a shitake-soy toro (fatty tuna) tartar served with a yuzu vinaigrette. I really like this combination. We had originally thought of serving a raw oyster item instead of the crabcake, but I think the crabcake worked better. Because the toro and prawn dishes are served cold, the contrast with the hot, freshly fried crabcake is really nice.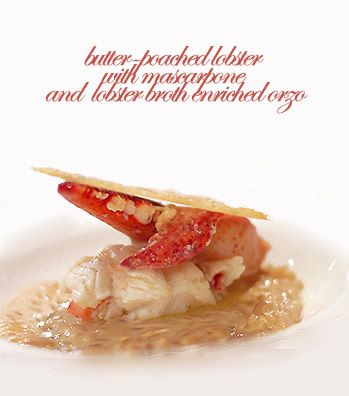 The second course was a real challenge. We had admired this dish in The French Laundry Cookbook for years. We also liked that Thomas Keller would call something as refined as butter-poached lobster served with a mascarpone and lobster broth enriched orzo "mac & cheese". This is a gorgeous, sensuous and incredibly rich dish, thanks mostly to Keller's broth. The broth is made by sautéing the shells of 3 lobsters. You then cover them with water and add some tomatoes, carrots, and tarragon. You simmer this until the stock is aromatic. Then you strain the liquid and reduce this down to just one cup. At this point, it's deliciously powerful. You then add two cups of cream to the stock and reduce everything until just two cups remain. The result is the loveliest, tastiest, creamiest seafood broth I've ever had. In this dish, the lobster is steeped in hot water, then before service, the meat is poached in warm butter. Cooked orzo is mixed with some of the creamy lobster broth and a couple of tablespoons of mascarpone. This is a dish everyone should eat at least once.
The main course was a trio of veal dishes, inspired by a dish served at Boulevard in San Francisco amusingly called "Veal Veal Veal". The course consisted of veal tenderloin, osso buco and a veal cheek ravioli. The veal tenderloin is wrapped in prosciutto, seared than roasted in the oven. We paired our version with some potato purée and a super-yummy sauce we made with fresh horseradish, white truffle honey and cream. We cooked the osso buco overnight in extremely low heat; it was wonderfully tender. The ravioli is stuffed with a combination of braised veal cheek and creamed spinach. Both the ravioli and the osso buco are sauced with some of the braising liquid that was reduced until syrupy. We also topped the osso buco with a little fresh gremolata.
Unfortunately, I didn't get a good photograph of our dessert course. It was another trio: a blueberry cheesecake tart; an egg soufflé; and a quenelle of chocolate gelato served with some homemade croquant. Post dinner, we served a really special treat with coffee and tea. I convinced the amazing J of Kuidaore to sell me two batches of custom-made macarons. I ordered a batch of peanut butter & jelly and a batch of chocolate & yuzu. These were pretty stunning and everyone was pretty amazed that we could get such high-quality macarons in Singapore.
In addition to taking care of the menu, we also planned the wines. We ordered some excellent wines from a local distributor that we'd gotten to know recently. With the first course, we served a Larmandier-Bernier Terre de Vertus, an excellent single vineyard Champagne. Our second course was paired with an amazing white wine I've become quite enamored with of late, a Mark Angeli La Lune 2003. With the veal, we served a yummy, powerful red, a Clos des Fées Domaine du Clos des Fées 2002. With the dessert, we poured a delicious dessert wine made from viognier grapes, the Francois Villard Aprés Tout.
I have to admit that we had help catering this meal. We hired two amazing people, a waiter and kitchen-hand, who assisted us in the dining room and in the kitchen. Without them, there is no way we could have accomplished this meal. Of course, even with their help, by the end of the night S and I were both exhausted. And while I still contend that such gigs are not something I'd be keen to do too often, the experience was very rewarding. Especially when two of the guests told us that the meal was one of the best they had ever eaten.
Aun has always loved food and travel, passions passed down to him from his parents. This foundation, plus a background in media, pushed him to start Chubby Hubby in 2005. He loves that this site allows him to write about the things he adores--food, style, travel, his wife and his three kids!