J over at Kuidaore tagged me on this great meme created by Nicky at Delicious Days.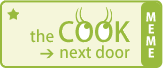 So, without further ado…
What is your first memory of baking/cooking on your own?
I guess I have two. When I was really small, a friend of my parents named Mrs Barudi visited with us frequently. One of the dishes she often cooked for us, and which she showed me to make was a very peppery fried egg dish. It was a simple, fuss-free-can't-really-screw-it-up kind of recipe, and the only cooking my very strict mother would allow me to make in her always pristine kitchen. The latter memory is not so much of cooking per se but of mixing together ingredients to finish off and create what was one of my favourite childhood dishes (and while I rarely eat it today, still is). It was a simple plate of hot rice, a pat of butter, a big spoon of beef Bovril and a fried egg or two (with the yolks still runny). The dish was usually presented to me unmixed, and I had the great pleasure of mashing all the ingredients together to create a very unhealthy but utterly delicious dish.
Who had the most influence on your cooking?
Aside from my darling wife ("Less butter honey!" "What? You're cooking with duck fat again!") and my all-time favourite cookbook author, Nigel Slater (whose Real Fast Food was one of my first two cookbooks), the persons who had the most influence—without actually ever teaching me to cook—would be my father and a couple, the Munyans, close to my family. My father has always been adventurous with food, loves trying new restaurants, and has exposed my brother and I from young to many different cuisines. He's also indulged us in our gustatory education; one of my favourite memories is a trip through Alsace's Route du Vin we made in 1989 (foiegras every day!). The Munyans, bless them, exposed me to a world of fine dining, both in New York and in Paris. I've eaten in some of the world's best restaurants and many Michelin 2 and 3 star establishments thanks to their generosity. All this exposure made me realize over the years that I wanted to learn how to make some of these wonderful dishes that I've eaten with my dad and the Munyans.
Do you have an old photo as "evidence" of an early exposure to the culinary world and would you like to share it?
Not quite culinary refinement, but here's me stuffing me face:

Mageiricophobia – do you suffer from any cooking phobia, a dish that makes your palms sweat?
I hate baking. My wife tells me it's because I like being an "instinctive" cook, i.e. looking at recipes but then following them only so much as I want to, adjusting to my taste as I cook. Baking, however, is a science. You have to stick to certain formulas and certain ratios and measurements. And that drives me insane. Of course, masochist that I am, I still try, and I have to say, there are a few baked goods I can do pretty well. I'm especially proud of my madeleines. Sacher Torte (which, thanks to a student stint in Vienna, I adore), however, is not something I do well. I once spent a week trying to get the damn thing right. I think I made 4 that week and all ended up thrown out. I keep telling myself I need to get back on that horse, but I keep putting it off.
What would be your most valued or used kitchen gadgets and/or what was the biggest letdown?
My fave gadgets are my knives (see Utensibility below). After those, most recently, I've been loving the new juicer we picked up a couple months back. S and I have made a promise to each other that we'll have a fresh fruit juice every morning to start the day. So far, we've kept it up. The biggest letdown recently was actually a really small thing. I bought a really sexy ceramic peeler. Looks great but functionally it stinks compared to our old all-metal-ugly-as-hell-but-works-great one.
Name some funny or weird food combinations/dishes you really like – and probably no one else!
When I was really young, I liked dipping BBQ flavoured potato chips in root beer. These days, I must be getting boring, because aside from favoring ketchup on my fried rice, I can't quite think of something I like that others wouldn't.
What are the three eatables or dishes you simply don't want to live without?
A good cheeseburger, my wife's steamed egg custard with minced pork, and xiao long bao (steamed Shanhainese soupy pork dumplings).
Three quickies:
Your favorite ice-cream… Ben & Jerry's Chubby Hubby, anything by Berthillon, and Breyer's Mint Chocolate Chip
You will probably never eat… Durian, if I can help it.
Your own signature dish… That's hard. Used to be pan-roasted cod in green curry and cous-cous. Now I'd have to say Mentaiko pasta.
And last but not least: Tag three people!
Ah, the fun part, I'd love to hear Ruth from My Little Cyberspot on this, as well as Daffy from Kitchen Crazy Daffy and Kate at the Accidental Hedonist.
Aun has always loved food and travel, passions passed down to him from his parents. This foundation, plus a background in media, pushed him to start Chubby Hubby in 2005. He loves that this site allows him to write about the things he adores--food, style, travel, his wife and his three kids!