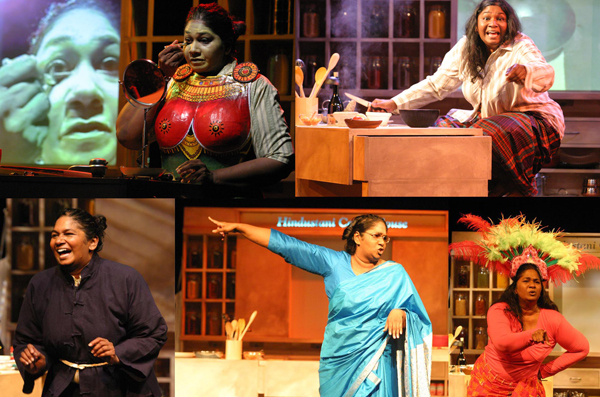 We could say that cooking is often theatre. With more and more open kitchen and chef's table concepts in the hippest of restaurants, where guests are even invited to assist with the prep, this is becoming something that is increasingly eagerly embraced.
Of course, the notion of food intertwined with a performance and its various iterations isn't really that novel. When it comes to dinner theatre, for example, two immediately come to mind for me in Singapore – Ah Kong's Birthday Party, which enjoyed a long and successful run in the 90s, and the recent The Woman Who Cooked Her Husband. Additionally, artists are also keen to engage their audience's senses in a more all-encompassing way – beyond the sight and sound of a typical performance, why not smell and taste? As this article (from as long ago as 2007!) aptly explains, "more and more artists are beginning to explore the visceral connections between food, taste, smell, memory and storytelling, and provoke powerful reactions from their audiences in the process."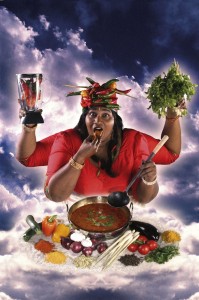 Still, it isn't everyday that we get invited to a performance that's also an immersive cooking demonstration/class – so I was definitely intrigued and excited about Curry Tales, written and performed by Rani Moorthy of Ra Ra Show fame in the 90s. During the performance, Rani will be using her culinary skills to prepare six different curries, each by a different character. And, the part that's particularly interesting for me – Rani actively engages the audience with requests to peel, stir, taste and to provide recipe suggestions
Curry Tales is already a critical hit in the U.K., where Rani is now based, and the performance will comprise previously filmed segments weaved in with close-up live feed camera footage.  I was chuffed to be able to ask Rani a little about curry and life:
You're primarily based in the UK now, what do you miss most about Singapore, apart from the food?
Friendships. There is sometimes an overwhelming sense of loss. The ability to just have a party at the drop of a hat without waiting for invites or RSVPs. Maybe we were all younger and I'm just nostalgic but I miss all that. Wrapped up in those friendships is theatre, so I miss the sense of discovery, the early days in Theatreworks or The Necessary Stage when we were on the brink of finding something new or so it seemed. That feeling is truly delicious.
What was your inspiration behind this very interesting style of production?
All the legendary cooks I know are men and women who truly open their hearts when they feed you. That's the art of giving and also of story-telling. Think of the best restaurants in the world and there is something theatrical about them.
Where do you get inspiration from when you decide what to cook?
It comes from deep within. Literally. My stomach. I let my body decide what it wants.
I understand that the audience will be engaged and involved in the cooking during the show – could you describe that a little more detail? 
I'm a little worried about this because Singaporeans have such high standards where food is concerned and I am definitely going to disappoint! My curries had to be kept simple because it is still theatre and the strict health and safety guidelines mean that lots had to be pre-cooked. But I hope that show itself will be intriguing enough, so the food if you get any will be secondary.
If there is one dish you could cook and serve your loved ones over and over again, what would it be?
A typical Tamil fish curry with string hoppers
Any secret tips for aspiring cooks who want to cook a hearty, delicious curry?
Use chicken or artichoke hearts instead of your own. That way you can actually enjoy the curry! Always remember a cook worth their masala never shares secret recipes.
Curry Tales runs at the Esplanade from 13-16 June 2013. Performances are 8pm each night with a 3pm matinee on Saturday.

Charmaine considers gluttony the most beautiful sin, and enjoys exemplifying it as she goes about her daily activities. Luckily for her, she currently lives in Hong Kong, the purported greatest city in Asia for everything to do with food (it's a close fight with Singapore, where she was born and bred). These days she can be found (over)eating, thinking of what and where to eat next, and attempting various recipes in her kitchen.