I'd like to take a quick break from writing about food and travel to recommend a bit of musical theatre to anyone staying in (or traveling to) Singapore this holiday season. The Dim Sum Dollies are back, with their first full-length show since 2008. And seeing the show, titled "The History of Singapore Part 2", is easily one of the best ways to spend your hard earned bucks this festive period. Here's just a few reasons why I believe that.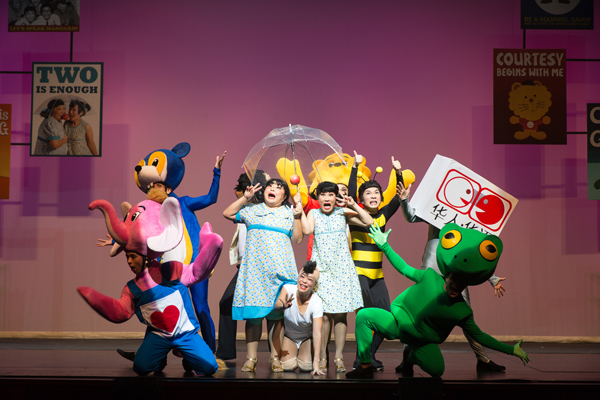 1. You should support local theatre. Selena Tan, Pam Oei and Denise Tan, the Dollies, are three of the hardest working and most talented gals in our local theatre scene. (Actually, to be honest, all of our actors and actresses work their a$$es off for a teeny tiny bit of fame and an even smaller amount of fortune.) The importance of developing and nurturing our own local artistic and cultural sectors should never be ignored. Their development, to me at least, is vital to country's future. Without the creativity that the arts promotes and inspires, we will never produce individuals capable of reaching beyond norms, championing new ways of thinking, or even changing the world.
2. The Dim Sum Dollies are able to comment smartly on Singapore politics and get away with it. Ever since the Dollies started back in 2002 (back then the trio was Selena, Pam and the late, great Emma Yong), they have acted as our country's campy, comedic conscience, belting out satirical ditties in outrageous outfits while wearing their hearts and love for their nation on their sleeves. I believe it is because of this obvious deep-rooted sincerity that they've never really gotten in trouble, despite their sometimes very spot-on but also very-biting commentaries on our society and politics. And I am grateful for that. It's rare for Singaporeans to admit when they are wrong; we are also probably among the worst people in the planet when it comes to taking criticism. It's nice that the Dollies are able to create a safe environment in which we can reflect on serious issues, admit our failings, and laugh at ourselves.
3. Lastly, the Dollies' shows are always a lot of fun. Each show is packed with comedy, great singing, energetic dancing, a healthy dose of local humour… oh, and Hossan Leong (who by himself should constitute a reason to attend). This most recent show is no exception. It's a fun, series of musical skits that work their way from Independence through to modern times.
Truth be told, while I had a great time at this new show, I have enjoyed some of the Dollies' past shows more. That said, this new show had some great skits. The ultra-compressed round-up of the nation's history pre-independence, which relayed heavily on Hossan Leong's comedic talents, was fantastic. The skit in which the Dollies portrayed Imelda Marcos, Indira Gandhi and Siti Hartinah Suharto was extremely funny thanks to the spot-on accents and sheer acting abilities of the Dollies. Their accents were also on display again in a great skit called "Kebayarobics".
To me, there were two stand out performances. The first was the "Go '90s!" a 90's style gangster rap in which the ladies summed up Singapore in the 1990s (under former Prime Minister Goh Chok Tong). And while all the Dollies were excellent in this skit, I have to raise my glass to the newest Dolly, Denise Tan, whom I thought did an extraordinary job here.
The second was called "Here to Win". In it, the three Dollies portray new citizens — mainland Chinese female athletes given citizenship in order to have them compete on our ping pong, swimming and gymnastic teams. This one skit provided the best laughs of the night, while also commenting on many local issues.
The Dim Sum Dollies' History of Singapore Part 2 (The Growing Up Years) is still on until 23 December. Tickets can be purchased via Sistic. Buy yours now!
Aun has always loved food and travel, passions passed down to him from his parents. This foundation, plus a background in media, pushed him to start Chubby Hubby in 2005. He loves that this site allows him to write about the things he adores--food, style, travel, his wife and his three kids!