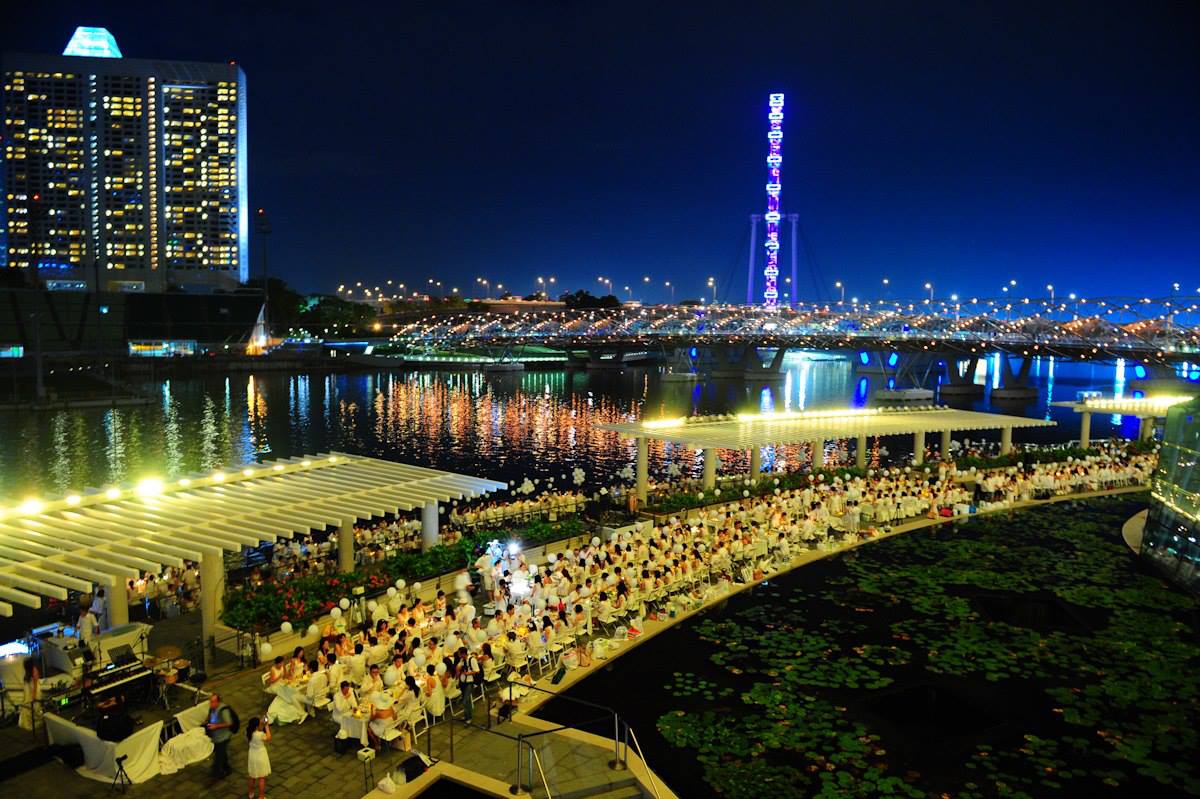 I first heard about Diner en Blanc in an article from a magazine some years back, but by the time I realised the inaugural one in Singapore was going to take place, it was too late to even vaguely think about trying to get onto the guest list. This year, I was slightly better prepared, and was all excited about taking part in the much talked about gourmet flash mob in a secret location – coming up in October (next month!). Happily, I also managed to grab some time with organiser Clemen Chiang.
This year's Diner en Blanc would be the second held in Singapore. What are some of the highlights for this year's, what can diners expect to be different – and what would stay the same? 
In terms of what will remain the same, the location still remains a secret until the last minute. The location will be given to all the diners that have been patiently waiting to learn the "Diner en Blanc's" secret place.
All diners will have to bring a table, two (white) chairs, and a picnic basket comprised of quality menu items and china dinner service. And all diners will have to be dressed in white – signifying elegance and proper etiquette when they all meet for a mass "chic picnic" in a public space.
Beyond the dinner itself, guests are brought together from diverse backgrounds by a love of beauty and good taste.
Just like last year, there will be no disruptions: no car traffic, no pedestrian traffic, except for the occasional amazed and astonished looks from passersby at the scene unfolding before them.
For this year's highlights, diners may expect a unique international performance brought in exclusively to entertain our diners. Other highlights will be kept a secret so that our diners will be pleasantly surprised when they arrive at the Secret Location.
It seems that the long wait list and exclusivity is part of the allure and magic – will this year's event accommodate more numbers compared to last year?
Diner en Blanc is not trying to beat participation records. No matter the numbers, we wish to maintain the spirit and quality of the event, focusing on quality over quantity in order to give the diners the best experience possible.
You've previously talked about taking Diner en Blanc to other cities in Southeast Asia – would this be happening any time soon? 
Yes, we are planning to bring Dîner en Blanc to Malaysia and Hong Kong next year.
Which Diner en Blanc (in any of the cities around the world that currently offer it) would you most love to attend and why? 
It would have to be the one in Paris because it would be nice to attend the one that started it all in the beginning!  In fact, Nicole and I plan to attend the next one in Paris!
Will there be a contest or a special activity associated with this year's event?
This year, we are having an Instagram contest for diners to submit their best pictures that pair off with a creative caption using the hashtag #dinerenblancsg.
How does one increase the chances of actually getting on the invite list, apart from registering on the waiting list and hoping for the best?
The registration process is based on a friendly co-optation system. This means that if you know a member (or diner), your chances of getting on the invite list will be increased.

Charmaine considers gluttony the most beautiful sin, and enjoys exemplifying it as she goes about her daily activities. Luckily for her, she currently lives in Hong Kong, the purported greatest city in Asia for everything to do with food (it's a close fight with Singapore, where she was born and bred). These days she can be found (over)eating, thinking of what and where to eat next, and attempting various recipes in her kitchen.