On 30 August 2012, my wife S and I took part in Diner en Blanc Singapore. Since I had not been invited by the organizer's former PR company, I was also not on their "un-invite" list. I had registered with some friends and the group of us–despite all the social media buzz and bad press that was being circulated–were quite looking forward to taking part in this gourmet flash mob experience. Or rather, our friends BG & V, P & SM, and I were. S, who is not a fan of sweaty, outdoor activities, was begrudgingly going along to make me happy. As was another friend JR, whose wife PP was as excited as I was. 
My friends and I had all signed up with a group that was originally meant to leave for the "secret location" from Novena. This was perfect for me as I live just a few minutes away. Much to my chagrin and annoyance, our pick-up location was moved–without any kind of warning or consultation–to the Stadium MRT bus bays. All other groups that were meant to be bussed in also had their pickup locations moved to Stadium MRT. Others, who had opted to walk to the venue from various locations were likewise rerouted to Clarke Quay, where they were surprised to find bumboats waiting to ferry them to the Marina Bay Sands promenade, which was where we ended up pitching our tents for dinner. Personally, I wished I had known about the boats. A river crossing makes for a much more glamourous way to start the evening than a coach dropping you off in the MBS parking lot.
Upon arrival, our little group quickly set up our table. Six of us (the two aforementioned couples, my wife and I) had decided to break bread together. V and I had earlier assigned duties to each pair. She had picked up the tables and long tablecloth (that magically turned 3 crappy Ikea Haro tables into one long rather elegant table); and whipped up a delicious homemade salmon pate, as well as a really lovely quinoa salad, loaded with fresh herbs, corn, peas and maple bacon. P had picked up duck rillettes and pork pate from Huber's and made a really aromatic and moist flourless orange cake (off of a Claudia Roden recipe); he also prepared all of the flatware, cutlery, and other linens we'd need. My wife S and I picked up chairs; snagged electric candles (which we had in our office); purchased some baguettes from Kitchenette; and made the main course–Gai Yang (Thai grilled chicken) with sticky rice, served with a spicy cucumber and dried shrimp salad. I had also toted along a siphon filled with a sweetened condensed milk whipped cream which we served over the orange cake.
Between the six of us, we had ordered two bottles of Champagne and a bottle of white wine. Because a friend couldn't make the event last minute and emailed me his drink voucher, we ended up with an additional bottle of bubbly (thanks Jack!)–which we had no problem in polishing off.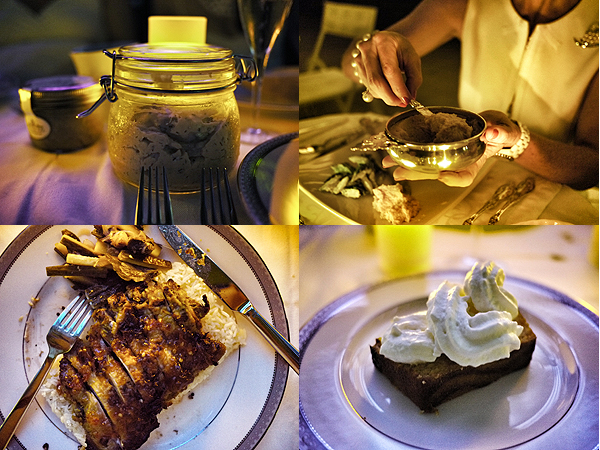 The overall mood was very festive. People who came were clearly there to have a great time. Which was really nice to see. With great food, even better company, and lots of Perrier-Jouet to go around, despite the heat, for me, the night was a success. The location was also very cool. The skyline views were spectacular. My only small gripe was that the space allocated for the event was very long and narrow, which left tables at the extreme ends looking a little isolated and cut-off.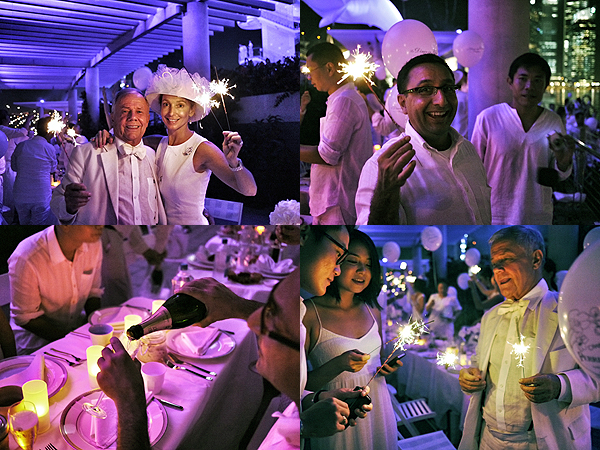 While the organizers of Diner en Blanc Singapore certainly have a lot to learn when it comes to communication (with the public and the media), I think everyone who turned up for the event would give them due credit for the hard work they put into organizing what was a really unique and classy pop-up gourmet experience. Was it a perfect event? Of course not. It's only the first (of hopefully many more). But was it well done? Definitely. At the end of the night, as diners packed up, everyone looked happy. And that's the single most important thing with an event like this–ensuring that everyone goes home satisfied.
My final note is a small but impassioned suggestion for the organizers: Don't force us to meet at pick-up points and make us pay (you) for transportation to the venue. I would much rather be able to sign up for an SMS alert that would–an hour before the event began–inform me of the location. I'd prefer to make my own way there. It simply makes more sense for me to be able to lug my table, chairs, picnic basket and other barang directly to the event venue than forcing me to haul my stuff to some other location only to have to load everything onto a bus (or a boat), only to have to offload all of it again.
Would I take part in Diner en Blanc Singapore again? I know the friends we went with would. I think I would too (so long as I can convince S to brave the heat once more). I have no doubt that the local organizers will learn from this first edition and strive to make the next one, and next one after that, better and better.
Aun has always loved food and travel, passions passed down to him from his parents. This foundation, plus a background in media, pushed him to start Chubby Hubby in 2005. He loves that this site allows him to write about the things he adores--food, style, travel, his wife and his three kids!