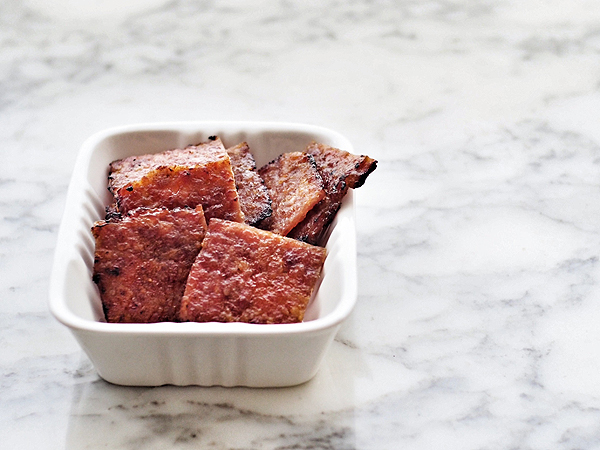 It's no secret I love pig products. Gimme a well-cooked piece of pork and I'm a happy camper. So, I was both thrilled and intrigued to receive a little Christmas gift from SuperNature, the organic store that my wife S enjoys shopping at, and does a bit of work for. Thrilled because the little package contained bakkwa (Chinese barbecued pork that is kind of like jerky), which I always enjoy, and intrigued because SuperNature–known to promote healthy foods–was the last place I would have imagined getting bakkwa from.
Then I read the note that came with it. The barbecued pork I was sent was made specially for SuperNature by Lim Chee Guan, Singapore's most famous and, to some, best bakkwa makers. And even more interestingly, it was made from meat from free-range Linley Valley pigs. Linley Valley, in Western Australia, is one of the best and most humane pork producers in this part of the world. The meat from these range-pastured pigs is approved by the highest Australian farming certifying bodies. The pigs, themselves, have been raised without any antibiotics in their feed and without any artificial growth hormones. They (reportedly) enjoy an outdoor life, sleep in straw-lined shelters and are given a premium, nutritional feed. This translates to both better taste and for us consumers, a better conscience.
Interestingly, just a few days ago, I was reading through a paper produced by marketing communications company J Walter Thompson. Every year, they release a list of 100 things to watch. It's their attempt at future-casting the hottest trends of the year. And while several are no-brainers, some of their suggestions are quite illuminating. On this year's list, JWT notes the move by consumers to enjoy "humane food", i.e. food from animals that have been raised sustainably and with great care towards their well-being (well, until we kill'em off to consume them, that is).
This limited edition bakkwa, by Lim Chee Guan, for SuperNature, fits perfectly within this trend. It's perfect for consumers that are concerned about animal welfare, as well as for foodies that are continuously searching for better, healthier, and/or more tasty alternatives.
Taste-wise, I did enjoy this special "happy pig" bakkwa (as S and I started calling it around the house). It was considerably less greasy than normal bakkwa. Because it's also a minced pork bakkwa, it was also neither hard nor stringy; instead, it was soft, moist, and very easy to eat. It was also nicely fatty without being cloying. It was definitely a bakkwa I'd buy for myself and for friends.
SuperNature has commissioned this bakkwa for the upcoming Chinese New Year period. We've been told, only a limited supply is available.
If you're interested in buying this for yourself or someone else, you must pre-order. You can call SuperNature at +65 6304 1336 or go online and place an order from their eShop. The bakkwa is available in 500 gm or 1kg packets.
This limited edition Lim Chee Guan for SuperNature minced BBQ pork slices is available exclusively for pre-order until 30 January 2013 only, with collection from 5–8 February 2013 (2–6pm) at the SuperNature flagship store, located at 21 Orchard Boulevard, #01-21/23/27 Park House, Singapore 248645.
Aun has always loved food and travel, passions passed down to him from his parents. This foundation, plus a background in media, pushed him to start Chubby Hubby in 2005. He loves that this site allows him to write about the things he adores--food, style, travel, his wife and his three kids!