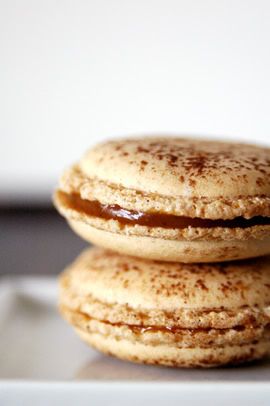 The best macarons I have ever eaten were from Pierre Hermé. Unfortunately, getting to either Paris or Tokyo to buy these amazing pastries is pretty difficult (anyone out there wanna sponsor me with a Marquis Jet card?), so I make do with what is available locally. Sometimes though, I do end up rather shamelessly begging road warrior friends to play pack mule for me.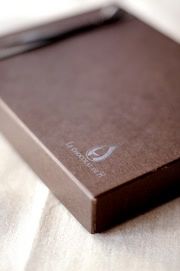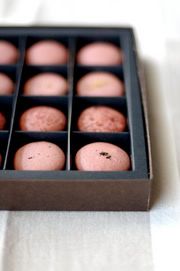 One friend recently made a quick trip to Tokyo. The day after she came back, she couriered the above pictured box to my office, with the cutest note. Get this, she actually apologized for not making it to Pierre Hermé and "hoped" that these beautiful mini macarons from Le Chocolat de H, a gorgeous Roppongi Hills based chocolatier, would suffice. OF COURSE THEY DID! Le Chocolat de H is run by Japan's best known chocolatier, Hironobu Tsujiguchi. The box had 12 mini macarons, in 4 different chocolate-enhanced flavours, green tea, vanilla, caramel and framboise. We devoured them that night with some friends. My favourite by far was the framboise.
For a fantastic article on chocolate shops in Tokyo (including Pierre Hermé and Le Chocolat de H), check out this article from the Japan Times.
Pictured at the top of this post, though, are my favourite locally-available macarons, the Caramel-Sel macarons, made by Chef Pang at the Canele pastry shop located at Robertson Walk. Chef Pang is a really talented and very, very nice young pastry chef. I love these macarons. They have just the right crispiness on the surface and softness inside. The salt both lifts and contrasts with the sweetness of the caramel perfectly.
One of these days I'm going to attempt (the gargantuan challenge of) making macarons, but for now, I'm pretty happy eating these.
Canele Patisserie-Chocolaterie
11 Unity St #01-09
Tel : 6738 8145
Aun has always loved food and travel, passions passed down to him from his parents. This foundation, plus a background in media, pushed him to start Chubby Hubby in 2005. He loves that this site allows him to write about the things he adores--food, style, travel, his wife and his three kids!