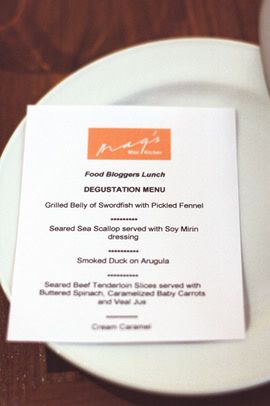 This afternoon, 12 of Singapore's food bloggers (and one newspaper reporter) got together for a rather delicious lunch. For many of us, it was the very first time we had ever met (and as the only guy in the group, I felt both excited and slightly nervous). We gathered at Mag's Wine Kitchen, a wonderful little restaurant that I've written about before. Owned and operated by a self-trained chef (Mag), Mag's has become a local favourite among French food fans. For this first food bloggers lunch, Mag's prepped an amazing 5 course lunch.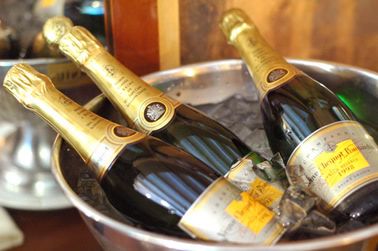 The meal, I have to say, was partly sponsored by Veuve Clicquot, who very generously gave us several bottles of their Rich Reserve 1998. The wine was crisp, delicious and perfect for this celebratory gathering. It was extremely kind of Veuve to sponsor this gathering, and I hope it is not the last partnership between our nation's food bloggers and this historic Champagne brand.
The meal started with Grilled Belly of Swordfish with Pickled Fennel.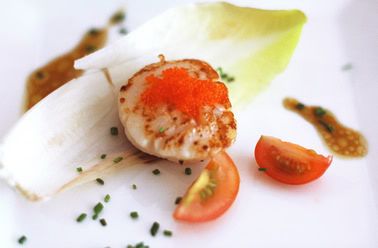 This was followed by Seared Sea Scallop served with a Soy Mirin Dressing.
Next was a Smoked Duck with Arugula.
Our last main course was a truly amazing dish of Seared Beef Tenderloin Slices served with Buttered Spinach, Caramelized Baby Carrots and Veal Jus. Dessert was a Crème Caramel (which while tasty, I felt wasn't all that photogenic).
I have to say that Mag really pulled out all the stops for us. The meal was truly delicious!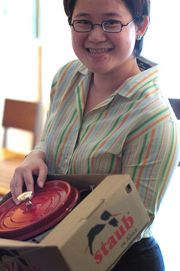 In addition to Veuve Clicquot, our meal was also sponsored by BATS Singapore, the importers of such amazing kitchen products as Staub and Chroma. Sebastian (Sebastian@bats.sg), the man behind this great distributorship, kindly gave each of us a goodie bag with a Staub spatula, a little stuffed toy (of the Staub mascot), and some Staub and Chroma brochures. But, more excitingly, he donated 4 amazing lucky draw items, a Staub Chocolate Fondue Set, a Chroma P4 Chef's Knife, a Staub 28cm oval dish, and a Staub 22cm cocotte. You can see the pix above of the very happy bloggers who won these truly super prizes. Many thanks to Sebastian and BATS Singapore for their generosity and support of our local food bloggers.
In all, it was a great (long) lunch. It was great to finally put faces to the people whose blogs I've been reading and enjoying for quite a while now.
Aun has always loved food and travel, passions passed down to him from his parents. This foundation, plus a background in media, pushed him to start Chubby Hubby in 2005. He loves that this site allows him to write about the things he adores--food, style, travel, his wife and his three kids!