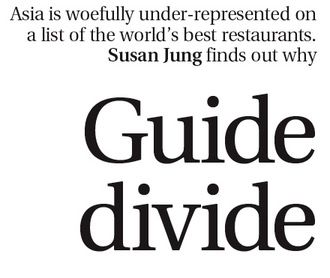 It's always flattering to be interviewed by a member of the press. But it's also potentially embarrassing and always just a little terrifying. Because no matter how articulate you think you are, there's always a chance that you're going to come across as a total idiot when the article finally comes out. Fortunately, The South China Morning Post's Susan Jung did a good job of making me seem smarter than I actually am. Susan wrote a rather long feature which ran on Thursday, 8 June 2006, on Restaurant Magazine's survey of the world's best restaurants and the lack of Asian restaurants in it, something which I've also written about in the past. She interviewed me for this piece and also very kindly talked about (and promoted) my little attempt to rally readers together and vote on Asia-Pacific's best restaurants. Susan also interviewed John Krich from the Asian Wall Street Journal and Grant Thatcher, founder of the uber-cool Luxe guides, two guys I really respect, for this story.
Please click here to read the full article.
Aun has always loved food and travel, passions passed down to him from his parents. This foundation, plus a background in media, pushed him to start Chubby Hubby in 2005. He loves that this site allows him to write about the things he adores--food, style, travel, his wife and his three kids!