Sean preparing Prarie Oysters
Several weeks ago, S and I attended a pretty extraordinary dinner. It was a private affair, held at the house of a friend of a friend. Our meal was prepared by two chefs. Upon arrival, we were asked to select one of three cocktails, a blood and sand (scotch, orange juice, white vermouth, cherry marnier), a white velveteen (frangelico, white cranberry, vodka) or a Georgia mint julep (mint, cognac, apricot liqueur). After our (very strong but tasty) drinks, we were presented with menus that got our juices flowing. Dinner was going to be a 13 course affair with what looked like some pretty complex dishes. A meal like this would have impressed S and me no matter who was cooking. But given that the two chefs were teen boys, we were pretty much gobsmacked.
Borthers Jonathan and Sean Gwee, aged 18 and 15 respectively, are both articulate, polite, and obviously intelligent. They're also serious foodies. When we met, Jonathan was half-way through reading Harold McGee's On Food and Cooking: The Science and Lore of the Kitchen. Younger bro Sean was working his way through Hervé This' Molecular Gastronomy. Now, I have both books. I've gotten through maybe a chapter of McGee's and haven't even opened This' work yet. And while I do intend to get to them one day, I will admit that both books are a tad intimidating.
The brothers Gwee have been cooking for years. Jonathan is most interested in pastry and dessert while Sean is into preparing meaty main courses. Last year, at the urging of family and friends, the brothers began to offer ridiculously well-priced, private degustation dinners.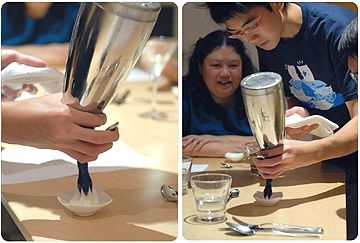 Jonathan serving lemon foam
Here's the menu they served us, as written on their menu: Paté, chicken and duck livers with roasted butternut squash; Reduction of Salad, roast parsnip with thyme sauce, roast shallot with parmesan wafer, tomato jam with garlic crouton; Garlic Velouté, browned garlic soup; Prairie Oyster, raw egg with worcestershire sauce; Deconstructed Pork Belly, roasted salt pork, pork crackling and granny smith with demerera sugar sorbet; Risotto, flavoured with black olive and topped with buffalo mozzarella; Lemon, palate cleansing foam; Lamb, seared loin with pan fried gnocchi and red wine reduction; Beef, roast tenderloin glazed with marmalade accompanied by roots anna; Panna Cotta, with candied flower petals; Cannoli, filled with mascarpone and brandied cherries; Thyme, thyme ice-cream; and Chocolate, Valrhona Araguani chantilly. The food was impressive. It was executed confidently and deftly.
It was also presented with a good dose of humour. S and I were a little curious about the brothers' "Prarie Oyster". It's not that normal to serve your guests a hangover cure composed of raw egg at a dinner party. Younger brother Sean, assisted by a friend, brought out the raw eggs, a dozen glasses and a squeeze bottle of Worcesterchire sauce. He explained the origins of the Prarie Oyster while preparing each one — essentially transferring each egg into a glass and squeezing the sauce over. He also advised us to bite into the yolk; it was the only way to appreciate the dish's flavours. When I did, I couldn't help but smile. The brothers had served us a mango-flavored version of Ferran Adria's very famous skinless ravioli, sauced with caramel. It was a cheeky, amusing, and impressive course. The boys are clearly fans of Adria and his peers. The "Chocolate" course turned out to be Adria's Frozen Chocolate Air (they found the recipe on the awesome Hungry in Hogtown. It was delicious. I couldn't believe how tasty, rich yet clean it was on the palate. The "Lemon" course was a yummy lemon foam.
My own personal favourite courses, besides the Chocolate, were the lamb with gnocchi, the panna cotta and the cannoli. I was particular impressed with Jonathan's cannoli shells. They were among the best I've ever eaten. Unfortunately, Jonathan is currently stuck in Basic Military Training, so the boys' private dining services have been put on hold for a while. When I last spoke with them, they said they might offer some mid-year and again at the end of the year. If you want more information, you can email them at sedentary@gmail.com (for Jonathan) and ultimited@hotmail.com (for Sean).
Aun has always loved food and travel, passions passed down to him from his parents. This foundation, plus a background in media, pushed him to start Chubby Hubby in 2005. He loves that this site allows him to write about the things he adores--food, style, travel, his wife and his three kids!