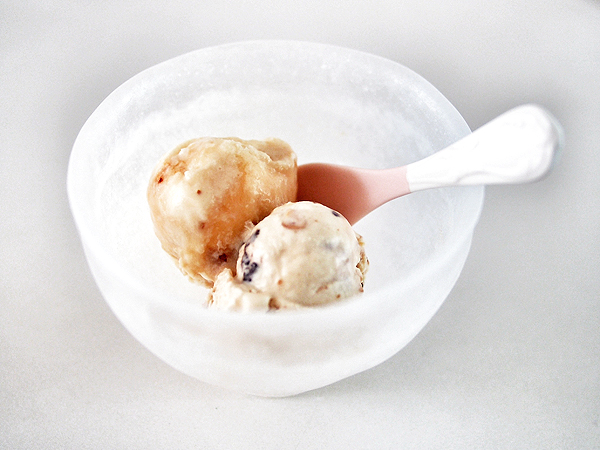 I am a total ice cream addict. On top of that, since my wife S makes some of the best ice cream I have ever tasted, in the years since she first bought her commercial ice cream machine, I've become a rather discerning (or spoiled depending on who you ask) ice cream lover. Which means that any new ice cream has to be pretty damned good if it is going to impress me. Which is exactly what the flavours I tasted from Singapore's newest ice cream brand, The Inspired Chef, did.
Of course, it helps that the peeps behind this premium ice cream have invited 4 friends of mine, all amazing chefs, to create their first four flavours. The chefs, as you can see in the image above, are Janice Wong of 2am:dessertbar, Willin Low of Wild Rocket, Pang Kok Keong of Antoinette, and Daniel Tay of Bakerzin. Each of these talented culinarians has created something special and unique. As a friend of these guys (and gal), I was given the chance to preview some of the ice creams; I was told I could try two flavours. After reviewing the choices, I decided to go with Janice's Caramel Popcorn Avalanche and Willin's Double Peanut Fudge.
I loved Janice's ice cream. It's honestly something I could eat on a regular basis, but that is also fancy enough that it can be used to dress up fancy desserts. S preferred Willin's but mostly because it reminded her of the powdered peanut candies she used to love eating as a kid — which from the description sounds like what Willin was going for.
S and I thought the ice creams were special enough that we decided to make an ice cream sundae with them to serve at a dinner party we hosted this past weekend. We plated the sundae in tall parfait glasses, layering scoops of the ice cream with homemade chocolate mousse, homemade salted caramel, almond flakes and some M&Ms (which our son forced us to purchase and after tasting one refused to eat – which actually made S very proud). The sundaes went over very well and our guests were thrilled to get a sneak preview of this new local brand.
The best and easiest way to order ice creams from The Inspired Chef is via their website, inspiredchef.sg, which launches today. I hope, if and as they do well, they rope in more chefs to create additional flavours. I'd really like to see what kinds of flavours chefs like Akmal Anuar, Andre Chiang, Julien Royer, or Ryan Clift might come up with.
Happy Eating.
Aun has always loved food and travel, passions passed down to him from his parents. This foundation, plus a background in media, pushed him to start Chubby Hubby in 2005. He loves that this site allows him to write about the things he adores--food, style, travel, his wife and his three kids!