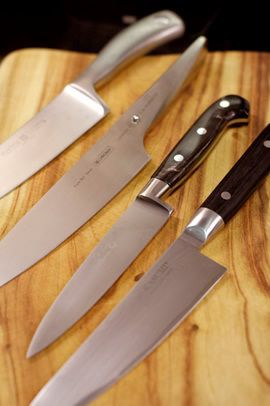 Sam over at Becks & Posh has started a fantastic once-off meme. Called Utensibility, she's asked fellow food bloggers to write about "the one splurge utensil that has pride of place" in our kitchens. I thought about this for a good amount of time. My wife and I have collected some pretty cool stuff in our 6 years as a couple, including a Musso ice cream machine, an Illy Francis Francis espresso machine we got as a wedding gift, some wonderful copper pots and pans, our Dualit toaster, and a vast selection of Le Creuset cookware. However, the Musso is really my wife's splurge item not mine; the Francis Francis was a wedding gift as were the Le Creuset pieces. The copper cookware was also bought by my wife and the Dualit, while great, wasn't "it". I didn't think a range would count as a utensil or else I might have chosen our new DeDietrich cooker.
The more I thought about the things that I've splurged on that I've loved, the more I realized they were my knives. Maybe it's a guy thing, but I love knives—not the Rambo kind mind you, but super-cool chef's knives. The first really cool one I bought myself was a Global, some 10 years ago. Before that, my flatmates and I used cheap no-need-to-sharpen knives that we didn't care if we lost, broke, or if they got blunt, we could just buy new ones. But one day, on a walk in SoHo, a few months after I graduated from college, I spied this gorgeous Global knife in a design store, and I knew I had to have it—even if it did cost almost US$200 and I was still looking for a job.
For years, I was a Global loyalist. Then a couple years ago, my wife and I decided to try out a set of Furi knives. More recently now, I've been trying out and splurging on other knives. The ones pictured above were all bought (except for the Chroma, which was sponsored) in the past 2-3 years. From top to bottom are a Wusthof Culinar, a Chroma Type 301, a Consigli, and a Kasumi. The Consigli, hand-forged in Tuscany and with a buffalo horn handle, was picked up on my recent trip to Italy. But my favorite of the 4, and the one I would pick for this challenge, is the 20 cm Kasumi, hand-forged in Seki, Japan, with a core blade of V Gold No. 10 high carbon stainless steel, clad in 32 folded layers of damascus steel, and with a hardness on the edge of 59-60 HRC. It's a gorgeous knife that feels wonderful in the hand. While I like all 4 pictured, the Kasumi is the one I turn to first when in the kitchen.
I decided I would also ask my wife to contribute to this. She picked her brand new Staub Cocotte. Below is what she wrote:
"A good cast iron cocotte (French oven) will last you a lifetime, and then some. Whether it is boeuf bourguignon, Chinese braised pork belly, mutton briyani or any manner of pot roast, slow-cooked stew, stock and soup that you're planning on preparing, you'll quickly discover that using a cast iron pot gives you the consistent, subtle heat that you need to coax those heady flavours from your ingredients. Put it in a slow oven and your show-stopping braised lamb shanks will magically take care of themselves enveloped in gentle heat. Yes, these cocottes are heavy and can be a pain to manoeuvre around, but they're lovingly reliable kitchen workhorses. Nothing can quite substitute the culinary edge you get from using a cast iron cocotte. Try putting your heavy-based stainless steel saucepan in the oven. You'll never get the same meltingly tender texture in your braised meats.
"I've recently acquired a 40cm oval Staub cocotte which I am looking forward to braising whole leg of lamb, lamb shanks for eight and making pot au feu in. Apart from being a handsome piece of craftsmanship, the self-basting spikes (a signature feature of Staub cocottes) underneath the lid ensure that the moisture that collects there drips back into your simmering dish. And the enamel has skin-like pores that absorb some of the oil used in your cooking to create a natural non-stick surface. It was also pretty much the largest cast iron cocotte I could possibly find. Size matters, because I've found that the dishes that I tend to cook in my cast iron pots are generally ones that I enjoy sharing generously with friends and family. I also find the Staub gratifyingly heavier than my Le Creuset (I have a 26cm round Le Creuset cocotte which is an ideal first acquisition, although on hindsight, I think an oval one is more versatile). At the very least, every well-kitted kitchen deserves one cast iron cocotte."
Aun has always loved food and travel, passions passed down to him from his parents. This foundation, plus a background in media, pushed him to start Chubby Hubby in 2005. He loves that this site allows him to write about the things he adores--food, style, travel, his wife and his three kids!