As a wife and mother who also runs a business full-time, it's hard to find time for myself. But when I read about Poh Wenxiang's copper lamp making workshop, I knew it was something I wanted to do. I love elegant industrial-chic home wares and thought that this cool-looking light would look perfect next to my letterpress printing press — another bit of industrial awesomeness. I especially liked that the lamp uses "Edison bulbs", i.e. vintage-styled bulbs that you use without any shade or cover. These classes, I read, were being held on Thursday evenings at The U Factory at Gillman Barracks, a cool curated lifestyle space that brings together art, food, design and a bit of retail therapy. I was also pleased that my chubby hubby decided he'd come to the class with me.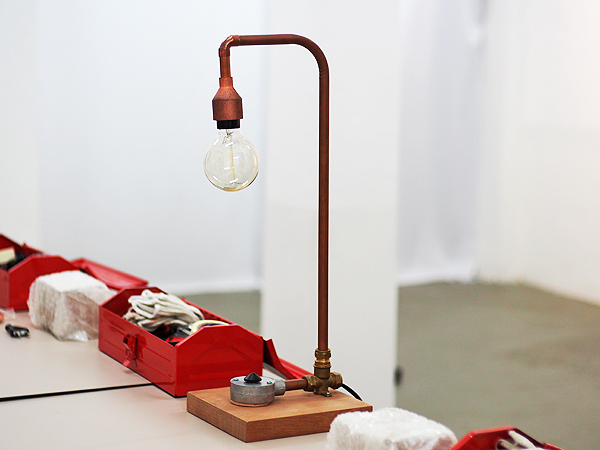 Teacher-artist Wenxiang started Make Your Own in June 2013. A former mechanical engineer, the affable artist now crafts beautiful hand-made home wares for commercial and residential projects. If any of you have been to Ronin, the sexy new coffee house on Hong Kong Street, then you've seen some of his more elaborate pieces. Through his workshops, he teaches amateurs like me and you how to make simpler objets, like table lamps, planter racks and a magazine holder that is also a light.
My hubby and I attended a mid-December class with two other friends. While the class is advertised as being two hours long, it honestly lasted almost four. I don't think there was any way any of us could have assembled our lamps in less time; at least not on our first attempts. The class was fun. It was in a well-lit and comfortable room. Wenxiang had done some of the electrical wiring for us already, and had divided our supplies into neat kits.
The first things we did were cut and bend the copper pipe that made up the main part of our lamp. This was all done by hand and, I have to admit, required quite a bit of strength. I think all of us gals felt a great sense of accomplishment after bending our metal bars into the proper shapes. This was followed by wiring work and connecting the socket to the copper pipe.
We then had to cut the bases for our lamps. Wenxiang obviously had a lot of faith in us, handing us power saws and asking us to cut near-perfect squares of wood freehand. Once our bases were cut, we had to sand them down to get rid of potential future splinters. More wiring work followed, including learning how to rig up the switch that would turn on the light.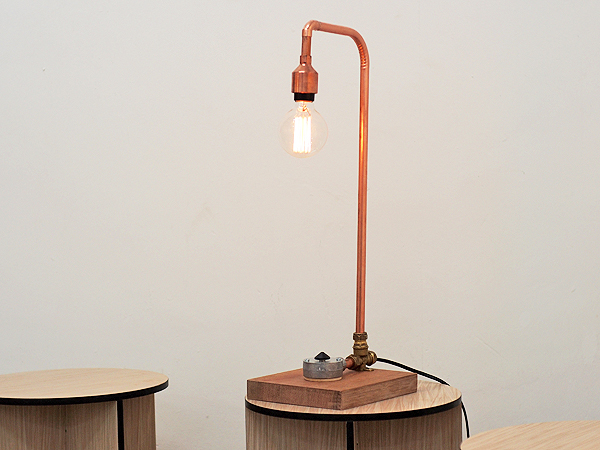 At the end of the evening, all of us were a little tired but a lot proud. Our lamps looked, in our eyes, at least, like the coolest things we'd ever seen. There is a great sense of accomplishment in making something by hand that in our over-manufactured world we often forget or, even more sadly, never experience. I loved making my own lamp, which now sits by my printing press, illuminating my work as I, too often, print stationery in the wee hours of the morning.
For anyone with a love of handmade objects, this is an experience I highly recommend.
Wenxiang's classes at The U Factory continue through January. Details can be found here.
Su-Lyn is Aun's better half and for many years, the secret Editor behind this blog known to readers simply as S. Su-Lyn is an obsessive cook and critical eater whose two favourite pastimes are spending time with her three kids and spending time in the kitchen. She looks forward to combining the two in the years to come.