Okay, I feel a tad guilty and shameless in fashioning this post, but I figure since I'm not exactly just promoting myself, then it's not so bad.
A few months back, I helped write the Six Senses Cookbook, published by Editions Didier Millet (EDM), which covers the cuisine served in the various resorts and hotels under the Six Senses group. The resorts are pretty well-known and are very, very expensive. The fab Maldivian resort Soneva Gili is but one example.
Anyway, for this book, I wrote essays on each of the resorts. The hard part of the book, collating the recipes and shooting all the pix, were done by others. If you get a chance, check out the book. The pix are really great. And it will make you want to visit these places.
My wife was also commissioned by EDM to work on Singapore's first Wedding Planner. This book also came out a few months back and I am told is selling very well.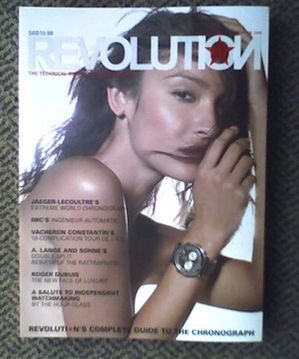 The last image here is (badly taken on my damn Treo) of the very first issue of Revolution, a new magazine for watch enthusiasts created and helmed by my brother. It's a fabulously thick first issue — 288 pages — and chock full of real intelligent content and some pretty sexy shoots. Well worth the S$10. Unfortunately, it's only available in Singapore… for now.
Aun has always loved food and travel, passions passed down to him from his parents. This foundation, plus a background in media, pushed him to start Chubby Hubby in 2005. He loves that this site allows him to write about the things he adores--food, style, travel, his wife and his three kids!