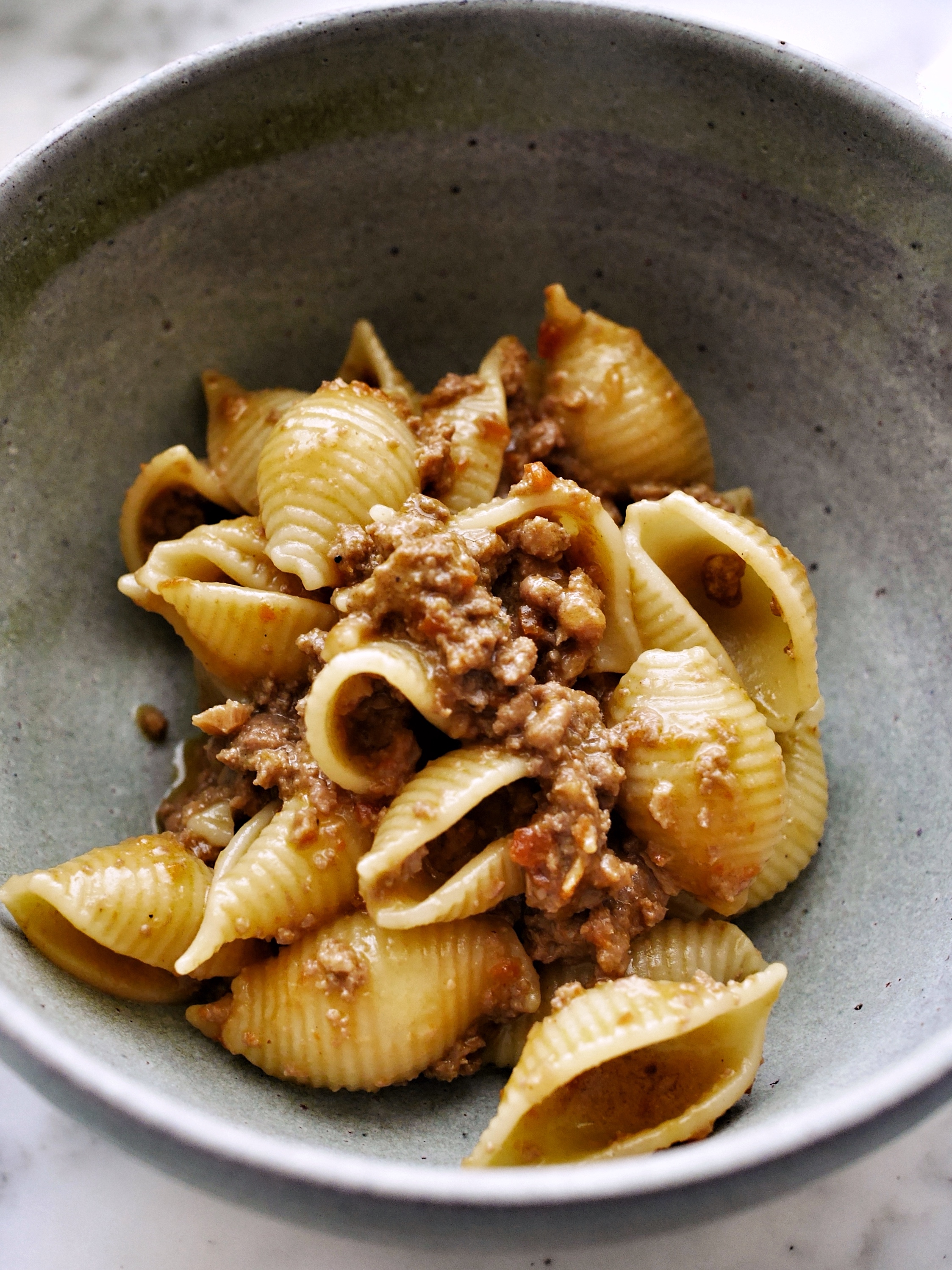 The other day, I was scratching my head wondering what to make the kids for lunch. Because T1 and T2 come home from school an hour apart, I either need to cook twice, or make something that will keep. Looking into the fridge, I realised that I had the perfect ingredients (thanks to the superwife who keeps the fridge always well-stocked) for Ragu alla Bolognese, which is one of our family's favourite foods. But not only had I served the kids Bolognese for dinner just a few nights prior, we also still had several bags of the frozen sauce still in the freezer. Since I had a spot of time, I really wanted to make something fresh for the kids, as opposed to defrosting a pre-cooked meal (which we do quite a bit these days).
Our kids have a tendency, because of the way we eat (and because we're based in Singapore), to prefer Asian flavours. So I thought, why don't I use the meat and make a Bolognese-inspired sauce with Asian flavours? We always have a few things in the pantry or fridge, including different kinds of miso paste and fixings for making dashi. Both ingredients are packed with natural umami, so I felt confident in swapping out the tomato element of a traditional Bolognese and using these products instead.
I also wanted to (secretly) include quite a bit of veggies into this sauce. Our kids are quite typical in that greens are not very high up on their list of favourite foods. Again, the superwife had picked up some nice looking zucchinis at the supermarket, so I figured I'd use these, alongside onion and carrot, and see if the tiny ones noticed (they didn't).
This sauce also took considerably shorter to cook than our traditional Ragu alla Bolognese recipe. With that recipe, we cook the sauce for as long as we do because we want the tomato to really break down and get incorporated and for all the flavours to meld. With this recipe, since we're braising in miso and dashi, I was able to reduce the cooking time by almost half.
This came out even better than I had anticipated. I was particularly pleased by just how much umaminess was concentrated into the sauce. T1 especially loved it and mopped his bowl clean at light speed.
The recipe for this pasta sauce is below. I honestly still haven't been able to come up with a good name for this. I told the kids it was "Japanesey Bolognese" for lack of something more inventive. Maybe one of you can help me name this.
Dashi-based Meat Sauce for Pasta
Makes 16 portions
400g guanciale
800g oyster blade steak
800g Canadian pork belly, skin off
2 zucchini
s
2 brown onions, peeled
3 medium carrots, peeled
6 cloves of garlic
1.2 litres of dashi
4 tablespoons shinshu miso (yellow miso)
2 tablespoons thick, dark soy
1/4 cup cooking sake
1/4 cup mirin (optional)
Sea salt
1 tablespoons olive oil
2 tablespoons butter

200ml cream
Slice the guanciale, beef and pork into narrow strips that will fit into you meat grinder chute. If you find it difficult to slice the chilled meat, place the whole pieces of meat in the freezer. When they are semi-frozen, cut them into narrow strips. Then freeze the strips. This can make them easier to grind. Coarsely grind all the meat together in a meat grinder. Set aside in the refrigerator.
Mince the zucchini, onions, carrots, and garlic (I use a food processor / hand blender for this). At this point, start working on your "battuto". Place a large, heavy-bottomed pot (we use a 30cm cast-iron French oven) over medium heat. Then add your butter and olive oil. When the butter is all melted and beginning to froth/bubble, add the minced veggies. Sweat them (the onions should become translucent, but not browned). You will want all of the veggies to be nice and soft. Add in the sake, and turn up the heat so that the alcohol bubbles and any alcoholic smell dissipates. Lower the heat back to medium-high and stir in the shinshu miso. Stir for a minute and then add in the minced meat mixture. Sauté, stirring occasionally with a wooden spoon, until the meat is browned (about 10min). Add in the dark soy (I use the Premium Dark Soy from Kwong Woh Hing) and stir so that everything takes on a nice dark brown color. Taste and if you prefer your meat sauce a little on the sweet side (some people like food salty-sweet) you can add some mirin — how much is up to you. If you do, let it cook for a minute or two to, again, cook off the alcohol.
Then add dashi into the pot. You basically want to cover all of the meat so don't dump all of it in but pour accordingly. Adjust the heat (medium to low) and simmer uncovered for 20 minutes. Check on this and stir every 5-10 minutes. If the sauce is becoming dry, add some more dashi. You'll be simmering for another 20 minutes and you want the sauce to have a gravy but don't want it swimming in liquid. As said, simmer for another 20 minutes uncovered. Season to taste with salt and pepper. Then stir in the cream, lower the heat and reduce uncovered for another 15-20 minutes. The final ragu should not be too watery. You want it to cling to your pasta when you serve it.
When finished, you can let this cool and vacuum pack portions to freeze or just invite all of your friends over for a big pasta dinner.
To serve, heat an appropriate portion of ragu in a saucepan then add the cooked pasta of your choice. Stir to coat evenly and heat through before plating. I found that this was umami enough that I didn't need to add Parmigiano-Reggiano or Grana Padano but when I served it to my son he asked for a little cheese. It's really up to you.
Aun has always loved food and travel, passions passed down to him from his parents. This foundation, plus a background in media, pushed him to start Chubby Hubby in 2005. He loves that this site allows him to write about the things he adores--food, style, travel, his wife and his three kids!