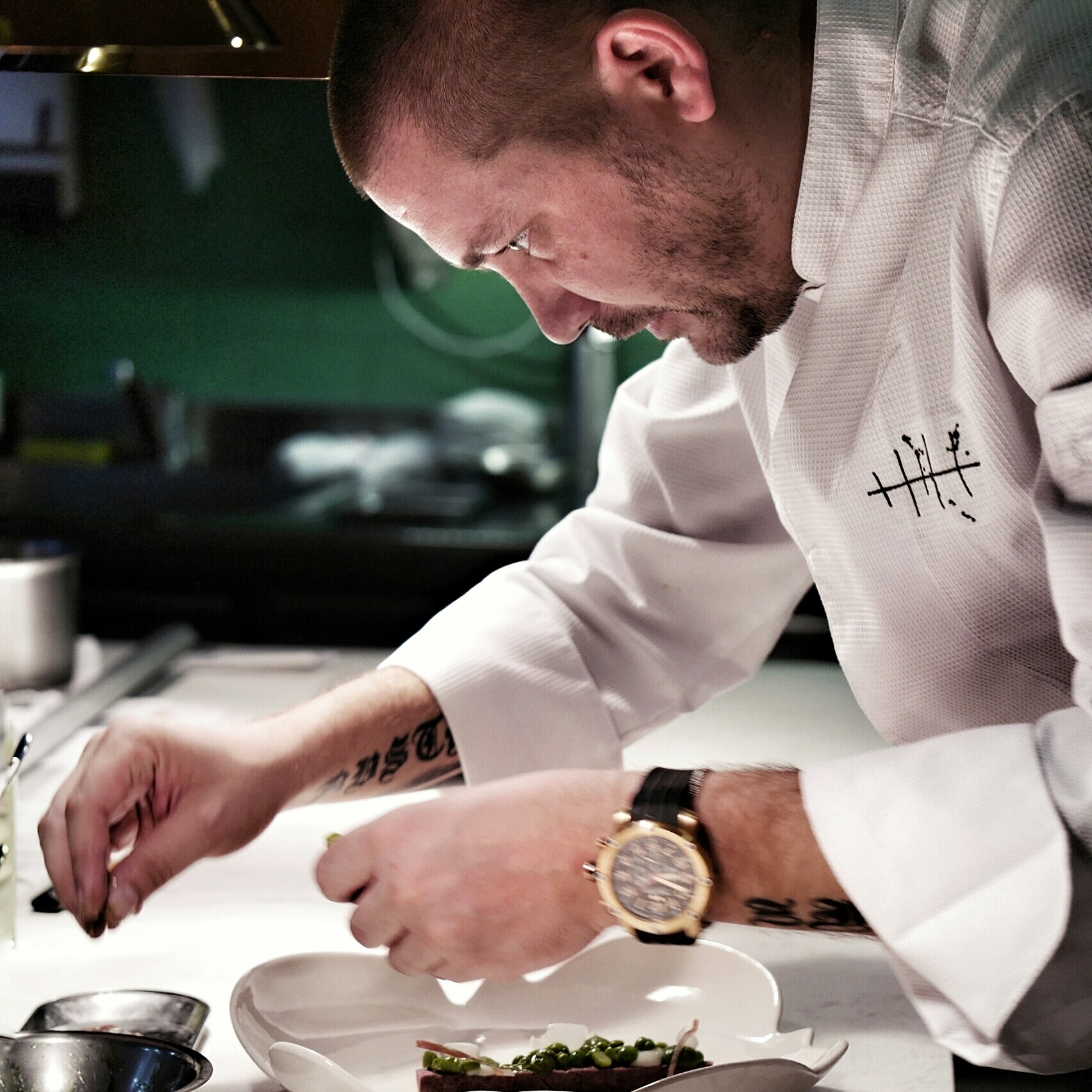 I recently spent a full week working with Chef Ryan Clift on Mediacorp's very exciting Eat List Star project. By the end of that week, after having listened to Chef Clift talk about food for several days in a row, I felt very inspired to visit his flagship restaurant, Tippling Club. And boy was I happy I did. The meal I enjoyed last Friday was without a doubt my best ever at Tippling Club, and might actually be the best meal I've had so far this year.
Tippling Club is currently ranked Asia's thirty-first best restaurant in the much ballyhooed Asia's 50 Best Restaurants survey. But judging by the food I had last week, I won't be surprised if his ranking rises next year. From what I experienced, he certainly deserves to be regarded more highly. I also expect Chef Clift to earn a few of those much coveted Michelin stars (that should soon be handed out on our shores).
I've eaten at Tippling Club several times since it first opened years ago in Dempsey Village. I am very happy to say that I like it much, much better today. The new relatively newish digs at Tanjong Pagar are warm and relaxed — a far cry from the makeshift clinical shed the restaurant used to occupy. But the biggest change is in the food. While once Chef Clift tried to impress diners with his encyclopaedic knowledge of kitchen tricks and modern equipment, today he's focusing on ensuring that every single thing you put in your mouth is delicious. To me, this demonstrates a maturity and confidence coupled with an acknowledgement that the patron's pleasure is the priority in the dining room that more chefs need to understand. Quite simply, the dinner my wife and I enjoyed was outstanding. And we simply couldn't help but exclaim to each other after trying each dish, "Holy f@#$! That is awesome!" To be honest, the consistent level of sheer deliciousness totally surprised us. While we are both experienced (and often jaded) eaters, we simply weren't prepared for how tasty and addictive the food was going to be.
Our meal started with Chef Clift's signature snacks. A tom yam mousse with fried coriander opened up our palates and made us drool. A sweet, savoury and smoky chorizo "sandwich" made us swoon. Then we had an umami bomb in the form of a prawn cracker with sakura ebi. I literally shouted, "Oh my god!" when I ate that. Up next was Chef Clift's timeless charred peppers with a soy dipping mousse, a fun dish that has been on his menus since opening.
An air baguette with manchego cheese and wild thyme came next. It paired perfectly with the Champagne that we were sipping.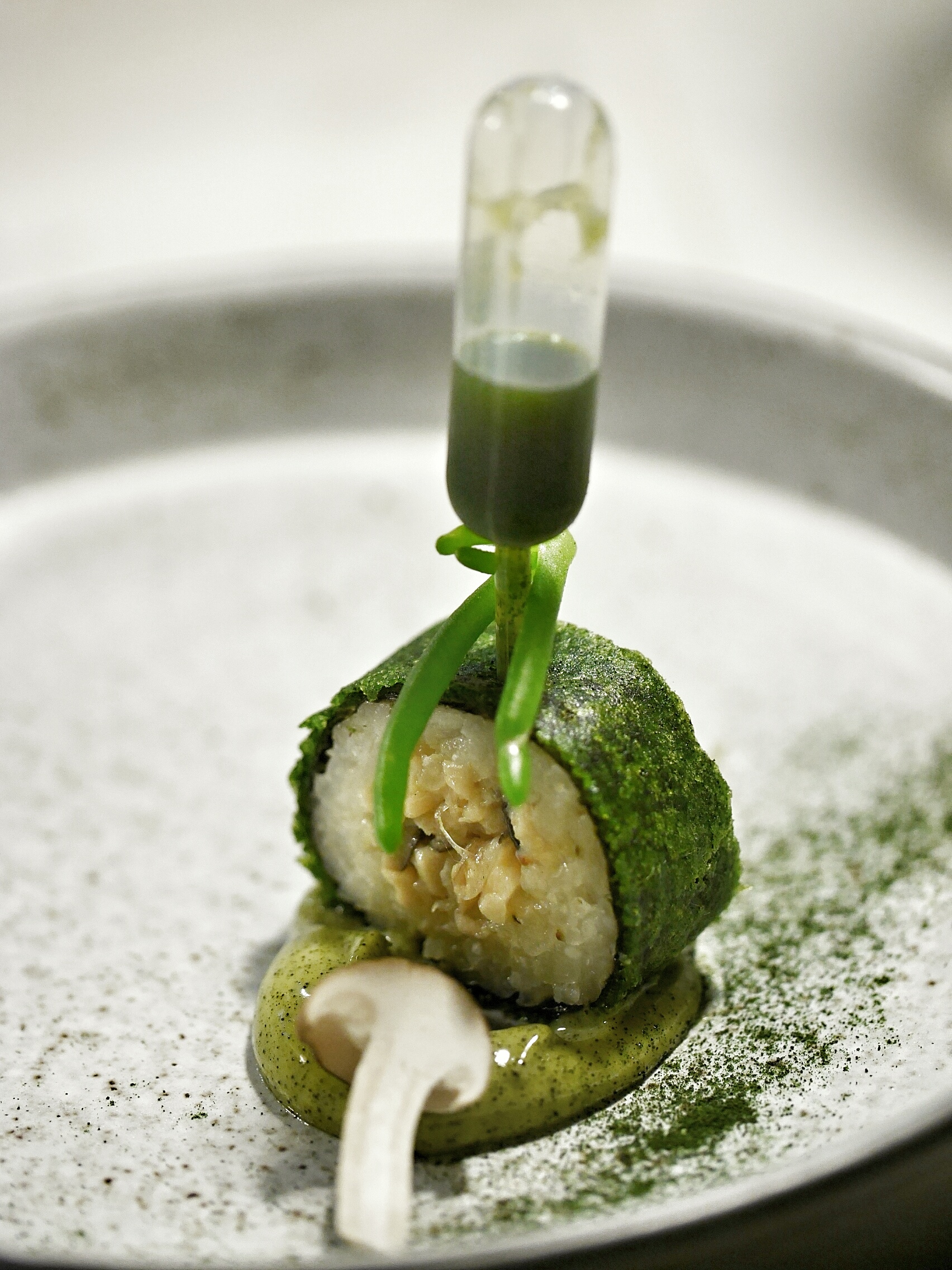 The next course was fun and technically impressive… a matsutake mushroom sushi roll into which we were asked to squeeze an oba leaf emulsion. This small bite was delicate, tart, and umami, all at the same time. I also really loved the level of seasoning (i.e. vinegar and mirin) in the sushi rice; it rounded out the dish wonderfully.
The "lava lamp" made from basil and tomato water was not just fun to look at. It was also super satisfying, with a refreshing hint of sweetness on the finish.
Steamed king crab was up next. My favourite parts of this dish were small round balls of liquified scrambled egg. After the crab, we had my single favourite course of the night (pictured below), Scottish razor clams served with a soup made from white Burgundy wine and blanched garlic. I so wanted to lick the bowl and ask for seconds. I could eat this dish every single day for the rest of my life without getting bored of it — it was that good. Up next was a foiegras coulis that had been filled with a liquified passionfruit and served with celery. The "false risotto" that came next — made from potato and artichoke — was a masterclass in umami and deliciousness. Another plate-licking good dish.
Japanese kingfish came next, served with cauliflower and a masala veloute. I loved the meatiness of the fish and the level of spice in the sauce. Excellent balance of flavours and textures.
The confit of mangalica pork served with dashi and pickled vegetables was hearty, savoury and familiar — it was reminiscent of Japanese stewed items that are served with thickened dashi. The lamb loin a la Francaise was a classic dish given a modern spin that I appreciated. I especially enjoyed the lamb belly bacon that Chef Clift and his team make in-house.
A cheese course took the form of baked baby potatoes, truffle, melted cheese and a sweet brown bread crumb. This dish had a warmth to it that was really homey and satisfying.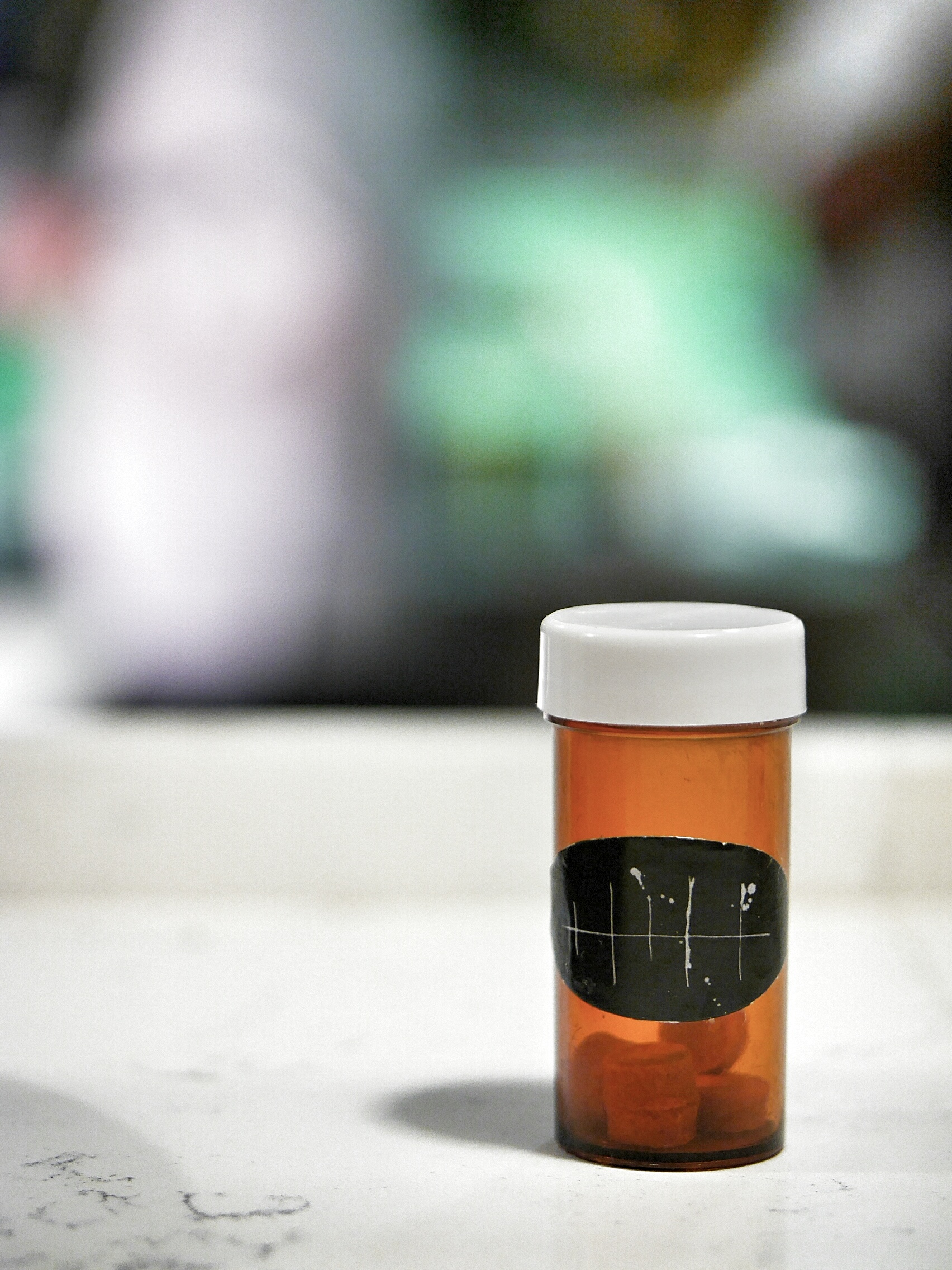 Dessert was kicked off with a classic, Chef Clift's cheesecake pills. These are always fun and very tasty.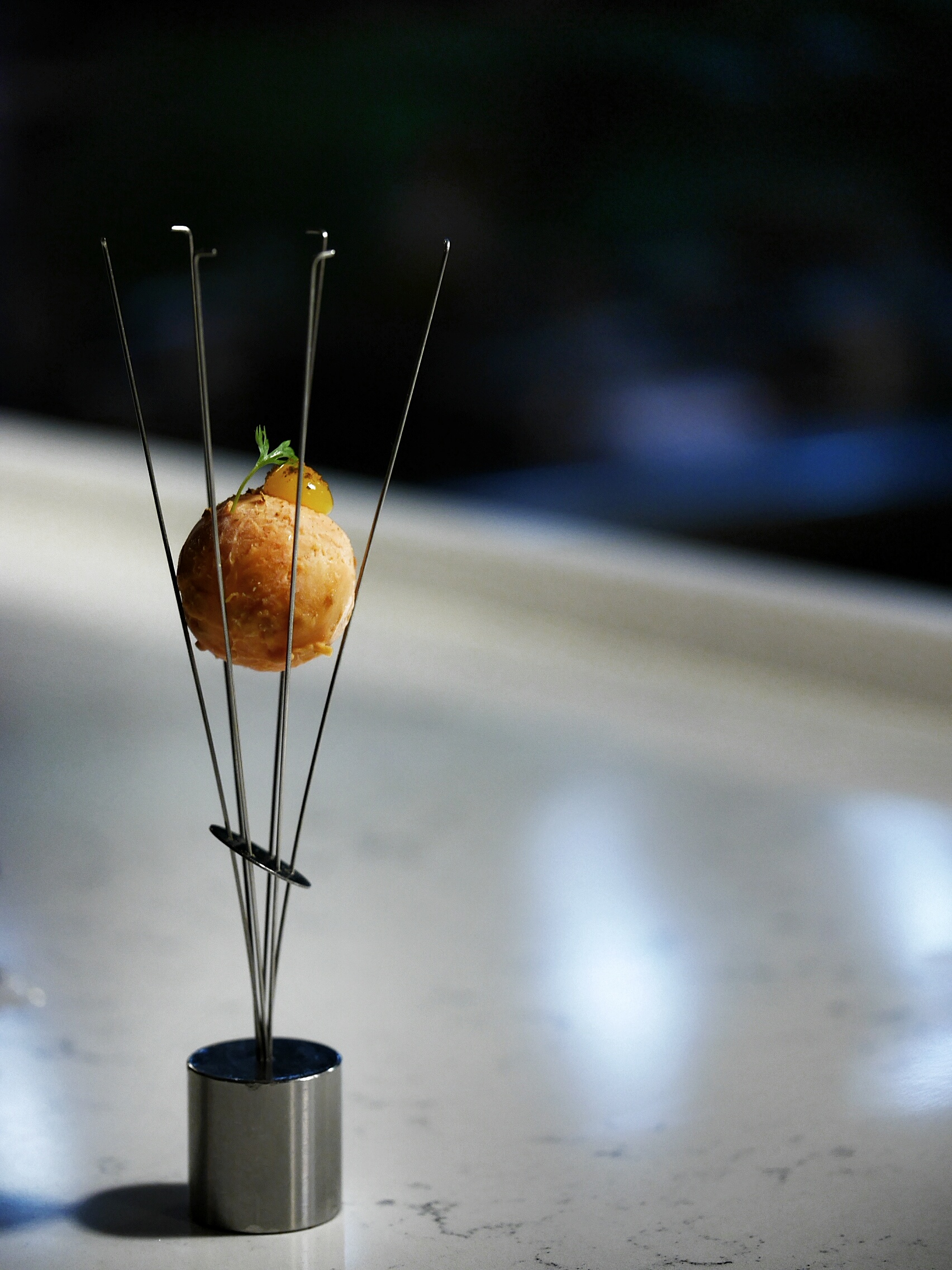 The mandarin and madras curry white chocolate bon-bon we had next made me swoon. I loved the heat and the sweetness paired with the Indian spice. It was just one of those odd things that came together beautifully.
The tiny pina colada puff served on the tiki cocktail guy made me laugh. And the composition of chocolate, avocado and banana made me moan — a classic combination of flavours brought together perfectly. The only dish I didn't love the whole meal was the next bite, a bark that combined pork and cocoa. It was a little too earthy for me. At this point, I thought I couldn't eat another bite. I was so full. But then Chef Clift served us a plate covered in strawberry bubbles and my appetite returned. Under the bubbles was a composition of Japanese strawberries and cream which was simply the perfect sweet way to end a truly outstanding meal.
I've known Chef Clift for a long time. And I have always known he was a talented chef. One of the best in town. But he literally blew me away last week. It feels like the food, and the service, in Tippling Club have gone up not just one but several notches.
Of course, as usual, all experiences are subjective. So I urge you to head down and check out Chef Clift's latest menus for yourself. And I sincerely hope that you will be as pleased, as satisfied, and as amazed as I was.
Tippling Club
38 Tanjong Pagar Road
Singapore
Tel: +65 6475 2217
Aun has always loved food and travel, passions passed down to him from his parents. This foundation, plus a background in media, pushed him to start Chubby Hubby in 2005. He loves that this site allows him to write about the things he adores--food, style, travel, his wife and his three kids!