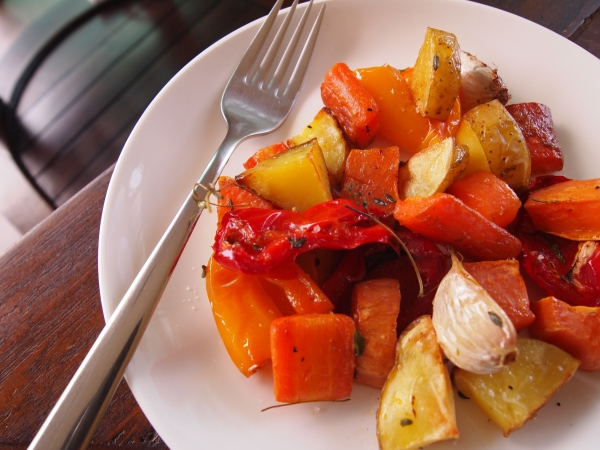 A bowlful of roasted spuds would qualify as comfort food for most. My perfect potato nugget is crisp on the outside, creamy and fluffy on the inside, cooked in olive oil, and seasoned generously with sea salt and black pepper. My cheeky son, A, doesn't quite fancy white potatoes, but absolutely adores sweet potatoes. Roasting intensifies their sweetness, turning them super caramelised and downright addictive. He prefers sweet potato fries/nuggets to steamed rice anytime, and requests for them about once a week. I'm always happy to oblige, considering how nutritious they are.
For a more complete and balanced meal, I've added carrots, garlic cloves, yellow and red capsicums. I've also previously roasted onions, butternut squash and cauliflower, and the results were terrific. Whole spears of asparagus, a quartered lemon, slices of leek and zucchini and large chunks of Braeburn apples will be delicious too. Take this in any direction you like, and better yet, use up any straggly bits of vegetable you have left in your fridge at the end of the week. I love cooking with fresh herbs. I used rosemary and lemon thyme here, because I'm growing them in the garden now. But you could also experiment with herbs like marjoram, thyme and oregano, which I'm sure will complement the vegetables too.
The husband, B, and I, have this for lunch when we've over-indulged for too many days, and want a virtuous meal to erase some guilt. This effortless and colourful vegetable tray bake certainly fits the bill; packed with flavour, light on the tummy yet extremely satisfying. Our favourite bit is scooping the soft garlic flesh out of their skins, and plopping the sweet puree onto the vegetables as we eat. Even those who normally shun garlic for its pungency, like me, will enjoy its mellow flavour here.
Though I'm happy going vegan occasionally, I know there are folks out there who convulse just at the thought of a meal without meat. If that's you, a couple of simply-seasoned chicken legs, or a few juicy pork sausages would grill up beautifully alongside. But give the vegetables a 15-minute head-start in the oven, so you don't over-cook the meat. It is also particularly delicious to crumble some feta over the top, when the veggies emerge hot from the oven. Or do like my son does, and have a wedge of Monterey Jack on the side, for an easy protein boost. While you're at it, may I also suggest you roast up a couple more spuds. They'll serve as a neat lunch to take to the office the next day, with a dollop of aioli.
Roasted Vegetable Tray Bake (serves 2 adults and 1 child)
2 orange sweet potatoes – cut into 1-inch cubes
2 white potatoes – cut into 1-inch cubes (I prefer to keep the potato skins on, for added texture and nutrition)
3 carrots, peeled and cut into 1-cm pieces
1 yellow capsicum, cut in 8 pieces
1 red capsicum, cut into 8 pieces
8 whole, unpeeled garlic cloves (or more if you like)
3 sprigs of rosemary
3 sprigs of lemon thyme
3 tbsp olive oil
sea salt and black pepper to season
extra-virgin olive oil to finish
Preheat the oven to 180° Celsius (350° Fahrenheit).
Toss the cut up vegetables with olive oil, and season with salt and pepper. (When cooking for my son, I like to go easy on the salt at this point, and simply grind more onto my own portion before eating).
Arrange vegetables in a single layer on the baking sheet. If possible, leave a gap between each piece so that they colour and crisp up nicely.
Bake for 25 minutes, then remove tray from oven. Turn and move vegetables around to ensure even cooking.
Return to oven and bake for a further 10-15 minutes, until vegetables are tender on the inside and slightly burnished on the outside.
Serve, drizzled with extra-virgin olive oil, and more seasoning to taste.
Dawn, a lanky food-crazed lady, started out writing for lifestyle magazines, and later spent several years in banking. When not eating, she's cooking, reading about, hankering after, and writing about food. On her first date with her boyfriend (now husband), they dined at four restaurants across Singapore. He's gained 25lbs since, and their culinary escapades continue after welcoming two rotund angels. Dawn's committed to feeding them with the best, and creating lasting food memories and traditions for her family.