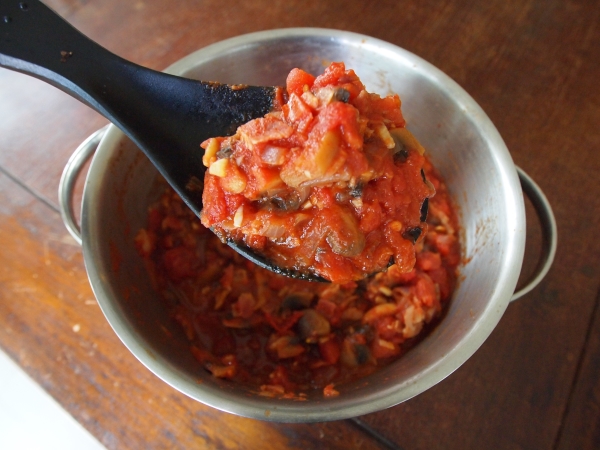 Pasta has a way of soothing the soul. At the end of a long and tiring day, I often find myself craving a huge bowl of noodles, ideally balanced on the knee and eaten in solitude, accompanied by a glass of wine almost filled to the brim (pardon me, as I dispense with formal wine appreciation or drinking etiquette). My children have definitely inherited this love of pasta, and they have it for dinner at least once a week. They enjoy pasta with creamy carbonara, tossed in garlicky olive oil, with pesto and also pomodoro sauces. Recently, I have been making large batches of tomato pasta sauces because they are 1) extremely tasty, 2) easy to make and 3) they keep very well in the fridge. Three winning points in a recipe for any busy mom.
The kids might have this sauce on Monday cooked with spaghetti, and all I need to do a couple of nights later, is cook a different type of pasta for variety, heat up the sauce, and dinner is served. I make a plain pomodoro sauce with onions and garlic most often and the kids are also partial to bolognese. But they have grown extremely fond of this bacon and mushroom pomodoro sauce. I mean, it's a no-brainer right? Bacon paired with mushrooms? It's a match made in heaven. The smokey flavour of the bacon gives this sauce a serious umami kick. The nights I serve this up, I can be assured of a complaint-free dinner. I hear nothing but the quiet slurping of spaghetti. And that, my friends, is music to my ears.
Bacon and mushroom pomodoro sauce
(Feeds 4 adults generously)
1 tbsp olive oil
4 rashers of streaky bacon
2 white onions. chopped
4 cloves of garlic, minced
200g mushrooms, sliced
2 tins of diced tomatoes
1 tsp brown sugar
black pepper to taste
sea salt (optional)
500g dried pasta
grated parmesan to serve
Heat the oil in a medium-sized pot. With a pair of scissors, snip bacon rashers into 1-cm pieces and cook until they just turn golden.
Add onions and saute for about 2-min until softened.
Add minced garlic and cook for another 2-min.
Tip in tinned tomatoes and mushrooms. Be sure to deglaze the pan.
Add 1 tsp of brown sugar and some freshly-ground black pepper.
Bring the sauce up to a boil and simmer for 20-30min, stirring every 5-min, until most of the liquids have evaporated.
Taste, and season with sea salt if necessary (I highly doubt you will need any because bacon usually provides enough flavour).
Cook the pasta in salted water according to package instructions, one minute shy of being al dente.
Drain the pasta, leaving some of the cooking water in the pan.
Tip in enough sauce to coat all the pasta and cook for 1-min.
Generously sprinkle over grated parmesan before serving. Tuck in!
Sauce keeps for three days in an air-tight container in the fridge.
Dawn, a lanky food-crazed lady, started out writing for lifestyle magazines, and later spent several years in banking. When not eating, she's cooking, reading about, hankering after, and writing about food. On her first date with her boyfriend (now husband), they dined at four restaurants across Singapore. He's gained 25lbs since, and their culinary escapades continue after welcoming two rotund angels. Dawn's committed to feeding them with the best, and creating lasting food memories and traditions for her family.