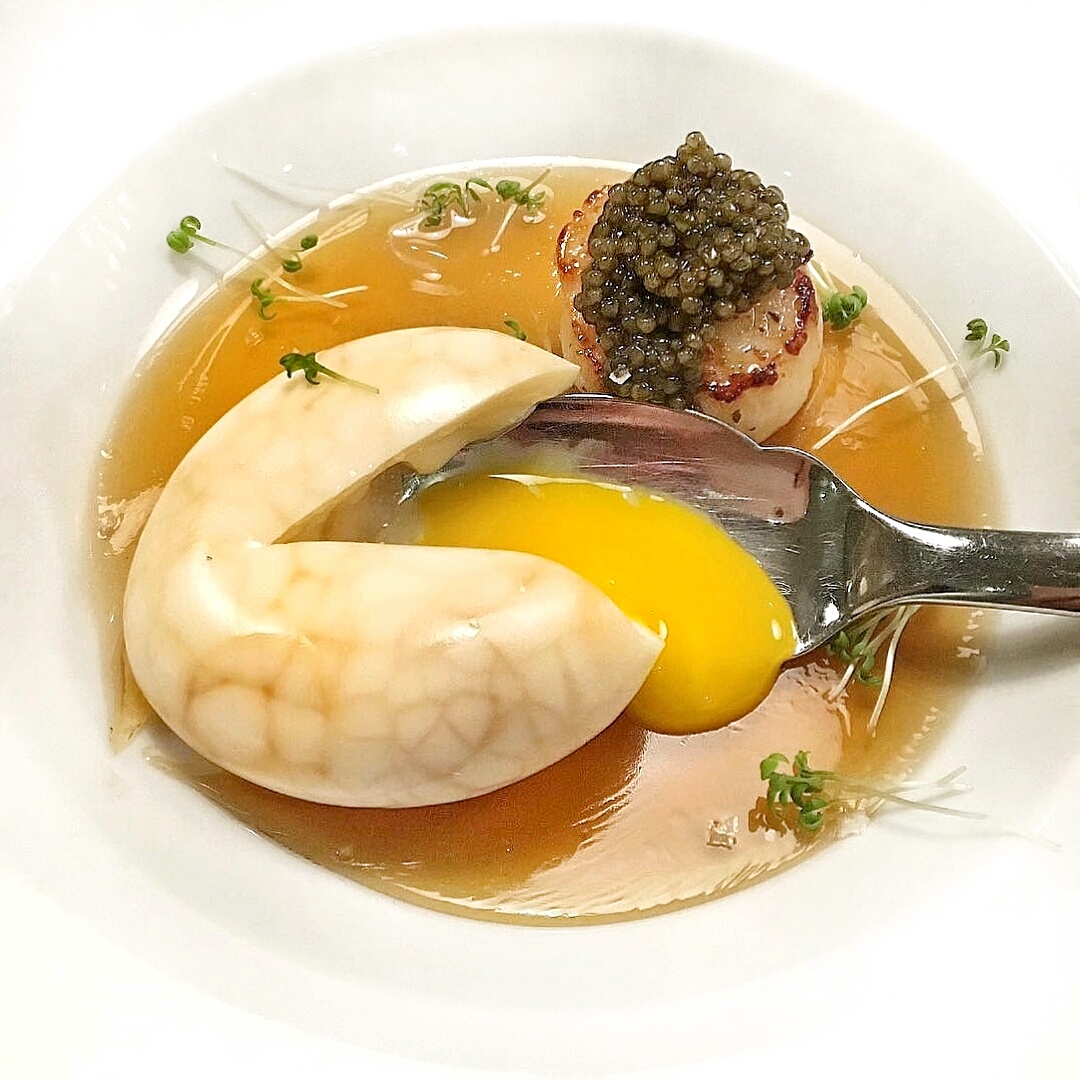 Regular readers know that my wife and I are obsessed with cookbooks. We have far too many. And sadly, with the convenience of digital media, very often, my first resource when looking for recipes is Google and not my own cookbook library. That said, there are some books that simply inspire you to cook, to try the chefs' ideas and techniques, and to attempt new things using their recipes as springboards. The two cookbooks that have been inspiring me the most recently have been Martin Benn's Sepia and Andrew Wong's A.Wong The Cookbook.
Until my wife brought home A. Wong The Cookbook, I have to admit I had never heard of Andrew Wong and his eponymous restaurant. But having read through his book, I've become a huge fan. I've tried several of his recipes, incorporating his ideas into my own dishes, with great success. One of the ideas Mr Wong writes about that excited me the most was his technique for preparing what looks like a traditional "tea egg" but one with a runny centre.
Tea eggs, for those not familiar, are hard-boiled eggs that are steeped in a combination of Chinese tea, soy and spices. Some like to peel the eggs before steeping. This creates a latte-hued egg with fuller flavour. Others like to crack the shells and dunk the eggs into the marinating liquid. This version results in a marbled egg but because the shell is intact, the flavours of the tea and soy are more subtle.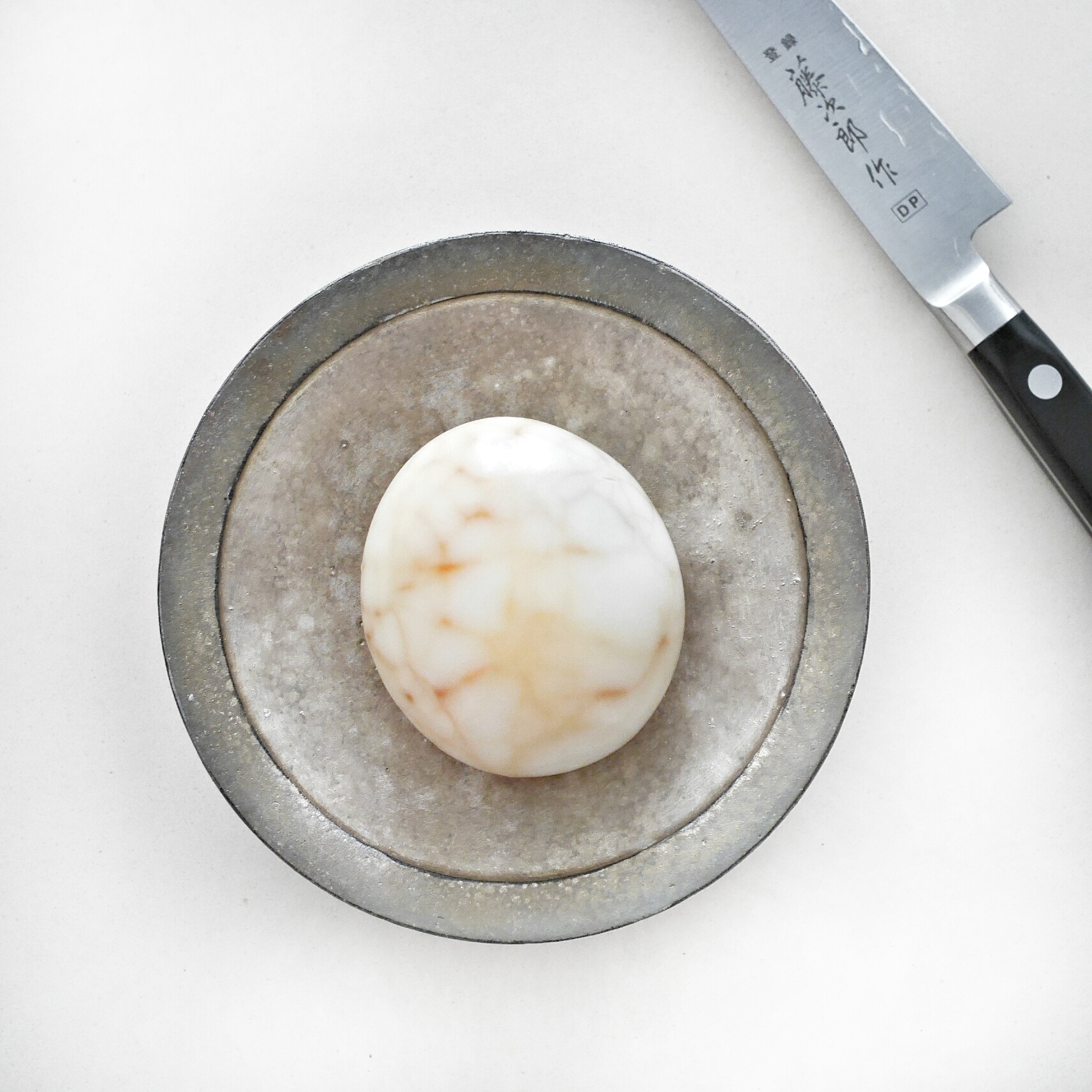 Andrew Wong makes use of modern gastronomic tools to create one of the coolest things I've prepared in recent memory. His technique results in a firm exterior but super creamy and runny (but cooked) interior. It's perfect if you want to create a self-saucing dish or simply want to impress friends.
For a recent dinner party, I tested the technique and served these eggs with seared Hokkaido scallops, Oscietra caviar, and a shio konbu dashi gelee (the gelee was something inspired by reading the Sepia cookbook). It was a great dish and a real crowd-pleaser. All of my guests loved cutting into the eggs and watching the yolks spill out over the dashi. The creaminess worked well with the dashi's umaminess and the briny saltiness of the caviar.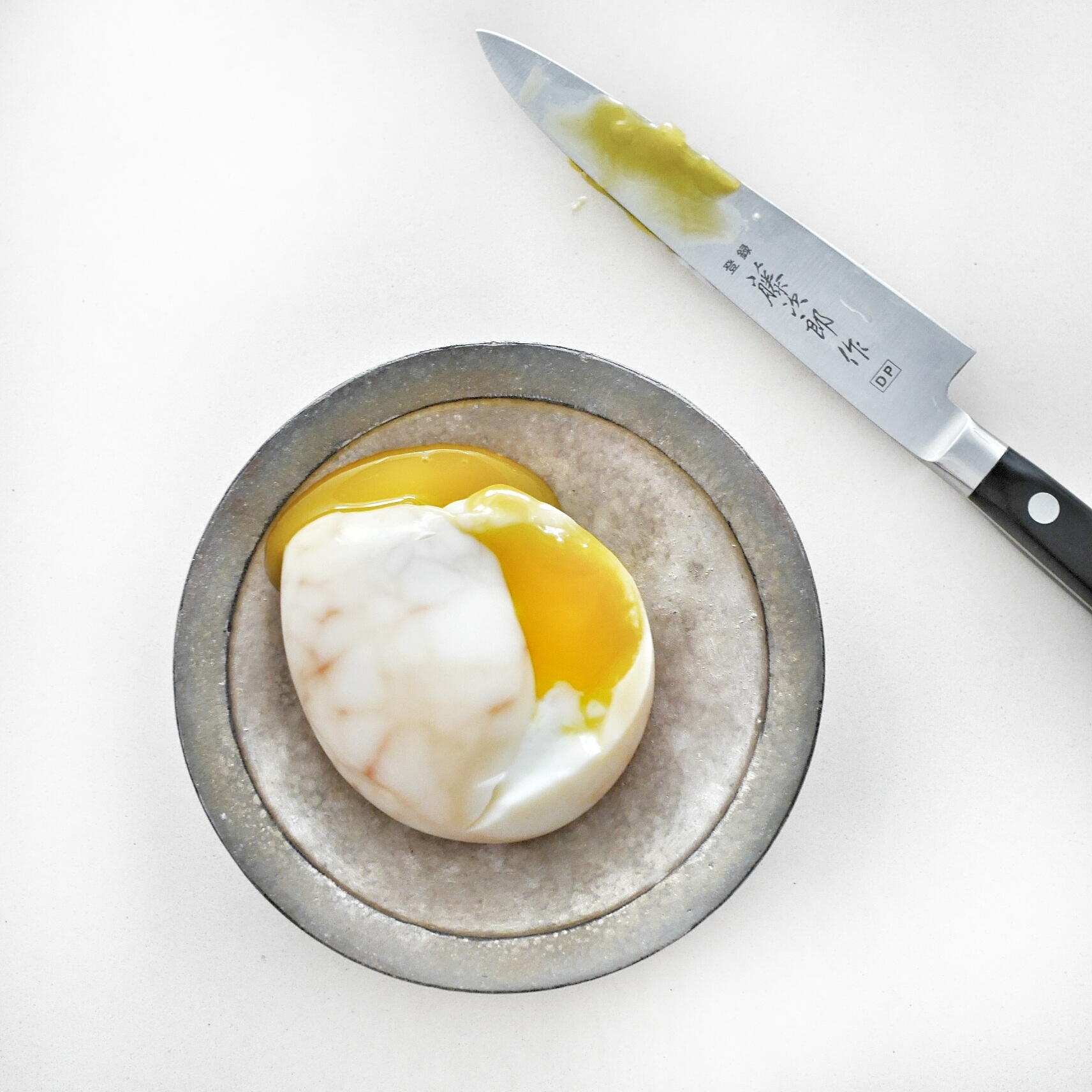 The technique is simple, but it requires time and patience. It also required a sous-vide machine (i.e. an immersion circulator). Fortunately, these devices are no longer prohibitively expensive. I would recommend, for home chefs, brands like Nomiku, Anova, or Sansaire.
Marbled runny tea egg
6 eggs
500 ml water
2 teaspoons oolong tea leaves
1 cinnamon stick
2 star anise
3 cloves
1/2 teaspoon szechuan pepper
1/2 teaspoon ground fennel seeds
3-4 tablespoons dark soy (depending on your taste preference)
1-2 tablespoons sugar (depending on your taste preference)
vinegar (optional)
Make sure your eggs are room temperature. One trick I have learnt is to use a sharp skewer or needle and poke a super tiny hole in the wide part of the egg shell. When you later dunk the eggs in boiling water, this keeps the egg shells from cracking upon contact.
Bring a pot of water to boiling. Place the eggs in the water for 4 minutes. Prepare an ice and water bath and as soon as the 4 minutes are up, transfer the eggs to the ice water. Leave for 10 minutes.
Now make a pot of tea with the 500ml of water, tea leaves and spices. Once done, strain and stir in the soy and sugar. Add some vinegar if you want the eggs a bit pickled. Set this liquid aside.
Prepare another water bath using your immersion ciculator set at 63 Degrees Celsius. Transfer the eggs into the 63 Degree Celsius water for 25 minutes. When finished, transfer back to an ice water bath to stop the cooking. When cool, take the eggs out, dry them and then using the back of a spoon, tap each egg all over, cracking the shells without allowing them to peel/fall off of the eggs.
Place all of the eggs into a jar or container. Pour the tea-soy solution over. Make sure the eggs are completely covered. I will cut some parchment paper to place over the eggs and liquid to ensure the eggs are submerged. Cover and place in your fridge. Steep for at least 12 hours. The longer you steep, the more the tea and soy flavour will penetrate.
When you want to serve, take the eggs out, dry gently. Peel even more gently (they are very wobbly) and then steam for 3 minutes to heat them through.
Photo credit for the top picture in the post goes to the beautiful Florence Fong.
Aun has always loved food and travel, passions passed down to him from his parents. This foundation, plus a background in media, pushed him to start Chubby Hubby in 2005. He loves that this site allows him to write about the things he adores--food, style, travel, his wife and his three kids!