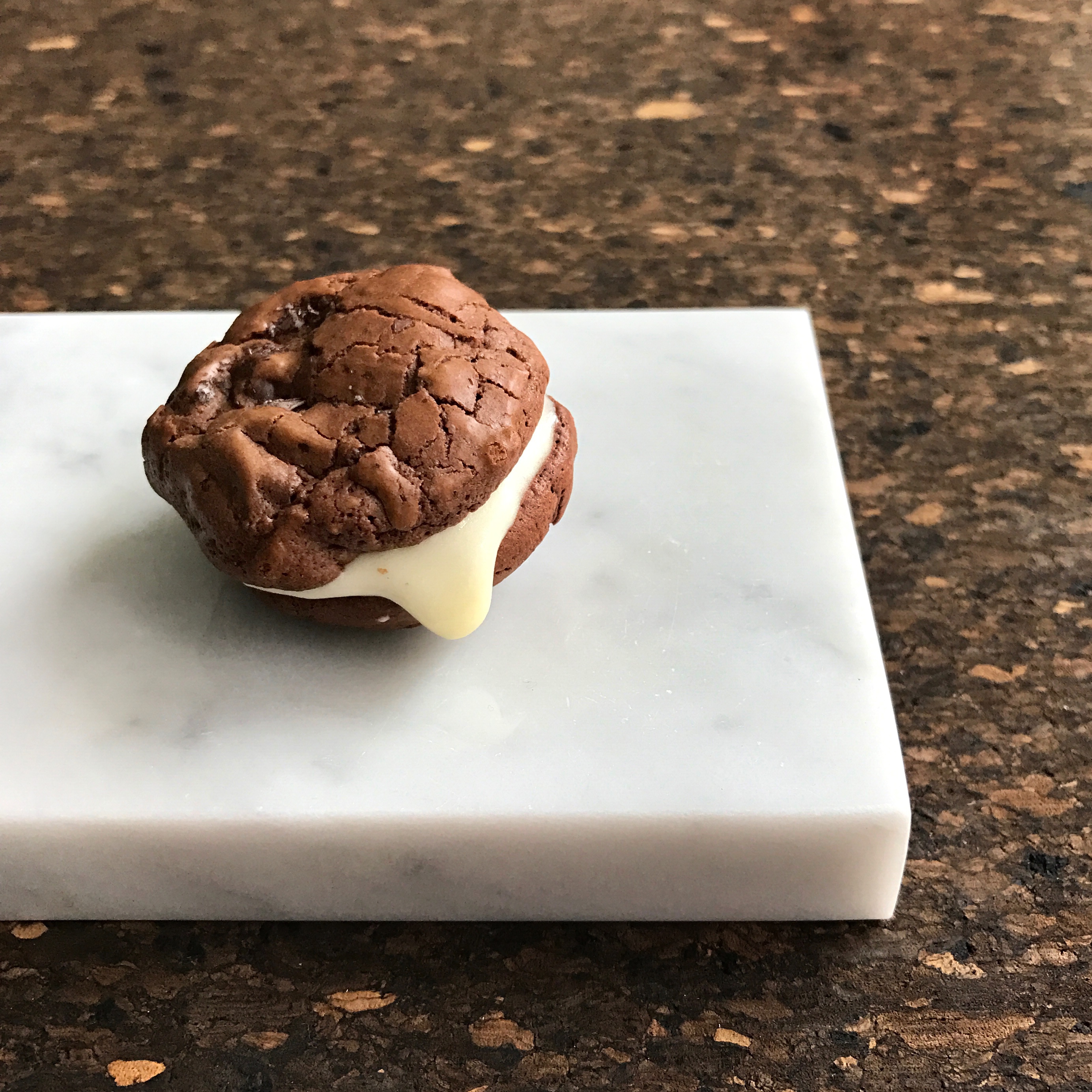 I love how deeply chocolatey these two-bite wholewheat cookies are. When you bake them very briefly (exactly 7 min in my oven), they develop a crisp exterior but remain soft and chewy in the middle. And for me, it is the shower of sea salt flakes just before they go into the oven that makes them so irresistible. I use a chocolate salt that CH picked up in Madrid some years ago.
These choc chip brownie wholewheat cookies are relatively easy to make even if portioning the dough out can get a little fiddly. I leave the dough to sit in the refrigerator overnight as I find it easier to reduce my baking prep time to short spurts of activity snuck-in between work- and family-time. The dough becomes firmer and easier to scoop. However, the baking time remains the same whether the dough has sat overnight or not.
If you're feeling indulgent, these wholewheat cookies are also fabulous in whoopie pies held together with cream cheese icing. When pairing these cookies with icing, I opt to use organic turbinado sugar in the recipe as I find that it makes the cookie taste more complex and less straight up sugary. I also adjust the choice of chocolate (splitting it into 140g dark chocolate and 60g 100% cacao chocolate) so that the finished treat doesn't taste toothachingly sweet. For Halloween, I piped icing bandages over the cookies, and stuck on candy eye balls for mummy cookies.
As far as chocolate cookies go, these double choc chip wholewheat cookies are our current kitchen shelf favourite.
Choc chip brownie wholewheat cookies
Makes 60 cookies
35g superfine wholegrain flour (or all purpose/pastry flour)
1/4 tsp baking powder
1/4 tsp fine sea salt
2 large eggs
135g organic turbinado (or castor sugar)
2 tsp instant coffee
1 tsp pure vanilla extract
30g unsalted butter
200g dark chocolate (such as Valrhona Tainori or Equatoriale Noire. If pairing with icing I would use 140g dark chocolate + 60g 100% cacao chocolate)
130g semisweet mini chocolate chips (or 3/4 cup Valrhona crunchy chocolate pearls)
Sea salt flakes
Combine flour, baking powder and salt in a small bowl. Whisk to combine.
Briefly beat the eggs using an electric mixer. Add sugar, instant coffee and vanilla, and beat on high speed for 15 min.
In the meantime, combine butter and dark chocolate (or dark chocolates, if using) in a metal bowl set over a pot of simmering water (the base of the bowl should not come in contact with the water). Heat until the ingredients melt. Remove the bowl from the pot and stir the mixture with a spatula until smooth.
Gently fold the chocolate mixture into the egg mixture until partially combined (there should still be some streaks). Add the flour mixture and fold it in. Finally, fold in the chocolate chips. Refrigerate the batter for 30min or until it thickens to a scooping texture (when portioned, the dough should sit in a high mound). If you refrigerate it overnight, simply let it stand at room temperature briefly before scooping out.
Preheat oven to 190 degrees Celsius using convection setting. With a No.100 ice cream scoop, portion the batter onto baking paper-lined trays. Sprinkle with salt flakes to taste. Bake until puffed and cracked (from 7 minutes, depending on your oven). Cool cookies on a wire rack and store in an airtight container.
Cream cheese icing 
Makes 2 cups (far more than you'll need for one batch of cookies)
115g unsalted butter, room temperature
170g cream cheese, room temperature
225g icing sugar, sifted
1/2 tsp pure vanilla extract
Beat butter and cream cheese until fluffy (2-3min) in an electric mixer on medium speed using the paddle attachment. Reduce the speed to low and combine sugar in three additions, scraping down the sides of the bowl as needed. Refrigerate.
Whoopie Pies
Makes 30 pies
To assemble whoopee pies, place some cream cheese icing on the flat side of a cookie. Top with another cookie. Stores best refrigerated.
Su-Lyn is Aun's better half and for many years, the secret Editor behind this blog known to readers simply as S. Su-Lyn is an obsessive cook and critical eater whose two favourite pastimes are spending time with her three kids and spending time in the kitchen. She looks forward to combining the two in the years to come.